Earth
ID: 4407
Monthly burned area from the Global Fire Emissions Database (GFED)
This time series was created using data from the Moderate Resolution Imaging Spectrometer (MODIS) onboard NASA's Terra and Aqua satellites. Burned area is estimated by applying an algorithm that detects rapid changes in visible and infrared surface reflectance imagery. Fires typically darken the surface in the visible part of the electromagnetic spectrum, and brighten the surface in several wavelength bands in the shortwave infrared that are sensitive to the surface water content of vegetation. Thermal emissions from actively burning fires also are measured by MODIS and are used to improve the burned area estimates in croplands and other areas where the fire sizes are relatively small. This animation portrays burned area between September 2000 and August 2015 as a percent of the 1/4 degree grid cell that was burned each month. The values on the color bar are on a log scale, so the regions shown in blue and green shades indicate small burned areas while those in red and orange represent a larger percent of the region burned. Beneath the burned area, the seasonal Blue Marble landcover shows the advance and retreat of snow in the northern hemisphere. More information about the Global Fire Emissions Database, including maps of burned area and fire emissions, can be found here.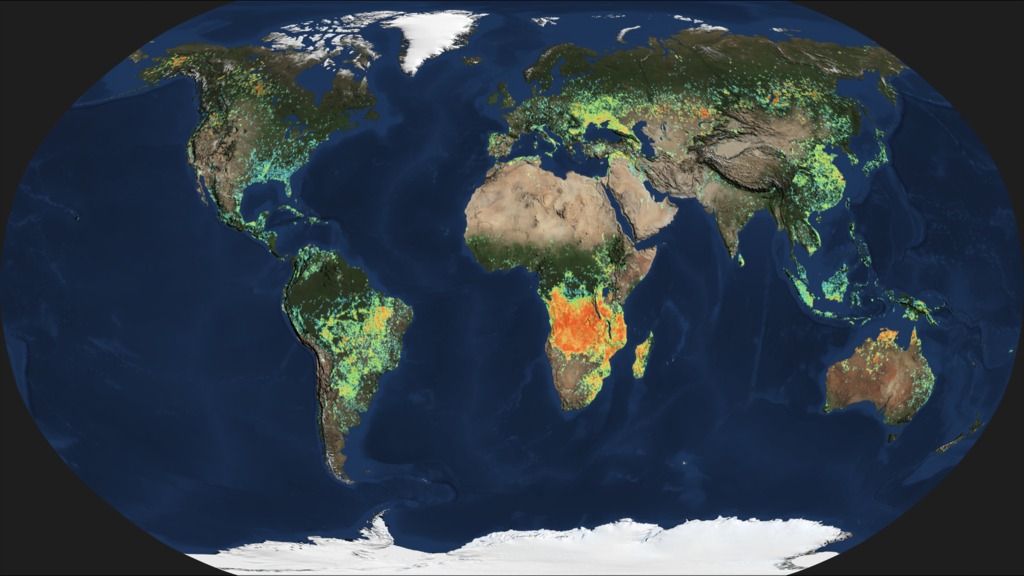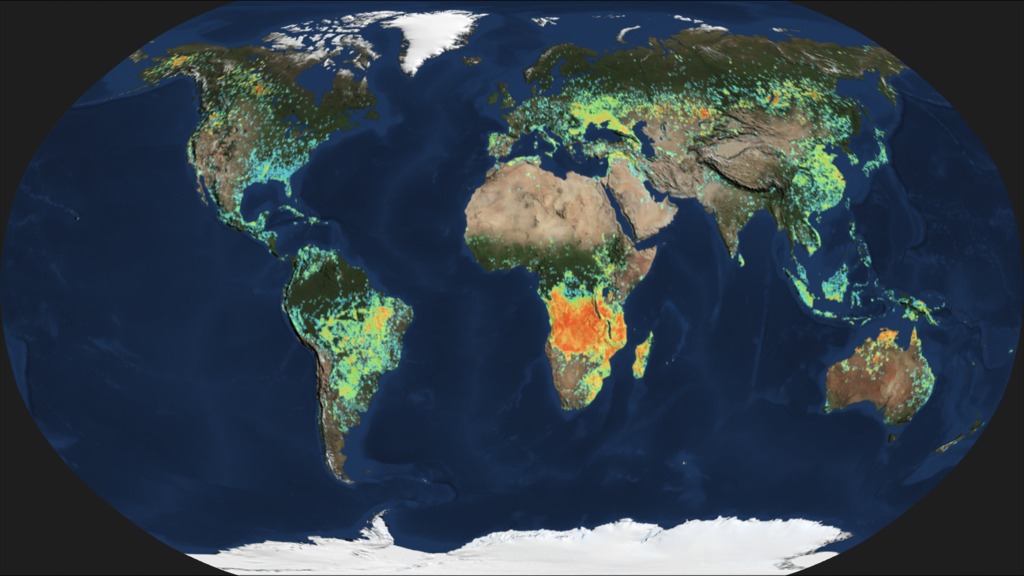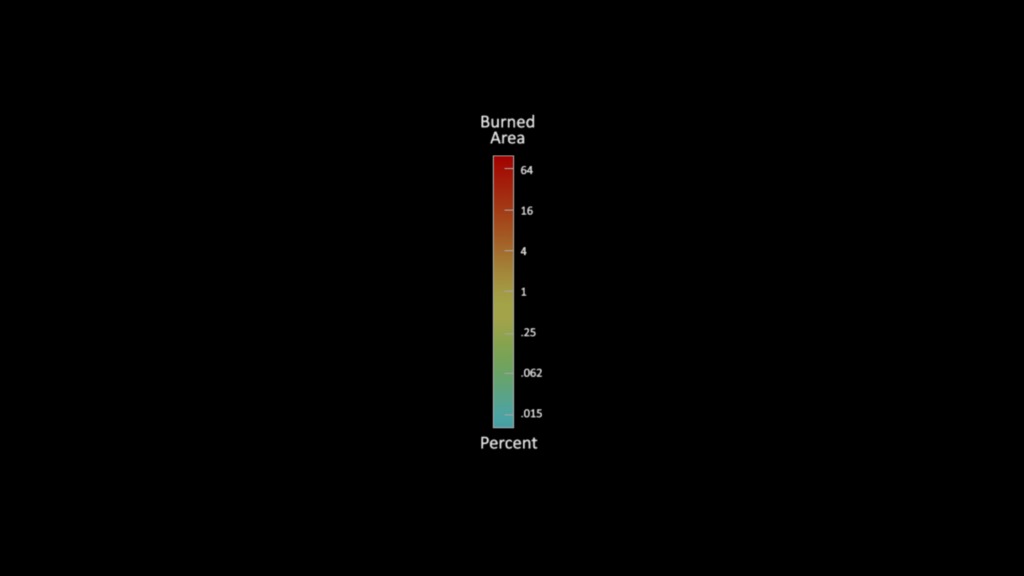 ---
Related
---
Visualization Credits
Please give credit for this item to:
NASA's Scientific Visualization Studio

The Blue Marble Next Generation data is courtesy of Reto Stockli (NASA/GSFC).

The Blue Marble data is courtesy of Reto Stockli (NASA/GSFC).
Short URL to share this page:
https://svs.gsfc.nasa.gov/4407
Missions:
Aqua
Terra
Data Used:
Terra and Aqua/MODIS/Blue Marble: Next Generation
2004
MODIS/Terra/Aqua/Percent Monthly Burned Area
Sept. 2000 - Aug. 2015
Note: While we identify the data sets used in these visualizations, we do not store any further details nor the data sets themselves on our site.
Keywords:
SVS >> HDTV
GCMD >> Earth Science >> Biosphere >> Ecological Dynamics >> Fire Characteristics
GCMD >> Earth Science >> Human Dimensions >> Natural Hazards >> Fires
SVS >> Hyperwall
NASA Science >> Earth
SVS >> Presentation
GCMD >> Earth Science >> Biosphere >> Ecological Dynamics >> Fire Ecology
NASA Earth Science Focus Areas >> Carbon Cycle and Ecosystems
GCMD keywords can be found on the Internet with the following citation:
Olsen, L.M., G. Major, K. Shein, J. Scialdone, S. Ritz, T. Stevens, M. Morahan, A. Aleman, R. Vogel, S. Leicester, H. Weir, M. Meaux, S. Grebas, C.Solomon, M. Holland, T. Northcutt, R. A. Restrepo, R. Bilodeau, 2013. NASA/Global Change Master Directory (GCMD) Earth Science Keywords. Version 8.0.0.0.0