Earth
ID: 30215
Urban Growth in Las Vegas
The city of Las Vegas—meaning the meadows—was established in 1905. Its grassy meadows and artesian springs attracted settlers traveling across the arid Desert Southwest in the early 1800s. In the 1930s, gambling became legalized and construction of the Hoover Dam began, resulting in the city's first growth spurt. Since then, Las Vegas has not stopped growing. Population has reached nearly two million over the past decade, becoming one of the fastest growing metropolitan areas in the world. These false-color images show the rapid urbanization of Las Vegas between 1972 and 2018. The city streets and other impervious surfaces appear gray, while irrigated vegetation appears red. Over the years, the expansion of irrigated vegetation (e.g., lawns and golf courses) has stretched the city's desert bounds.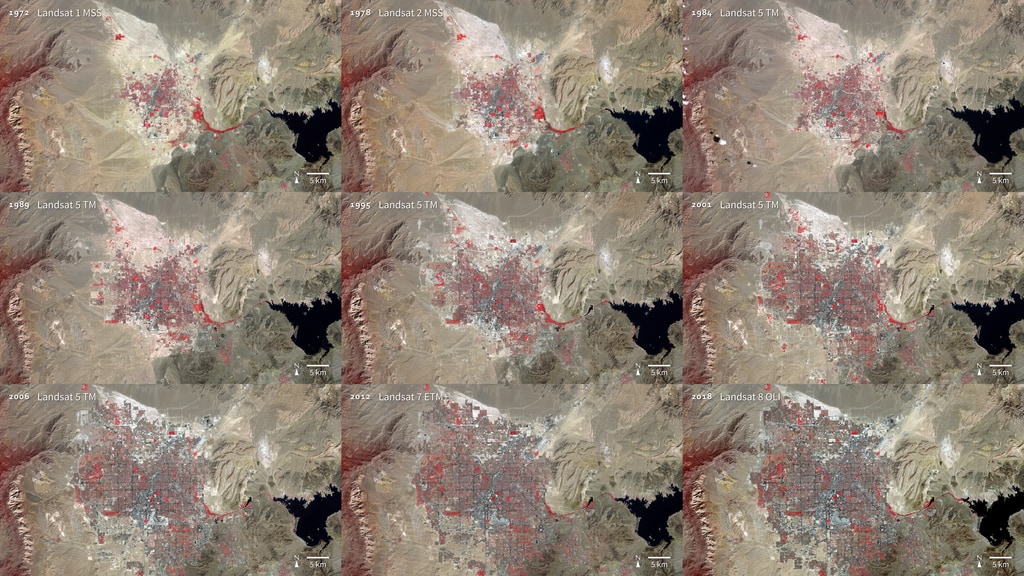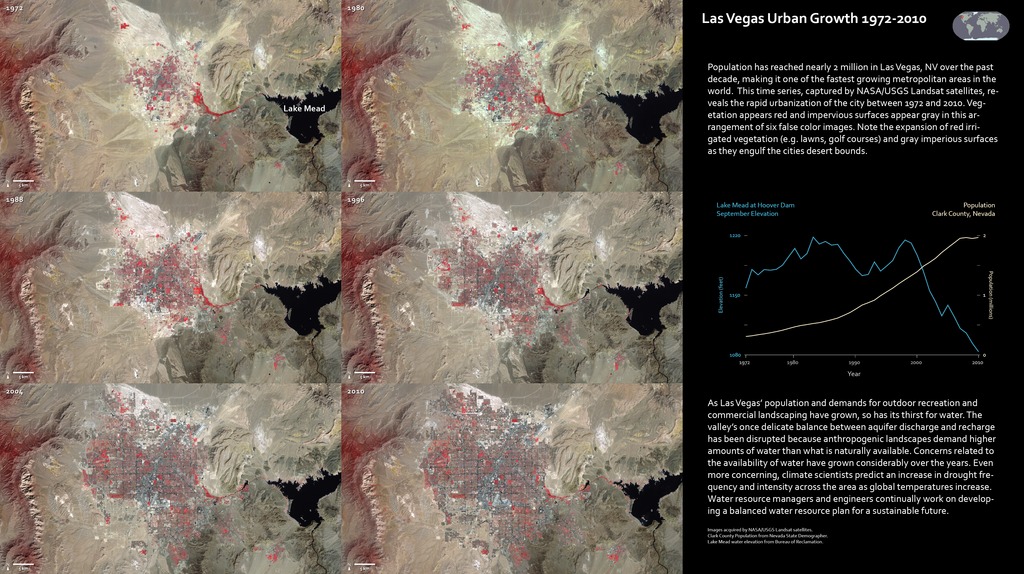 ---
Newer Version
---
For More Information
---
Credits
Please give credit for this item to:
NASA/Goddard Space Flight Center
Short URL to share this page:
https://svs.gsfc.nasa.gov/30215
Missions:
Landsat
LDCM: Landsat Data Continuity Mission
Data Used:
Note: While we identify the data sets used in these visualizations, we do not store any further details nor the data sets themselves on our site.
Keywords:
SVS >> HDTV
SVS >> Las Vegas
SVS >> Urban Growth
GCMD >> Earth Science >> Land Surface >> Land Use/Land Cover >> Land Cover
GCMD >> Location >> Nevada
SVS >> Hyperwall
NASA Science >> Earth
SVS >> Presentation
GCMD >> Earth Science >> Human Dimensions >> Habitat Conversion/fragmentation >> Urbanization/urban Sprawl
GCMD keywords can be found on the Internet with the following citation:
Olsen, L.M., G. Major, K. Shein, J. Scialdone, S. Ritz, T. Stevens, M. Morahan, A. Aleman, R. Vogel, S. Leicester, H. Weir, M. Meaux, S. Grebas, C.Solomon, M. Holland, T. Northcutt, R. A. Restrepo, R. Bilodeau, 2013. NASA/Global Change Master Directory (GCMD) Earth Science Keywords. Version 8.0.0.0.0