Welcome to
Visualizing Earth Systems: A NASA Quick Start Guide for Educators
At the core of scientific visualization is the representation of data graphically - through images, animations, and videos - to improve understanding and develop insight. Visualizations allow us to explore data, phenomena and behavior; they are particularly effective for showing large scales of time and space, and "invisible" processes (e.g. flows of energy and matter) as integral parts of the models.
This page features visualizations from the NASA Scientific Visualization Studio (SVS). Each provides a unique perspective of the complexity and interconnectedness of Earth's systems. Some of the visualizations, marked annotated, include narration- making them ideal for introducing students to complex Earth science topics. Others, marked non-annotated, contain no narration or labels. They are designed to encourage student questioning and conversation - the first steps to inquiry-based learning.
K-12 Lessons: Links are provided to related learning resources for elementary, middle and high school. These are from NASA Wavelength, a reviewed collection of standards-based resources for Earth and space science education. You can find additional resources related to visualizing Earth systems here.
Video Interview (2015): Join NASA visualizer Kel Elkins in NASA's Scientific Visualization Studio as he shares insights into the creation of three of the visualizations listed below. In addition, Kel answers questions about his work, education and career.
Visualizations
Cause and Effect
Identifying cause and effect relationships can help us make predictions about the function of natural systems and their impact on the world. These relationships, whether simple or complex, are vital for forecasting weather and predicting Earth events in new contexts.
Energy and Matter
Follow a Saharan dust plume across the Atlantic, or track water on its global journey via the hydrological cycle to 'see' the role that energy plays in cycling matter within the Earth system. Energy powers the transformation and movement of matter in all Earth system processes.
Patterns, Similarities, and Differences
Explore the spatial patterns observed in meteorological data and learn how this information is used to predict weather and understand climate behavior. By observing patterns in data we can classify our observations and investigate underlying cause and effect relationships.
Scale, Proportion, and Quantity
The Earth's system is characterized by the interaction of processes that take place on molecular (very small) and planetary (very large) spatial scales, as well as on short and long time scales. Scientific visualizations allow us to experience Earth processes at faster speeds, and at manageable smaller scales, facilitating data analysis and enhancing understanding.
Stability and Change
The Earth's system exemplifies stability and change. Change and rates of change can be observed and quantified over very short or long periods of time and at various spatial scales (e.g., from landscape level to global processes). Understanding stability and change in Earth processes contributes to a more complete understanding of the Earth system.
Systems and System Models
Scientific data is used to develop models that describe Earth processes with fidelity and project alternate scenarios when baseline conditions are changed. Scientific models allow us to experiment with and understand phenomena that are too small, too large, too fast, or too slow to detect directly using our senses.
Interviews
Interviews
Interview with NASA visualizer Kel Elkins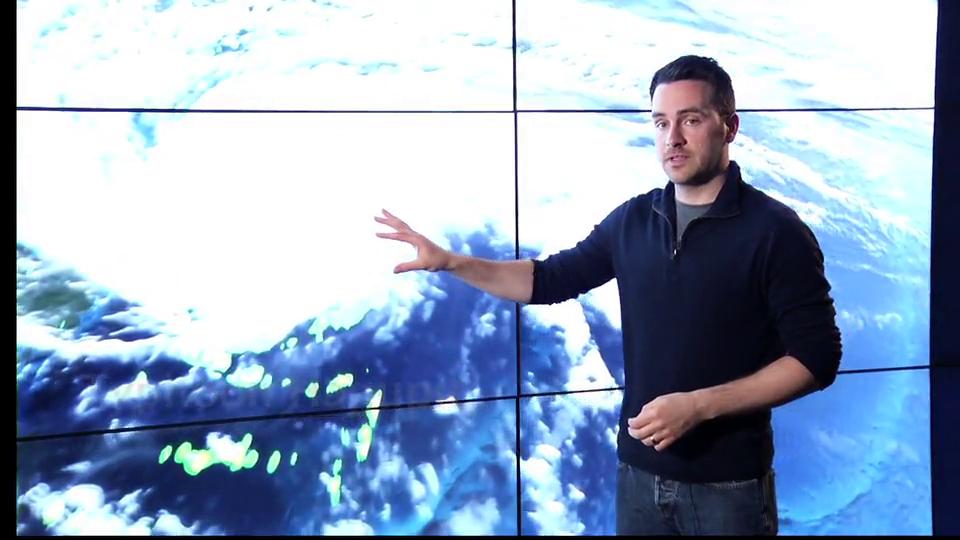 view interview
Follow along as NASA visualizer Kel Elkins walks you through three visualizations (Dust Crossing, Typhoon Hagupit, and Aquarius Sea Surface Salinity) and answers questions about his work, education, and career.
Interview with Global Precipitation Measurement Mission Scientists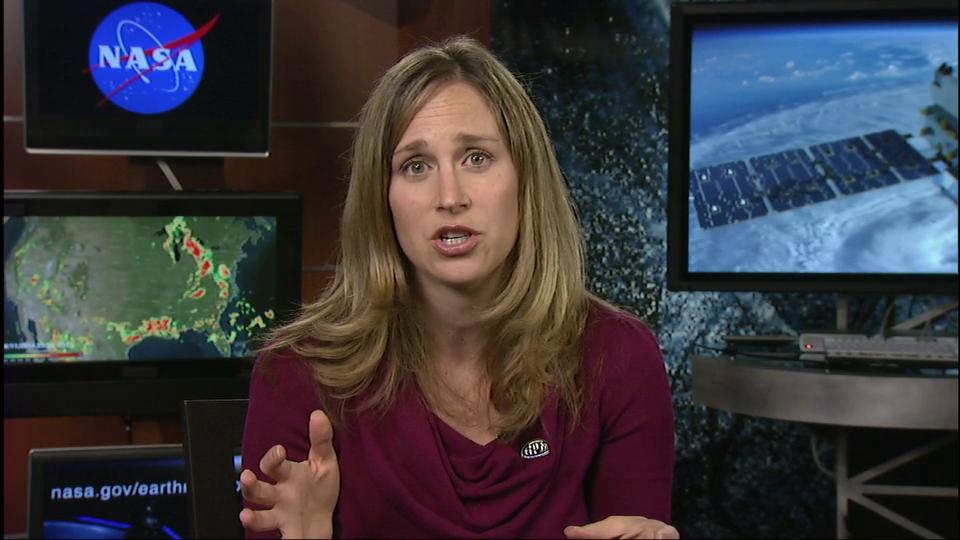 view interview
In this interview, GPM scientists answer student questions about the IMERG Global Precipitation dataset and the GPM mission. The questions and what time they're answered in the video are below:
How can the rain that falls in your backyard affect people in Europe? – 00:11
How long did it take to build this technology? Can it track down any other precipitation? – 01:05
When do the most strange precipitation patterns occur throughout the world and where do these patterns occur? – 01:45
Why is it so important that we study precipitation? – 02:41
Which areas of the world get the most precipitation? The least? – 03:49
Why do certain parts of the U.S. get more precipitation than others? – 05:08
How does precipitation affect certain ecosystems? – 05:56
there a pattern that these weather conditions follow on a yearly basis? – 08:07
How do these patterns change from year to year? – 09:00
How is it [GPM] able to tell what type of precipitation is under the clouds? – 07:31
How is this different from the technology we already have? – 06:49
Thanks to the new way of taking data, have any previous assumptions been debunked, or proven? – 10:25
Inquiry Teaching
Inquiry Teaching
Inquiry Teaching with Visualizations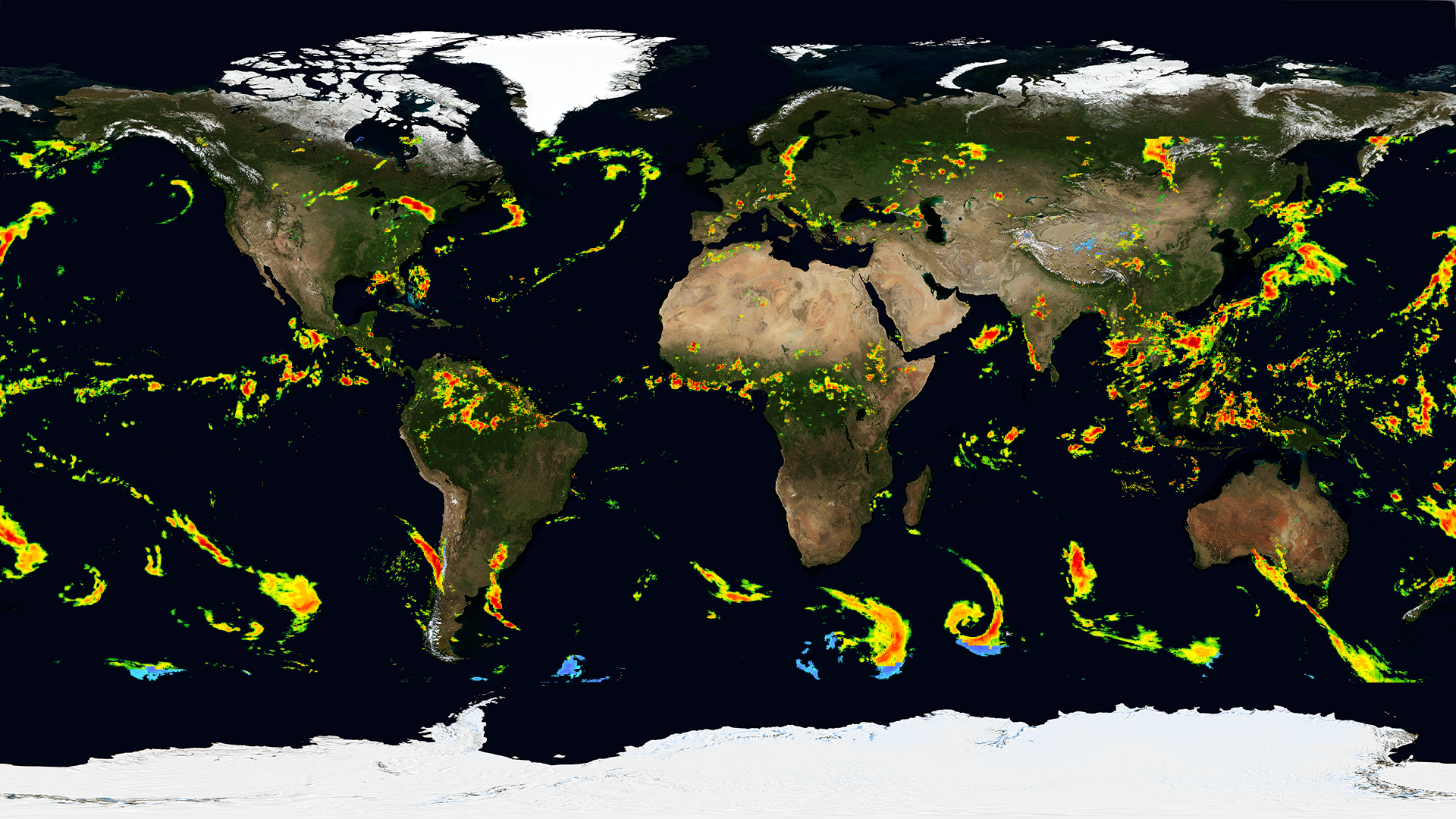 view 1-page paper
The many non-narrated and non-annotated visualizations above provide excellent opportunities for inquiry-based learning. This paper describes an introductory approach to teaching with these unlabeled visualizations.