Earth
ID: 3889
Pine Island Glacier Ice Flows and Elevation Change
This animation shows glacier changes detected by ATM, ICESat and ice bridge data in the highly dynamic Pine Island Glacier. We know that ice speeds in this area have increased dramatically from the late 1990s to the present as the ice shelves in this area have thinned and the bottom of the ice has lost contact with the bed beneath. As the ice has accelerated, ice upstream of the coast must be stretched more vigorously, causing it to thin. NASA-sponsored aircraft missions first measured the ice surface height in this region in 2002, followed by ICESat data between 2002 and 2009. Ice Bridge aircraft have measured further surface heights in 2009 and 2010, and these measurements continue today. Integrating these altimetry sources allows us to estimate surface height changes throughout the drainage regions of the most important glaciers in the region. We see large and accelerating elevation changes extending inland from the coast on Pine Island glacier shown centered here. The changes on Pine Island mark these as potential continuing sources of ice to the sea, and has been surveyed in 2011 by Ice Bridge aircraft and targeted for repeat measurements in coming years.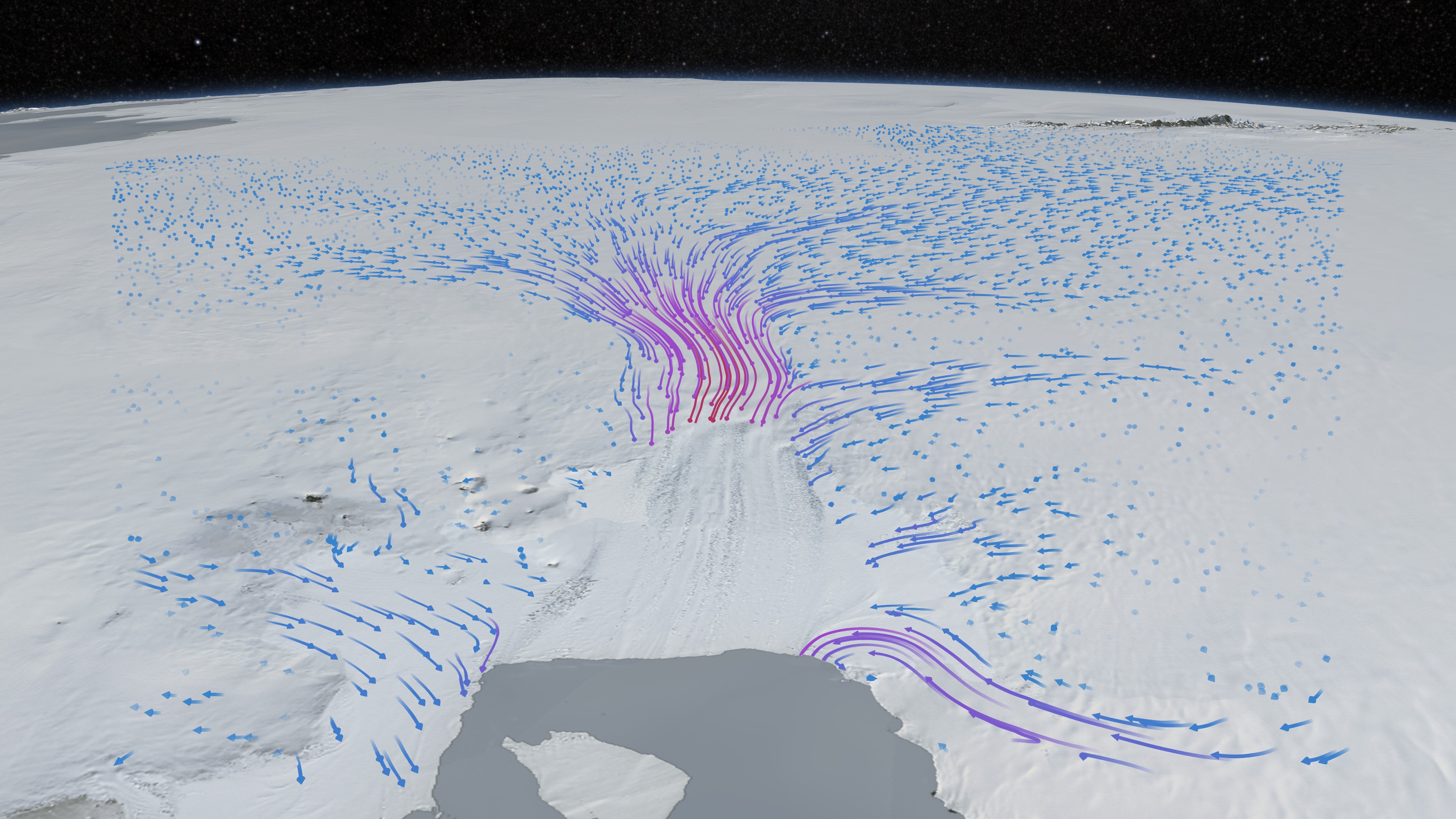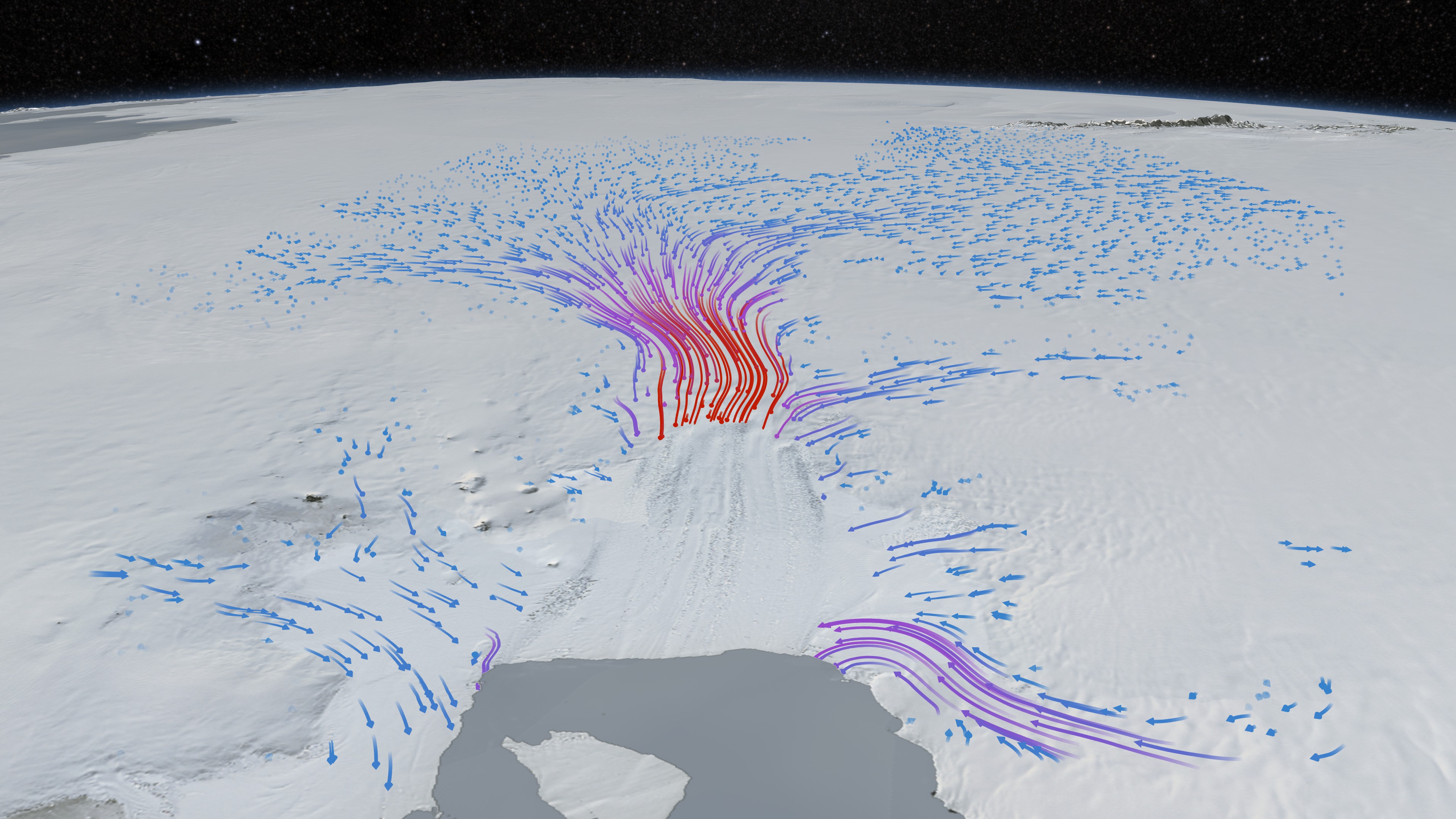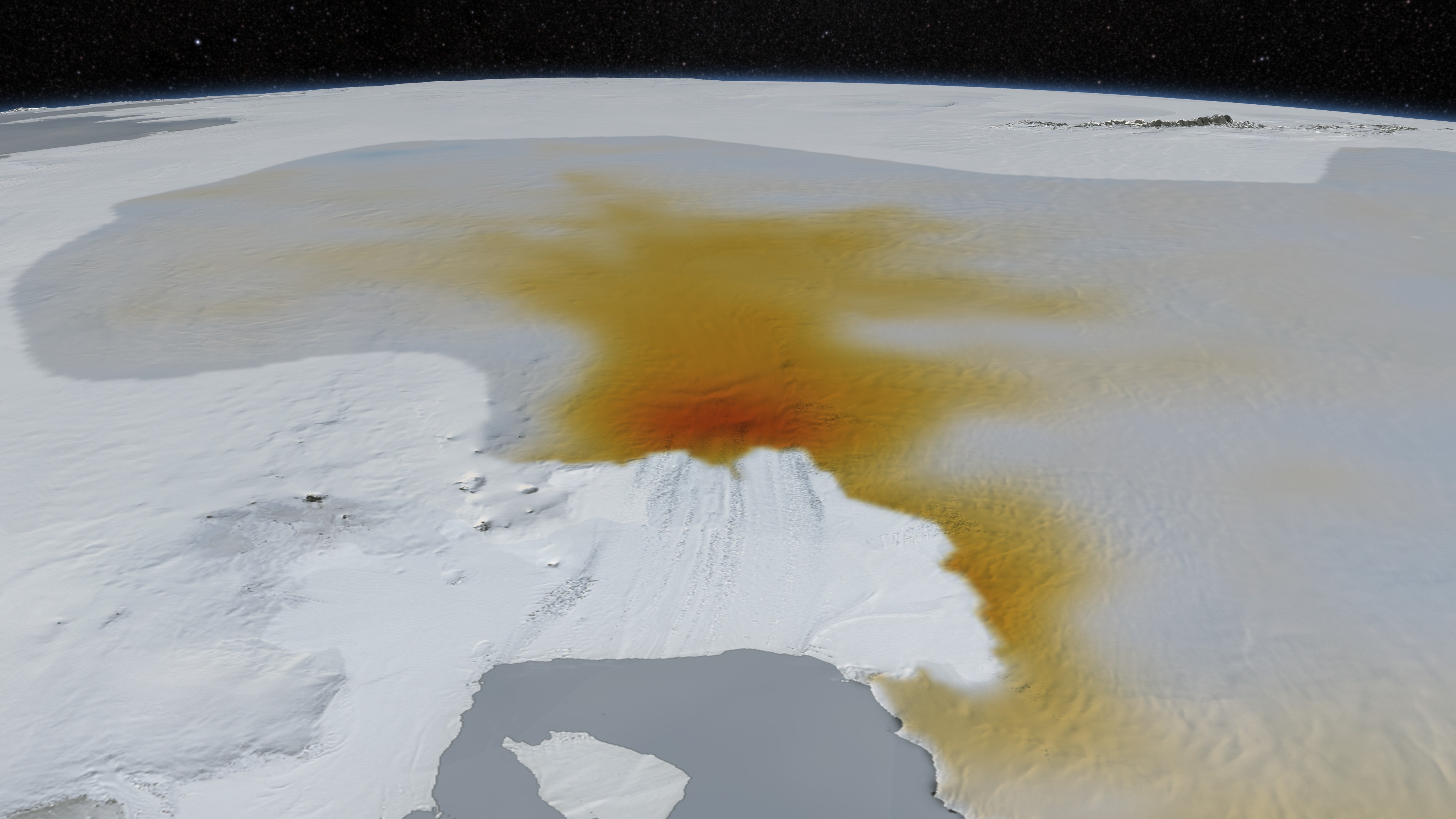 ---
Visualization Credits
Please give credit for this item to:
NASA/Goddard Space Flight Center Scientific Visualization Studio
Short URL to share this page:
https://svs.gsfc.nasa.gov/3889
Missions:
Ice, Cloud, and land Elevation Satellite (ICESat)
Landsat
Data Used:
Note: While we identify the data sets used in these visualizations, we do not store any further details nor the data sets themselves on our site.
Keywords:
DLESE >> Cryology
SVS >> HDTV
GCMD >> Earth Science >> Cryosphere
GCMD >> Earth Science >> Cryosphere >> Snow/Ice
GCMD >> Earth Science >> Hydrosphere >> Snow/Ice
GCMD >> Earth Science >> Cryosphere >> Glaciers/Ice Sheets >> Glacier Elevation/Ice Sheet Elevation
GCMD >> Earth Science >> Cryosphere >> Glaciers/Ice Sheets >> Glacier Motion/Ice Sheet Motion
GCMD >> Earth Science >> Cryosphere >> Glaciers/Ice Sheets >> Glacier Thickness/Ice Sheet Thickness
GCMD >> Earth Science >> Cryosphere >> Glaciers/Ice Sheets >> Glaciers
GCMD >> Earth Science >> Cryosphere >> Glaciers/Ice Sheets >> Ice Sheets
GCMD >> Earth Science >> Cryosphere >> Snow/Ice >> Ice Depth/Thickness
GCMD >> Earth Science >> Cryosphere >> Snow/Ice >> Ice Motion
SVS >> Hyperwall
NASA Science >> Earth
SVS >> Presentation
GCMD keywords can be found on the Internet with the following citation:
Olsen, L.M., G. Major, K. Shein, J. Scialdone, S. Ritz, T. Stevens, M. Morahan, A. Aleman, R. Vogel, S. Leicester, H. Weir, M. Meaux, S. Grebas, C.Solomon, M. Holland, T. Northcutt, R. A. Restrepo, R. Bilodeau, 2013. NASA/Global Change Master Directory (GCMD) Earth Science Keywords. Version 8.0.0.0.0