Sun
ID: 2936
The fastest CME of Cycle 23 overtakes another fast CME
On November 4, 2003, the Sun produced its fastest coronal mass ejection (CME) for cycle 23 out of the active region 0486 located near the southwest limb of the Sun. The CME was expelled with a speed of approximately 2700 km/s. At the time of the launch of this CME, there was another ejection in progress from the same region. The previous ejection started about 7 hours earlier with a speed of about 1000 km/s. The fastest CME overtook the previous one within 2 hours and produced a spectacular radio radiation detected by the Wind, Ulysses and Cassini spacecraft. The movie shows the radio emission and the two interacting CMEs as observed by the SOHO spacecraft.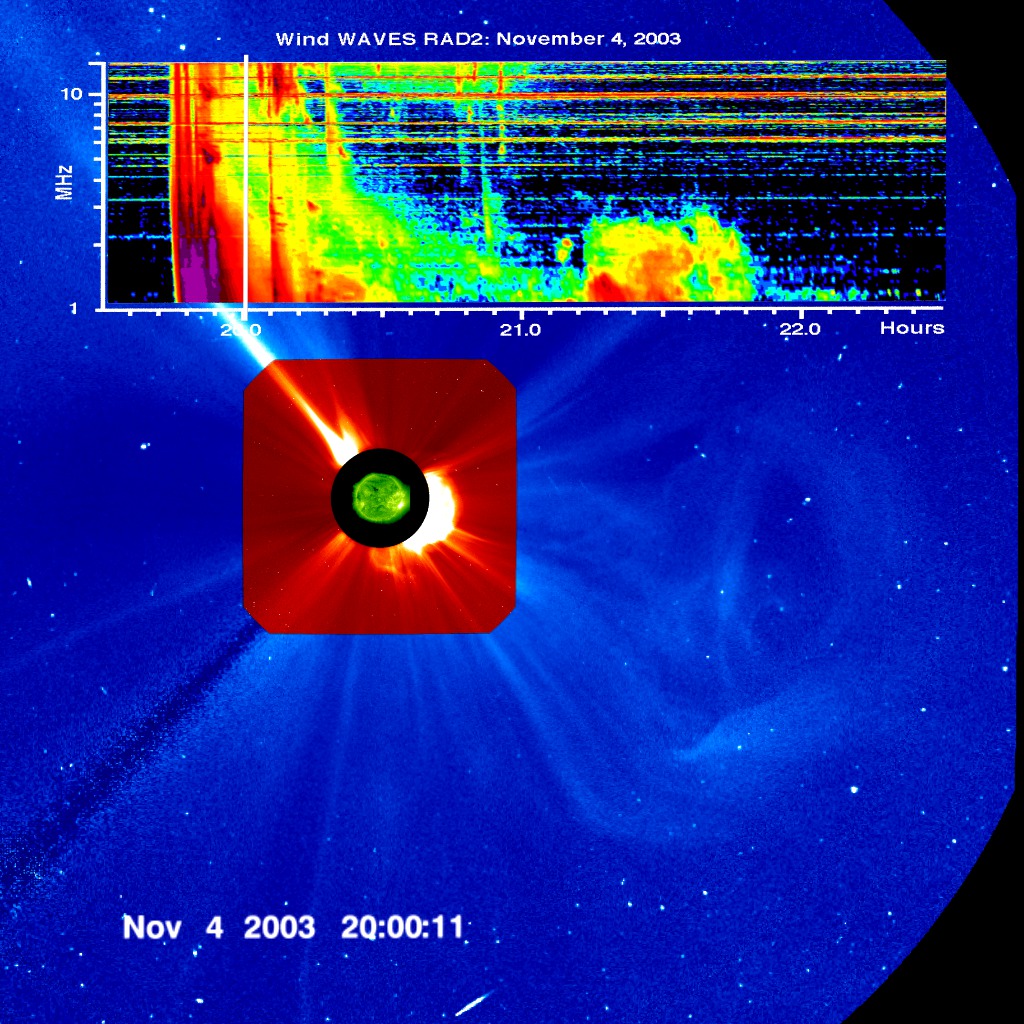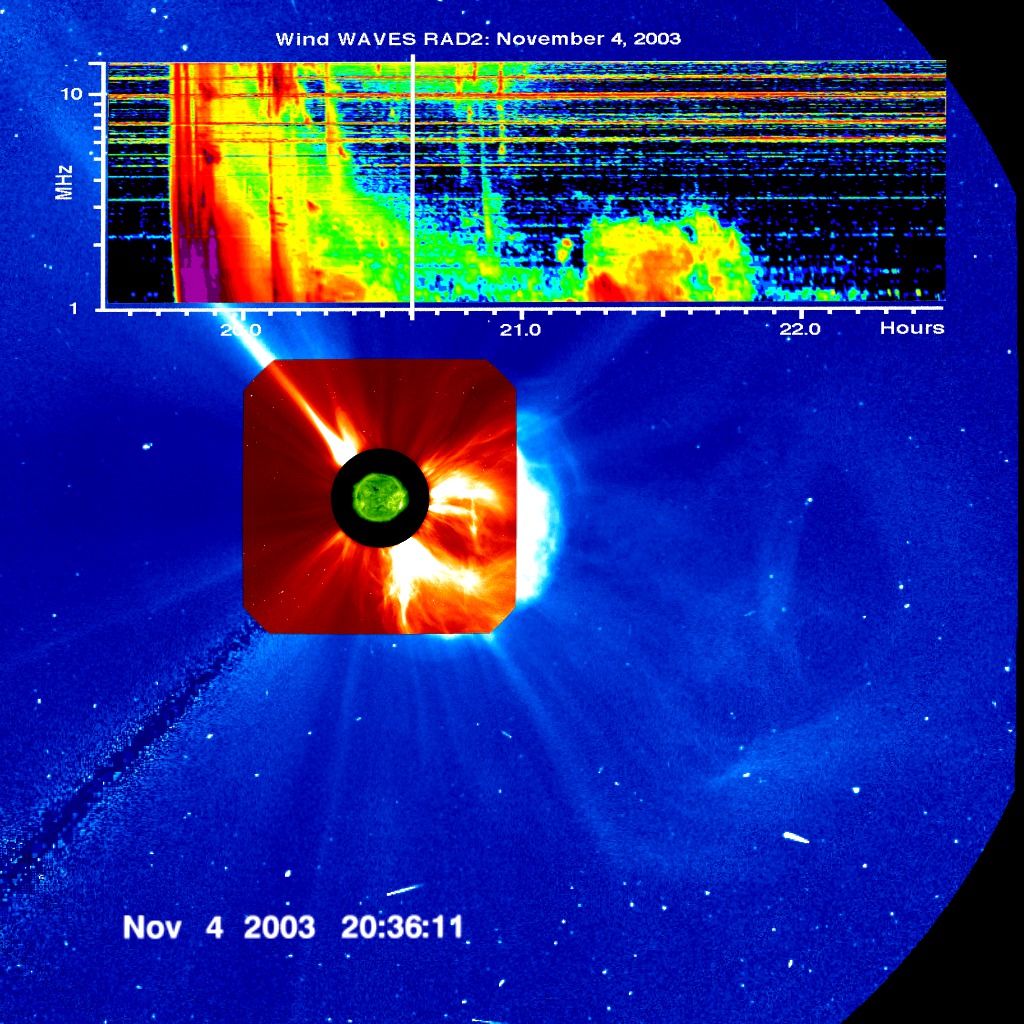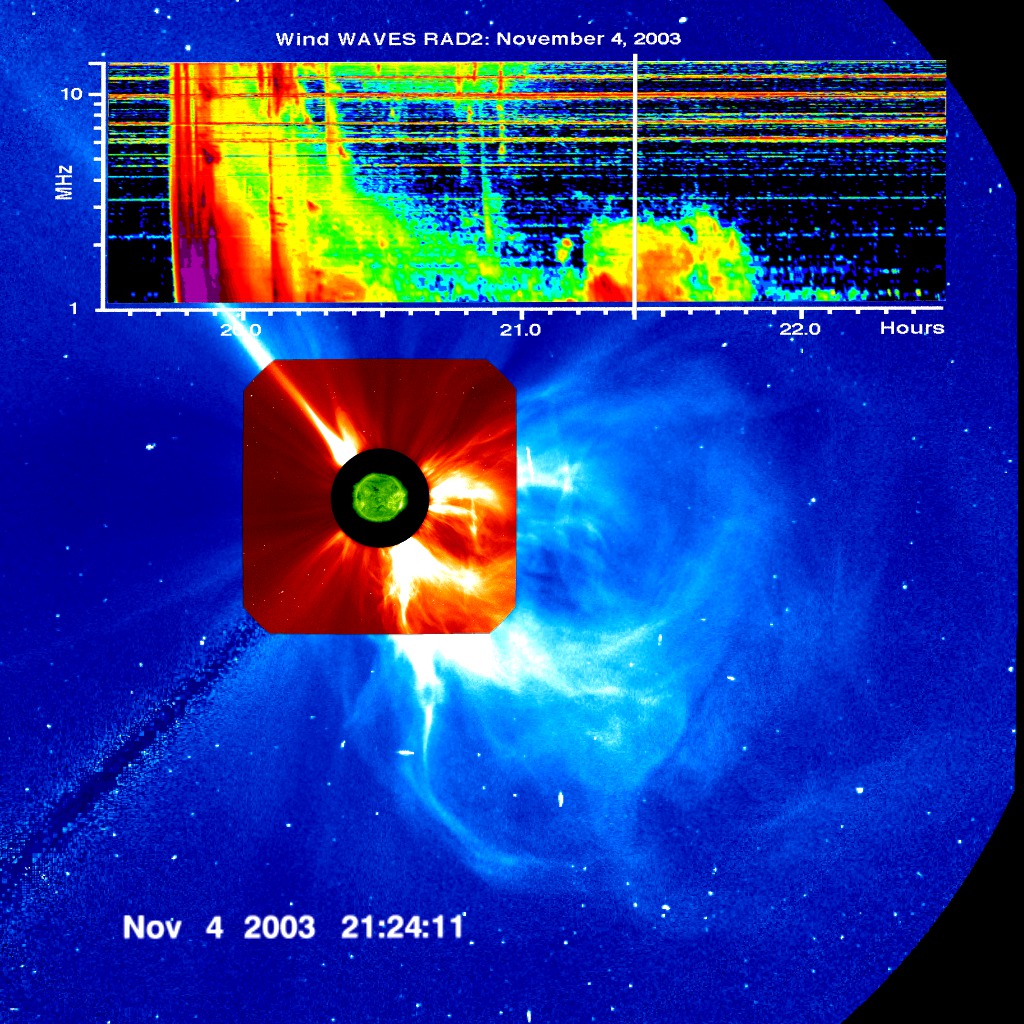 ---
Visualization Credits
Please give credit for this item to:
NASA/Goddard Space Flight Center Scientific Visualization Studio
Short URL to share this page:
https://svs.gsfc.nasa.gov/2936
Missions:
Wind
SOHO
Data Used:
Note: While we identify the data sets used in these visualizations, we do not store any further details nor the data sets themselves on our site.
Keywords:
SVS >> HDTV
SVS >> SOHO
SVS >> Solar Cycle
DLESE >> Space science
GCMD >> Earth Science >> Sun-earth Interactions >> Solar Activity >> Solar Flares
SVS >> For Educators
SVS >> Solar Storm
SVS >> Sunspot Cycle
NASA Science >> Sun
GCMD >> Earth Science >> Sun-earth Interactions >> Solar Activity >> Coronal Mass Ejections
SVS >> Visible Light Imaging
SVS >> Extreme Ultraviolet Imaging
SVS >> EUV Imaging
GCMD keywords can be found on the Internet with the following citation:
Olsen, L.M., G. Major, K. Shein, J. Scialdone, S. Ritz, T. Stevens, M. Morahan, A. Aleman, R. Vogel, S. Leicester, H. Weir, M. Meaux, S. Grebas, C.Solomon, M. Holland, T. Northcutt, R. A. Restrepo, R. Bilodeau, 2013. NASA/Global Change Master Directory (GCMD) Earth Science Keywords. Version 8.0.0.0.0