Earth
ID: 3497
AMSR-E Antarctic Sea Ice
Antarctica is a land mass surrounded by an ocean which allows the sea ice here to move more freely than it does in the Northern Hemisphere. Because there are no surrounding continents to limit its movement, the sea ice is free to float northward into warmer waters where it eventually melts. As a result, almost all of the sea ice that forms during the Antarctic winter melts during the summer. During the winter, up to 18 million square kilometers (6.9 million square miles) of ocean is covered by sea ice, but by the end of summer, only about 3 million square kilometers (1.1 million square miles) of sea ice remain. Both Arctic and Antarctic sea ice extent are characterized by fairly large variations from year to year. The monthly average extent can vary by as much as 1 million square kilometers (386,102 square miles) from the year-to-year monthly average. The area covered by Antarctic sea ice has shown a small increasing trend.

The AMSR-E instrument on the Aqua satellite acquires high resolution measurements of the 89 GHz brightness temperature near the poles. Because this is a passive microwave sensor which is not so sensitive to atmospheric effects, this sensor is able to observe the entire polar region every day, even through clouds and snowfall. The false color in this animation of sea ice surrounding the South Pole is derived from the daily AMSR-E 6.25 km 89 GHz brightness temperature while the sea ice extent is derived from the daily AMSR-E 12.5 km sea ice concentration. The sea ice extent shown is generated using a three day moving average where the daily sea ice concentration is at least 15%. This animation progresses at a rate of four frames per day from June 4, 2005 through November 18, 2005.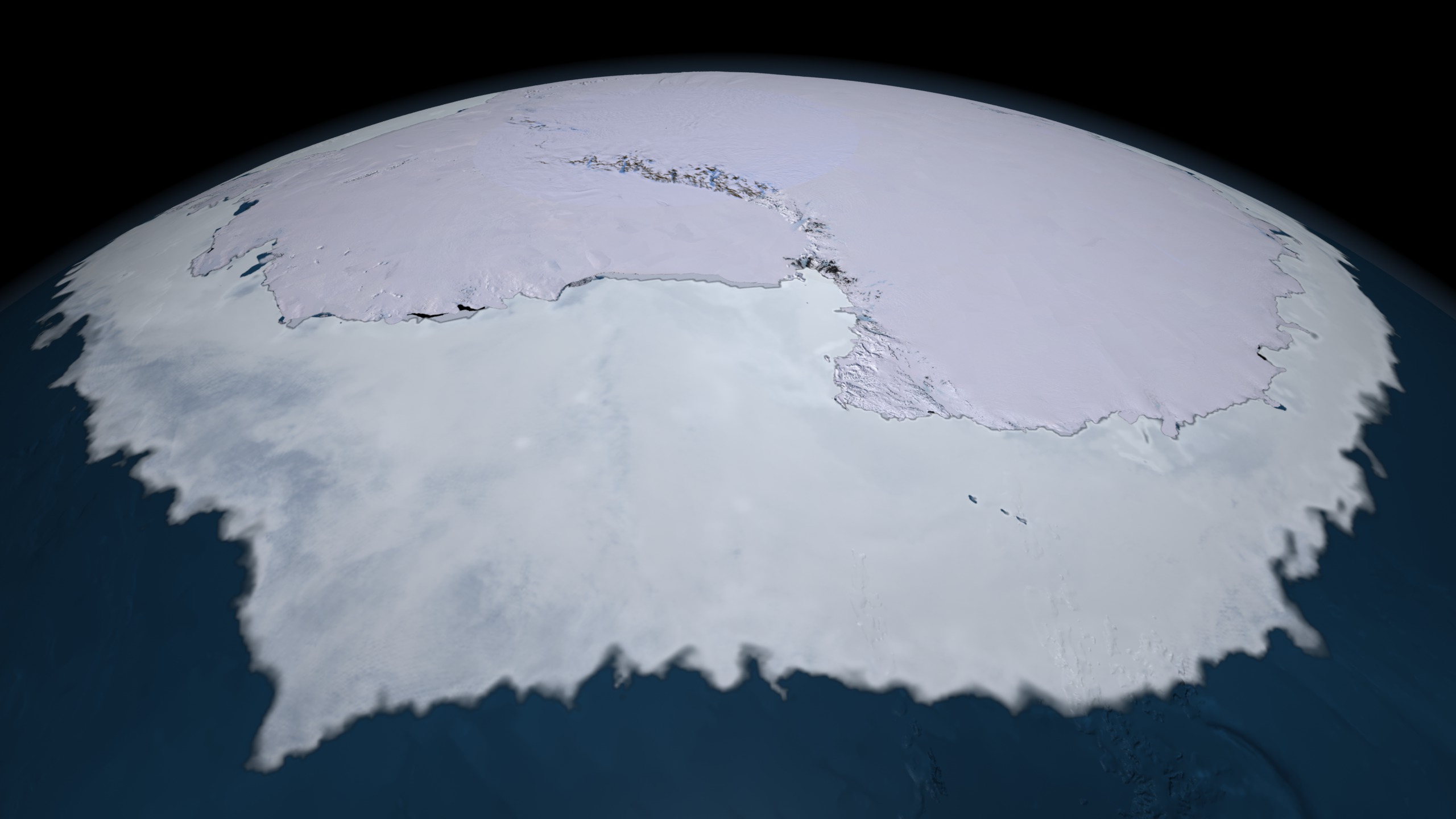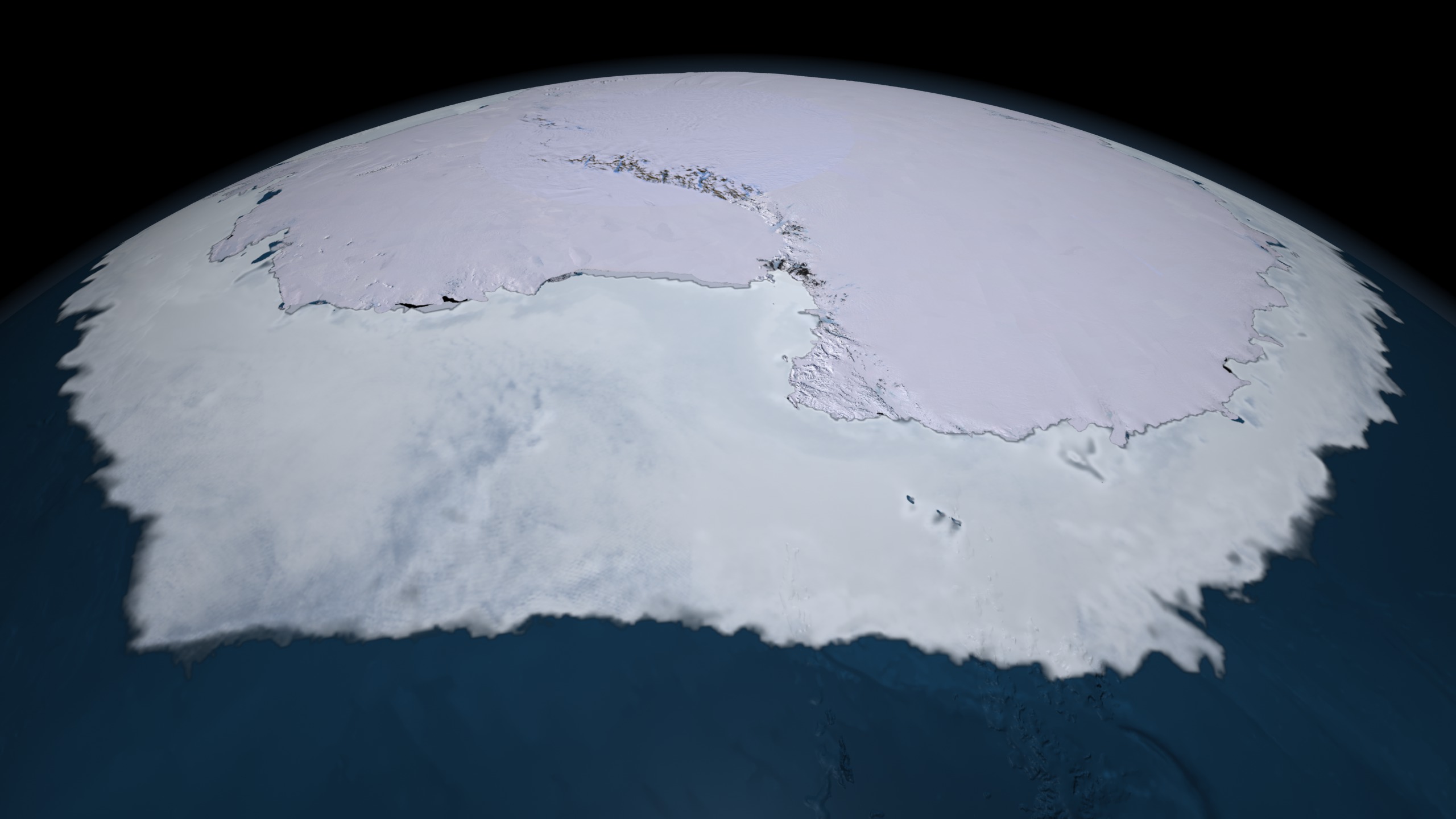 ---
Related
---
Visualization Credits
Please give credit for this item to:
NASA/Goddard Space Flight Center Scientific Visualization Studio The Blue Marble data is courtesy of Reto Stockli (NASA/GSFC).
Short URL to share this page:
https://svs.gsfc.nasa.gov/3497
Mission:
Landsat
Data Used:
Aqua/AMSR-E/Daily L3 6.25 km 89 GHz Brightness Temperature (Tb)
2005/06/04 - 2005/11/18
Aqua/AMSR-E/Daily L3 12.5km Tb, Sea Ice Concentration, and Snow Depth
2005/06/04 - 2005/11/18
Landsat-7/ETM+/Landsat Image Mosaic of Antarctica
12/25/1999 - 12/31/2001
Note: While we identify the data sets used in these visualizations, we do not store any further details nor the data sets themselves on our site.
Keywords:
DLESE >>
Cryology
SVS >>
HDTV
DLESE >>
Physical oceanography
GCMD >>
Earth Science
>>
Cryosphere
GCMD >>
Earth Science
>>
Cryosphere
>>
Sea Ice
GCMD >>
Earth Science
>>
Cryosphere
>>
Snow/Ice
GCMD >>
Earth Science
>>
Hydrosphere
>>
Snow/Ice
GCMD >>
Earth Science
>>
Oceans
>>
Sea Ice
GCMD >>
Earth Science
>>
Cryosphere
>>
Sea Ice
>>
Ice Extent
GCMD >>
Earth Science
>>
Cryosphere
>>
Sea Ice
>>
Ice Floes
GCMD >>
Earth Science
>>
Cryosphere
>>
Sea Ice
>>
Ice Growth/Melt
GCMD >>
Earth Science
>>
Cryosphere
>>
Sea Ice
>>
Ice Types
GCMD >>
Earth Science
>>
Cryosphere
>>
Sea Ice
>>
Pack Ice
GCMD >>
Earth Science
>>
Cryosphere
>>
Sea Ice
>>
Sea Ice Concentration
GCMD >>
Earth Science
>>
Cryosphere
>>
Sea Ice
>>
Sea Ice Motion
GCMD >>
Earth Science
>>
Cryosphere
>>
Snow/Ice
>>
Freeze/Thaw
GCMD >>
Earth Science
>>
Cryosphere
>>
Snow/Ice
>>
Ice Extent
GCMD >>
Earth Science
>>
Cryosphere
>>
Snow/Ice
>>
Ice Growth/Melt
GCMD >>
Earth Science
>>
Cryosphere
>>
Snow/Ice
>>
Ice Motion
GCMD >>
Earth Science
>>
Cryosphere
>>
Snow/Ice
>>
Snow/Ice Temperature
GCMD >>
Earth Science
>>
Hydrosphere
>>
Snow/Ice
>>
Ice Extent
GCMD >>
Earth Science
>>
Hydrosphere
>>
Snow/Ice
>>
Ice Motion
GCMD >>
Earth Science
>>
Oceans
>>
Sea Ice
>>
Ice Extent
GCMD >>
Earth Science
>>
Oceans
>>
Sea Ice
>>
Ice Floes
GCMD >>
Earth Science
>>
Oceans
>>
Sea Ice
>>
Ice Growth/Melt
GCMD >>
Earth Science
>>
Oceans
>>
Sea Ice
>>
Pack Ice
NASA Science >>
Earth
GCMD keywords can be found on the Internet with the following citation:
Olsen, L.M., G. Major, K. Shein, J. Scialdone, S. Ritz, T. Stevens, M. Morahan, A. Aleman, R. Vogel, S. Leicester, H. Weir, M. Meaux, S. Grebas, C.Solomon, M. Holland, T. Northcutt, R. A. Restrepo, R. Bilodeau, 2013. NASA/Global Change Master Directory (GCMD) Earth Science Keywords. Version 8.0.0.0.0