Earth
ID: 3373
Zoom from Jakobshavn Glacier with AMSR-E Daily Sea Ice and MODIS Daily Snow Cover
Beginning from a view of Greenland's Jakobshavn glacier, this animation shows motion of sea ice and snow cover over the Arctic from 10/1/2002 through 6/23/2003 as the camera pulls out to frame the full globe. The false color of the sea ice is derived from the AMSR-E 6.25 km brightness temperature. The sea ice extent is defined by AMSR-E 12.5 km sea ice concentration, identifying all regions having a sea ice concentration of greater than 15%. Because AMSR-E is a passive microwave sensor that functions independently from atmospheric effects, this sensor is able to observe the entire polar region every day, even through clouds and snowfalls.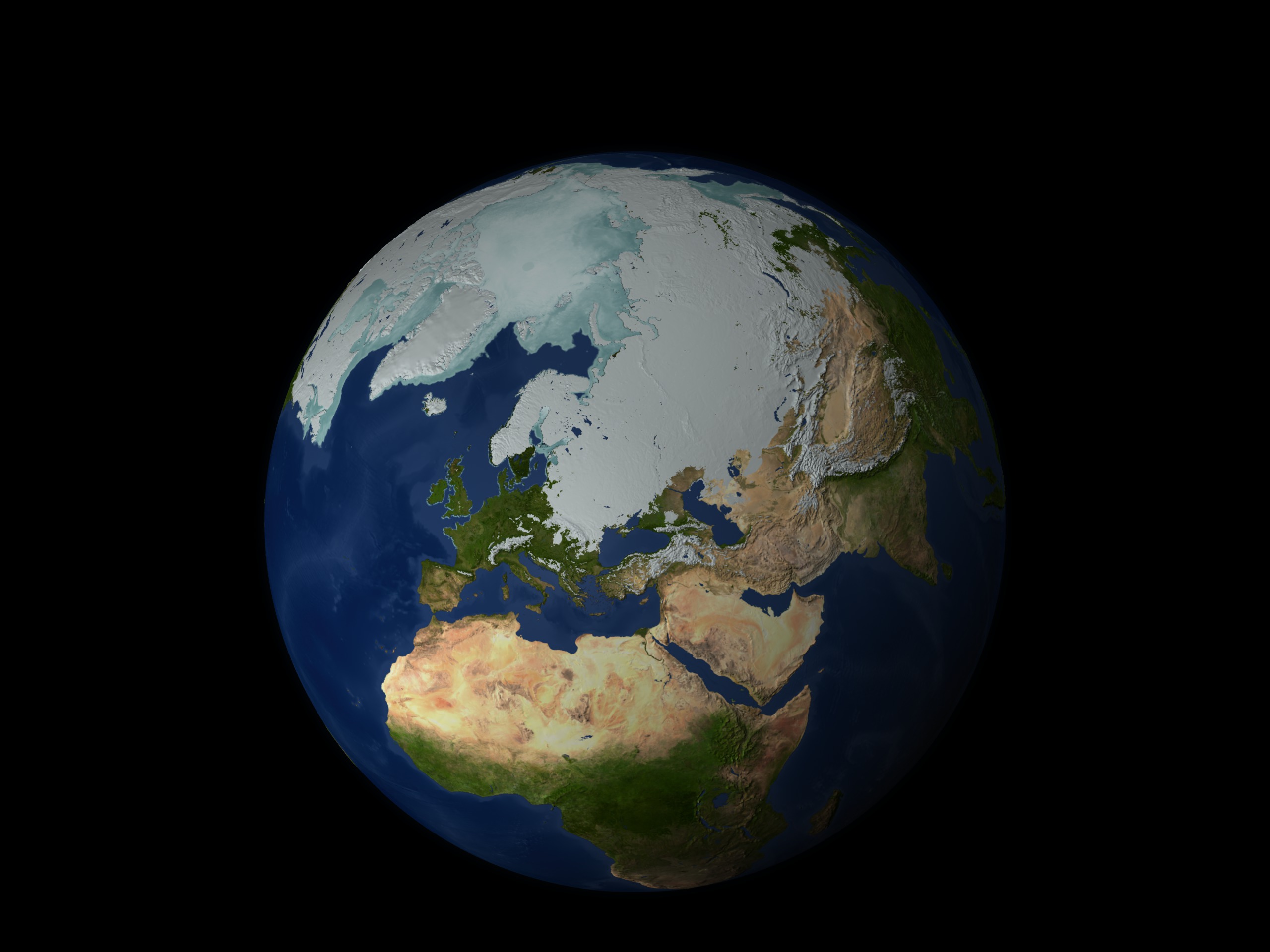 ---
Visualization Credits
Please give credit for this item to:
NASA/Goddard Space Flight Center Scientific Visualization Studio The Blue Marble data is courtesy of Reto Stockli (NASA/GSFC). Jeff Schmaltz (NASA/GSFC)
Short URL to share this page:
http://svs.gsfc.nasa.gov/3373
Mission:
Terra
Data Used:
Terra/MODIS/Snow Cover Daily L3 Global 0.05Deg CMG (MOD10C1)
10/01/2002 - 06/23/2003
Aqua/AMSR-E/Daily L3 6.25 km 89 GHz Brightness Temperature (Tb)
10/01/2002 - 06/23/2003
Terra/MODIS
06/25/2003 (Greenland)
Terra and Aqua/MODIS/Blue Marble Land Cover
Aqua/AMSR-E/Level 3 12.5 km Sea Ice Concentration
10/01/2002 - 06/23/2003
Note: While we identify the data sets used in these visualizations, we do not store any further details nor the data sets themselves on our site.
This item is part of this series:
NASM2006
Keywords:
DLESE >>
Cryology
SVS >>
HDTV
SVS >>
Snow and Ice
GCMD >>
Earth Science
>>
Cryosphere
GCMD >>
Earth Science
>>
Cryosphere
>>
Sea Ice
GCMD >>
Earth Science
>>
Cryosphere
>>
Snow/Ice
GCMD >>
Earth Science
>>
Hydrosphere
>>
Snow/Ice
GCMD >>
Earth Science
>>
Oceans
>>
Sea Ice
GCMD >>
Earth Science
>>
Atmosphere
>>
Precipitation
>>
Snow
GCMD >>
Earth Science
>>
Cryosphere
>>
Sea Ice
>>
Ice Growth/Melt
GCMD >>
Earth Science
>>
Cryosphere
>>
Sea Ice
>>
Sea Ice Concentration
GCMD >>
Earth Science
>>
Cryosphere
>>
Sea Ice
>>
Sea Ice Motion
GCMD >>
Earth Science
>>
Cryosphere
>>
Snow/Ice
>>
Ice Growth/Melt
GCMD >>
Earth Science
>>
Cryosphere
>>
Snow/Ice
>>
Ice Motion
GCMD >>
Earth Science
>>
Cryosphere
>>
Snow/Ice
>>
Snow Cover
GCMD >>
Earth Science
>>
Hydrosphere
>>
Snow/Ice
>>
Ice Motion
GCMD >>
Earth Science
>>
Hydrosphere
>>
Snow/Ice
>>
Snow Cover
GCMD >>
Earth Science
>>
Oceans
>>
Sea Ice
>>
Ice Growth/Melt
GCMD >>
Location
>>
Arctic
NASA Science >>
Earth
GCMD keywords can be found on the Internet with the following citation:
Olsen, L.M., G. Major, K. Shein, J. Scialdone, S. Ritz, T. Stevens, M. Morahan, A. Aleman, R. Vogel, S. Leicester, H. Weir, M. Meaux, S. Grebas, C.Solomon, M. Holland, T. Northcutt, R. A. Restrepo, R. Bilodeau, 2013. NASA/Global Change Master Directory (GCMD) Earth Science Keywords. Version 8.0.0.0.0