Earth
ID: 3372
Loop of AMSR-E Daily Arctic Sea Ice from Aug 2005 to Aug 2006
Sea ice is frozen seawater floating on the surface of the ocean. Some sea ice is permanent, persisting from year to year, and some is seasonal, melting and refreezing from season to season. Sea ice is almost always in motion, reacting to ocean currents and to winds. The AMSR-E instrument on the Aqua satellite acquires high resolution measurements of the 89 GHz brightness temperature near the poles. Because this is a passive microwave sensor and independent of atmospheric effects, this sensor is able to observe the entire polar region every day, even through clouds and snowfalls. This animation of AMSR-E 89 GHz brightness temperature in the northern hemisphere during late 2005 and early 2006 clearly shows the dynamic motion of the ice as well as its seasonal expansion and contraction. This animation shows the seasonal advance and retreat of sea ice over the Arctic from 8/5/2005 through 8/4/2006. The false color of the sea ice, derived from the AMSR-E 6.25 km 89 GHz brightness temperature, highlights the fissures in the sea ice by showing warmer areas of ice in a deeper blue and colder areas of sea ice in a brighter white. The sea ice extent is defined by a three-day moving average of the AMSR-E 12.5 km sea ice concentration, showing as ice all areas having a sea ice concentration greater than 15%.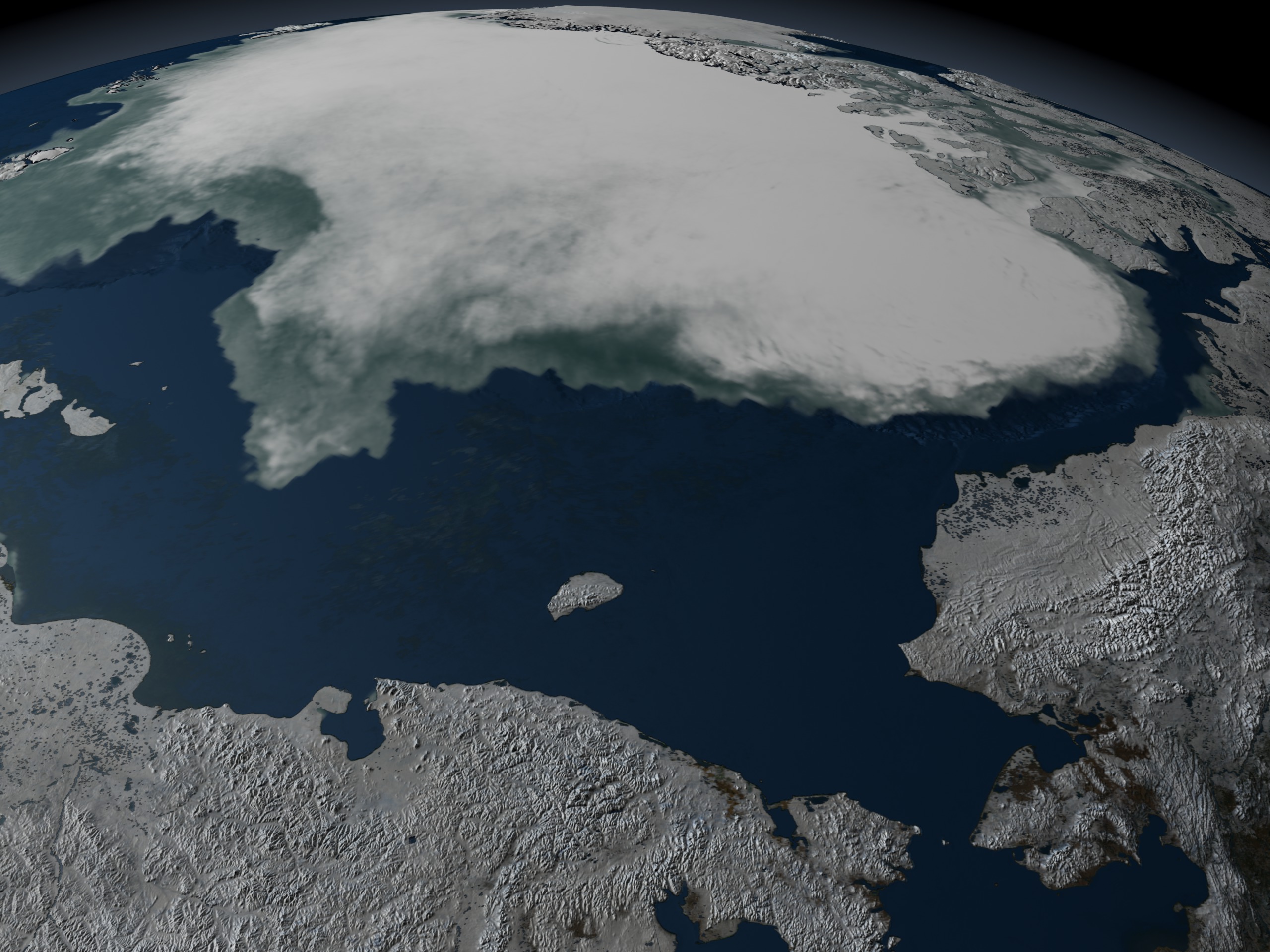 ---
Related
---
Visualization Credits
Please give credit for this item to:
NASA/Goddard Space Flight Center Scientific Visualization Studio The Blue Marble data is courtesy of Reto Stockli (NASA/GSFC).
Short URL to share this page:
http://svs.gsfc.nasa.gov/3372
Mission:
Terra
Data Used:
Aqua/AMSR-E/Daily L3 6.25 km 89 GHz Brightness Temperature (Tb)
2005-08-05 through 2006-08-04
Terra/MODIS
2005-08-05 through 2006-08-04
Aqua/AMSR-E/Daily L3 12.5km Tb, Sea Ice Concentration, and Snow Depth
2005-08-05 through 2006-08-04
Note: While we identify the data sets used in these visualizations, we do not store any further details nor the data sets themselves on our site.
This item is part of this series:
NASM2006
Goddard TV Tape:
G2007-001HD
-- NASA's HD Climate Change Resource Tape
Keywords:
DLESE >>
Cryology
SVS >>
HDTV
GCMD >>
Earth Science
>>
Cryosphere
GCMD >>
Earth Science
>>
Cryosphere
>>
Sea Ice
GCMD >>
Earth Science
>>
Cryosphere
>>
Snow/Ice
GCMD >>
Earth Science
>>
Hydrosphere
>>
Snow/Ice
GCMD >>
Earth Science
>>
Oceans
>>
Sea Ice
GCMD >>
Earth Science
>>
Cryosphere
>>
Sea Ice
>>
Ice Floes
GCMD >>
Earth Science
>>
Cryosphere
>>
Sea Ice
>>
Sea Ice Concentration
GCMD >>
Earth Science
>>
Cryosphere
>>
Sea Ice
>>
Sea Ice Motion
GCMD >>
Earth Science
>>
Cryosphere
>>
Snow/Ice
>>
Freeze/Thaw
GCMD >>
Earth Science
>>
Cryosphere
>>
Snow/Ice
>>
Ice Growth/Melt
GCMD >>
Earth Science
>>
Cryosphere
>>
Snow/Ice
>>
Ice Motion
GCMD >>
Earth Science
>>
Hydrosphere
>>
Snow/Ice
>>
Ice Motion
GCMD >>
Earth Science
>>
Oceans
>>
Sea Ice
>>
Ice Floes
GCMD >>
Earth Science
>>
Oceans
>>
Sea Ice
>>
Ice Growth/Melt
NASA Science >>
Earth
GCMD keywords can be found on the Internet with the following citation:
Olsen, L.M., G. Major, K. Shein, J. Scialdone, S. Ritz, T. Stevens, M. Morahan, A. Aleman, R. Vogel, S. Leicester, H. Weir, M. Meaux, S. Grebas, C.Solomon, M. Holland, T. Northcutt, R. A. Restrepo, R. Bilodeau, 2013. NASA/Global Change Master Directory (GCMD) Earth Science Keywords. Version 8.0.0.0.0