Earth
ID: 3009
TRMM Looks at the Rain Fueling Hurricane Ivan on September 15, 2004
NASA's TRMM spacecraft is used by meteorologists to understand Hurricane Ivan. TRMM snapped this view of Hurricane Ivan on September 15, 2004 just before the storm strikes land. The cloud cover is taken by TRMM's Visible and Infrared Scanner (VIRS). The rain structure is taken by TRMM's Precipitation Radar (PR). It looks underneath of the storm's clouds to reveal the underlying rain structure. Blue represents areas with at least 0.25 inches of rain per hour. Green shows at least 0.5 inches of rain per hour. Yellow is at least 1.0 inches of rain and Red is at least 2.0 inches of rain per hour. High vertical bands on the outside of the storm indicated that Hurricane Ivan was very likely to spawn tornados in Florida and Georgia.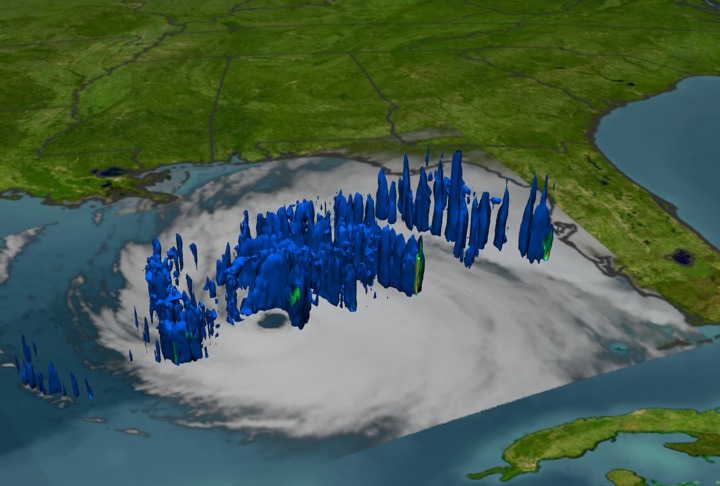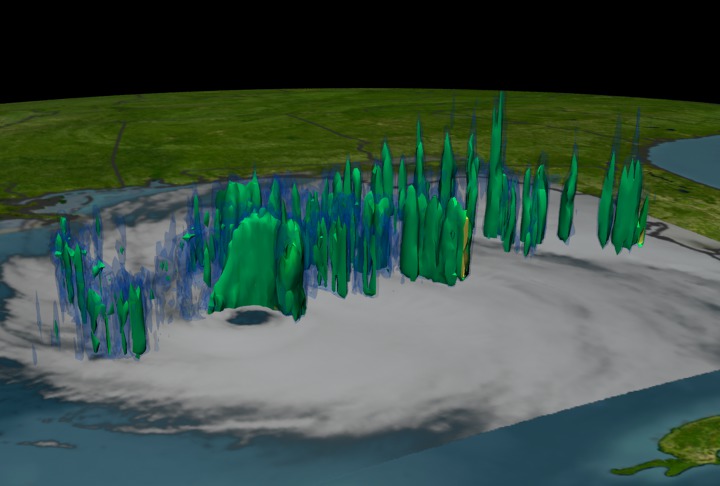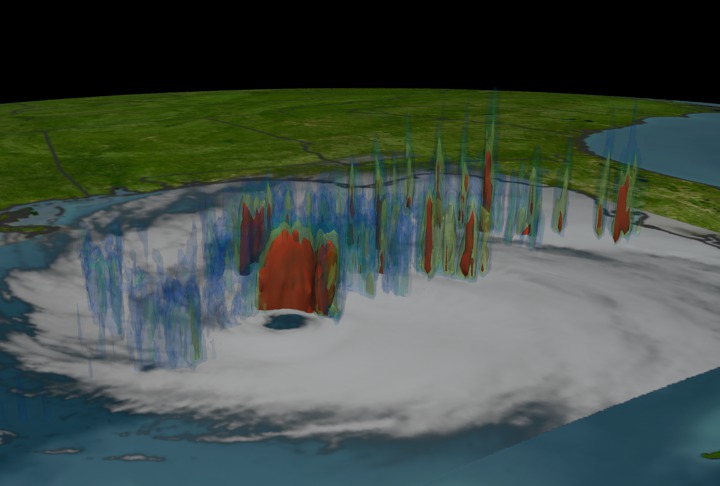 ---
Visualization Credits
Please give credit for this item to:
NASA/Goddard Space Flight Center Scientific Visualization Studio
Short URL to share this page:
https://svs.gsfc.nasa.gov/3009
Mission:
Tropical Rainfall Measuring Mission - TRMM
Data Used:
Note: While we identify the data sets used in these visualizations, we do not store any further details nor the data sets themselves on our site.
This item is part of these series:
Hurricanes
TRMM 3D Hurricanes
Hurricane Ivan
Keywords:
DLESE >> Atmospheric science
DLESE >> Natural hazards
SVS >> New Orleans
SVS >> Rain Structure
GCMD >> Earth Science >> Atmosphere >> Atmospheric Phenomena >> Hurricanes
GCMD >> Location >> Alabama
GCMD >> Location >> Florida
GCMD >> Location >> Louisiana
SVS >> Mobile
SVS >> For Educators
SVS >> Hurricanes >> Isabel
SVS >> Earth Science >> Atmospheric Science
SVS >> Earth Science >> Circulation
SVS >> Earth Science >> Cloud Cover
SVS >> Hurricanes >> Natural Hazards
SVS >> Hurricanes >> Ocean Winds
SVS >> Hurricanes >> Precipitation
SVS >> Hurricanes >> Water Cycle
NASA Science >> Earth
GCMD keywords can be found on the Internet with the following citation:
Olsen, L.M., G. Major, K. Shein, J. Scialdone, S. Ritz, T. Stevens, M. Morahan, A. Aleman, R. Vogel, S. Leicester, H. Weir, M. Meaux, S. Grebas, C.Solomon, M. Holland, T. Northcutt, R. A. Restrepo, R. Bilodeau, 2013. NASA/Global Change Master Directory (GCMD) Earth Science Keywords. Version 8.0.0.0.0