Planets and Moons
Sun
Earth
ID: 3595
Sentinels of the Heliosphere
Heliophysics is a term to describe the study of the Sun, its atmosphere or the heliosphere, and the planets within it as a system. As a result, it encompasses the study of planetary atmospheres and their magnetic environment, or magnetospheres. These environments are important in the study of space weather.

As a society dependent on technology, both in everyday life, and as part of our economic growth, space weather becomes increasingly important. Changes in space weather, either by solar events or geomagnetic events, can disrupt and even damage power grids and satellite communications. Space weather events can also generate x-rays and gamma-rays, as well as particle radiations, that can jeopardize the lives of astronauts living and working in space.

This visualization tours the regions of near-Earth orbit; the Earth's magnetosphere, sometimes called geospace; the region between the Earth and the Sun; and finally out beyond Pluto, where Voyager 1 and 2 are exploring the boundary between the Sun and the rest of our Milky Way galaxy. Along the way, we see these regions patrolled by a fleet of satellites that make up NASA's Heliophysics Observatory Telescopes. Many of these spacecraft do not take images in the conventional sense but record fields, particle energies and fluxes in situ. Many of these missions are operated in conjunction with international partners, such as the European Space Agency (ESA) and the Japanese Space Agency (JAXA).

The Earth and distances are to scale. Larger objects are used to represent the satellites and other planets for clarity.

Here are the spacecraft featured in this movie:

Near-Earth Fleet:
Geospace Fleet:
L1 Fleet:
The L1 point is a Lagrange Point, a point between the Earth and the Sun where the gravitational pull is approximately equal. Spacecraft can orbit this location for continuous coverage of the Sun.
Heliospheric Fleet
Heliopause Fleet
This enhanced, narrated visualization was shown at the SIGGRAPH 2009 Computer Animation Festival in New Orleans, LA in August 2009; an eariler version created for AGU was called NASA's Heliophysics Observatories Study the Sun and Geospace.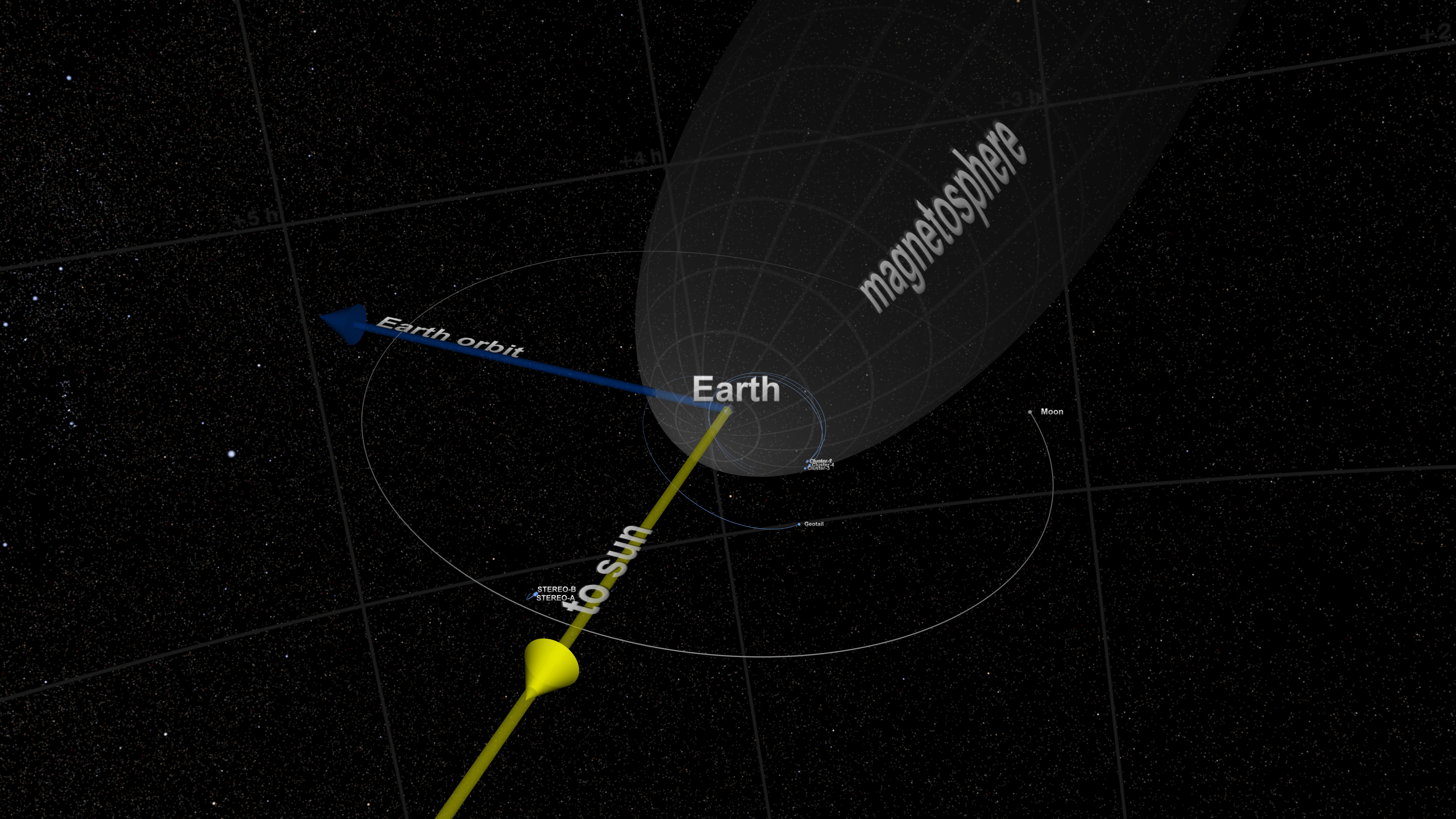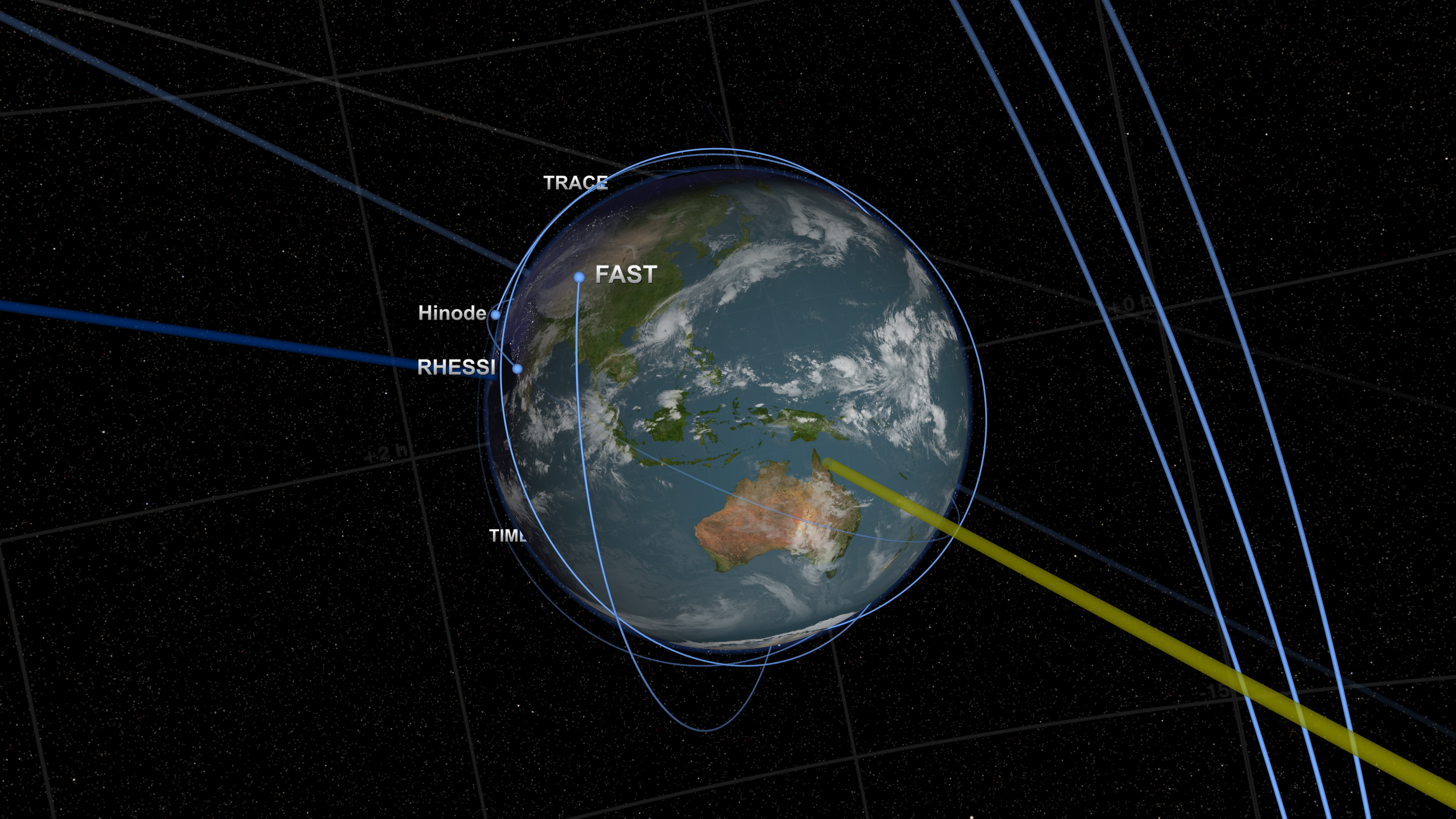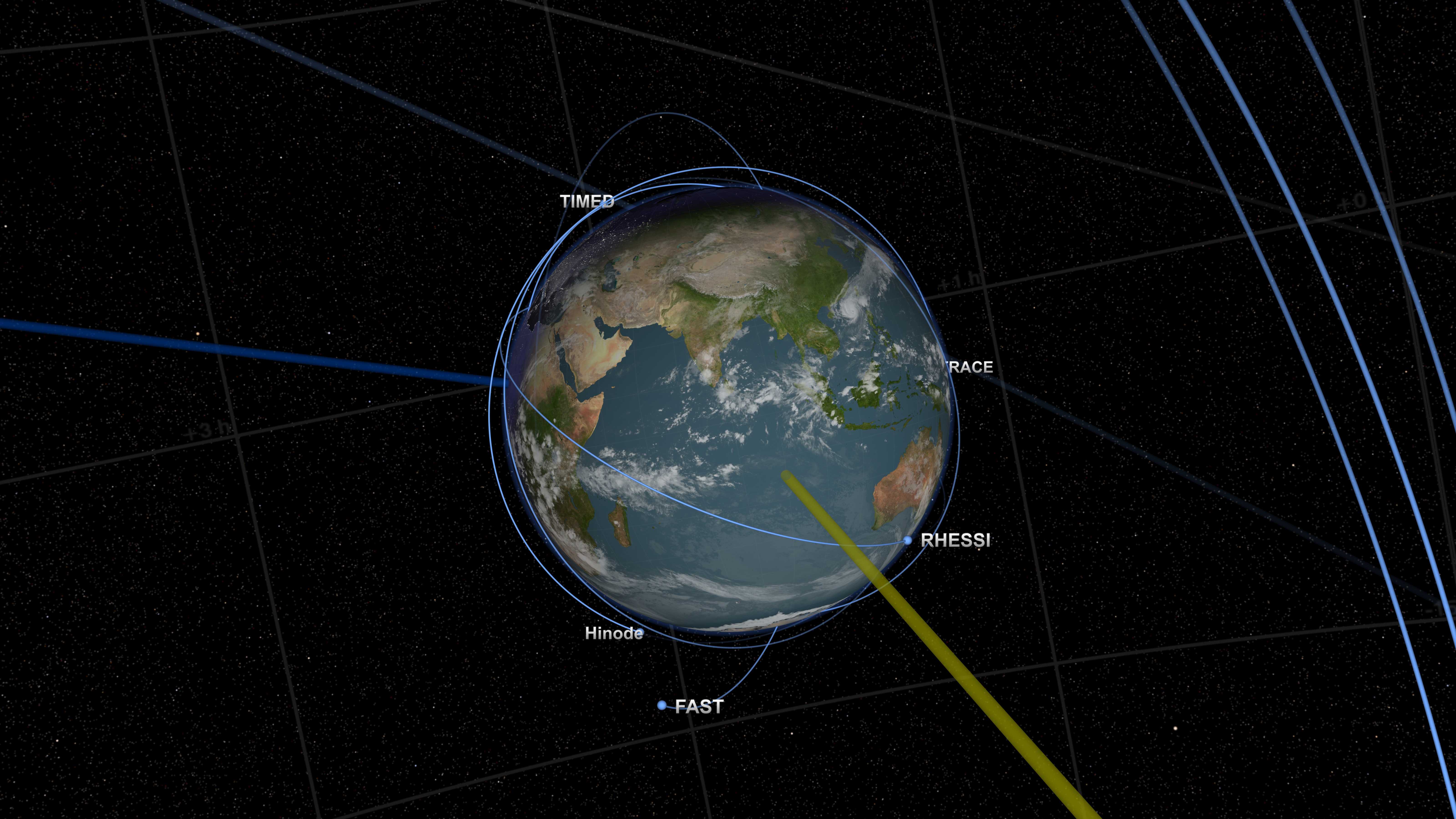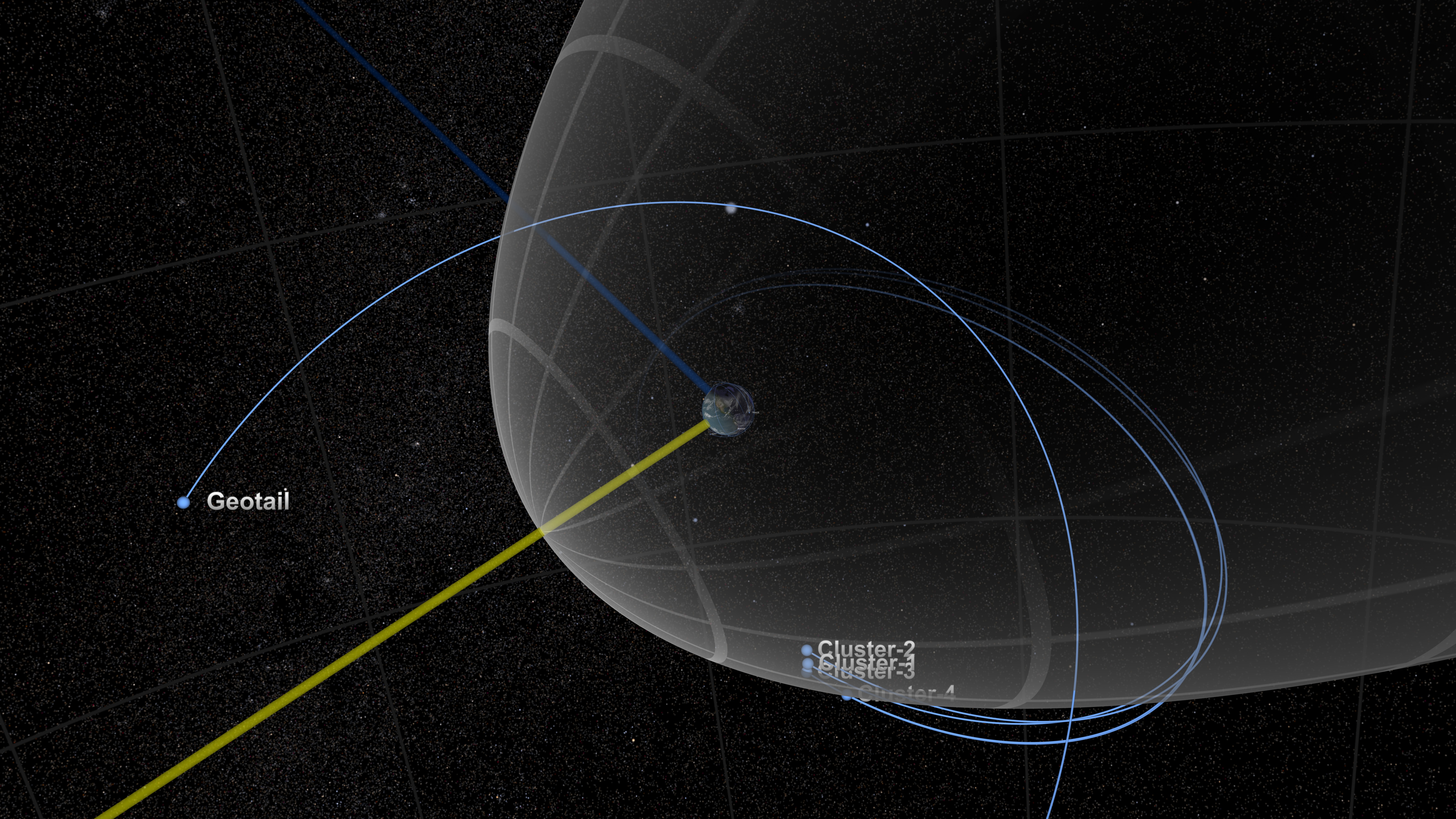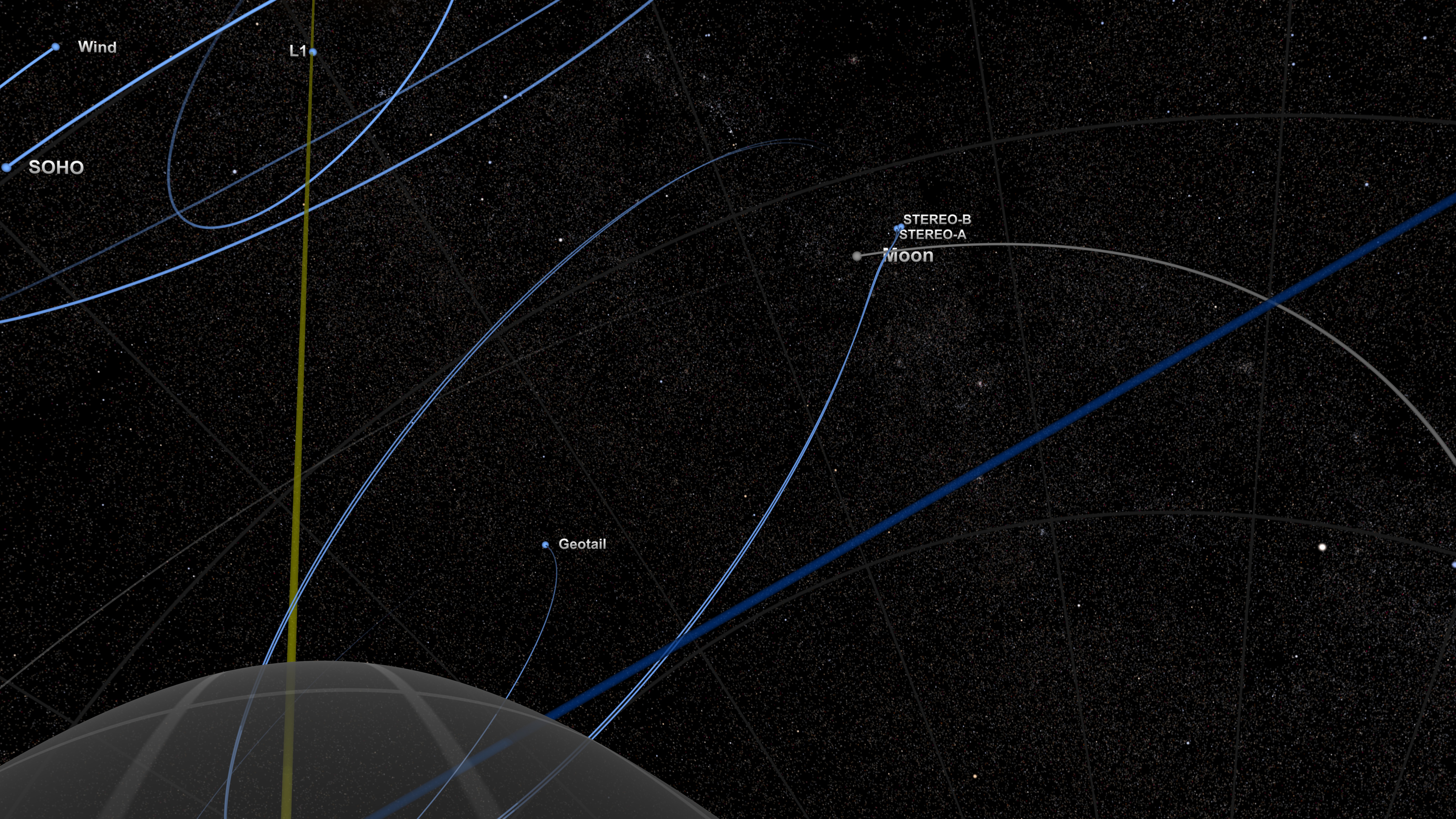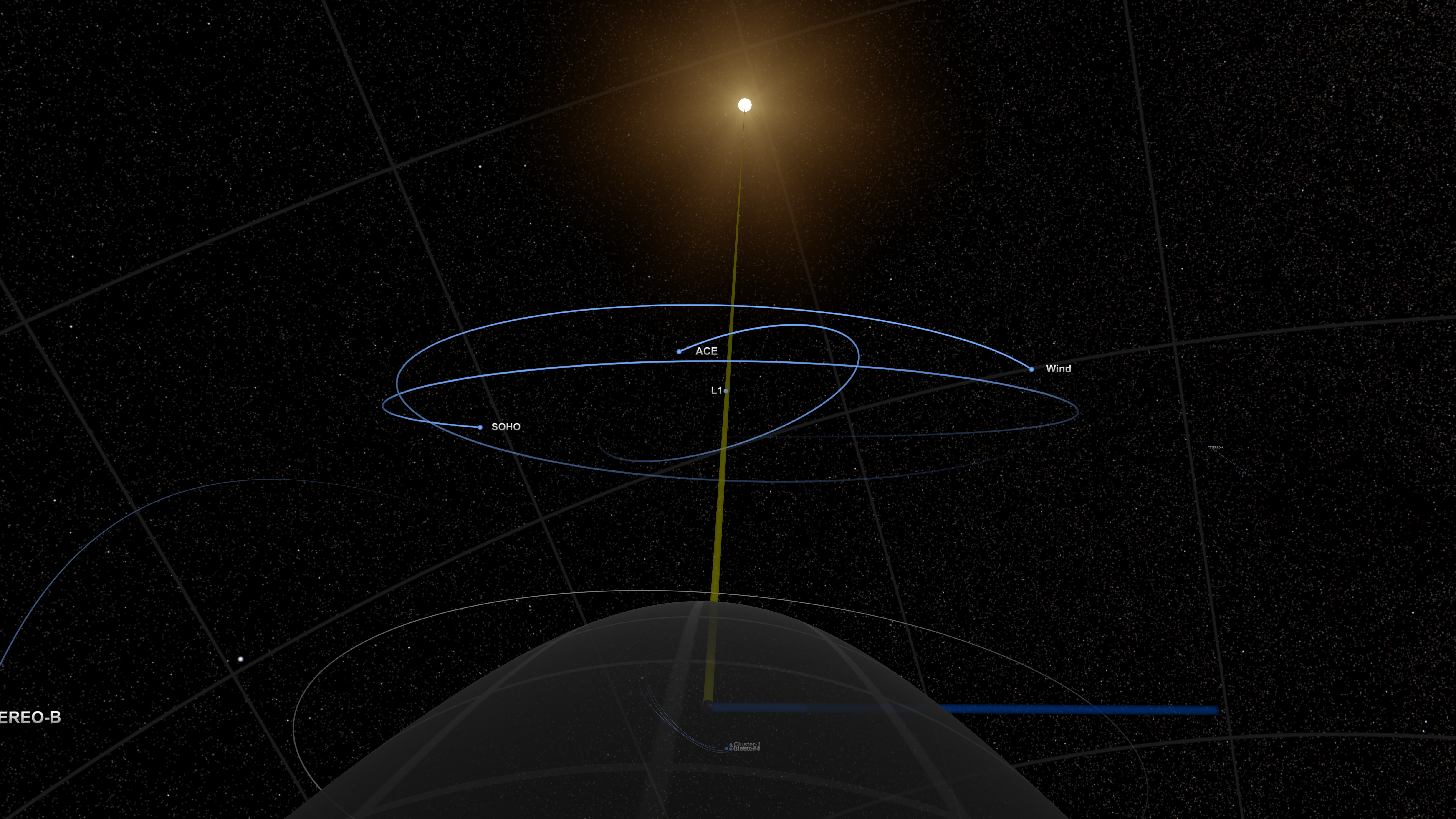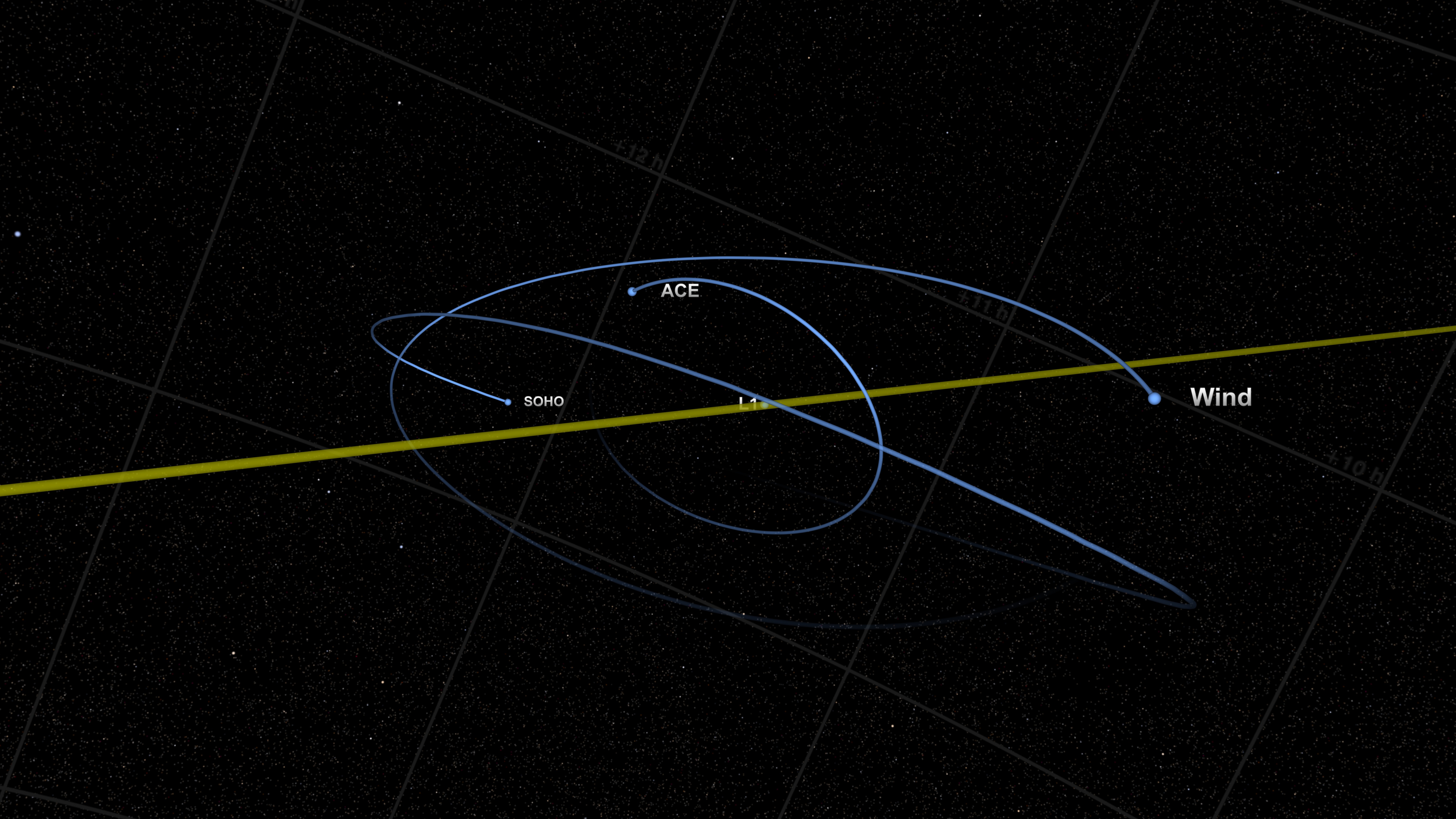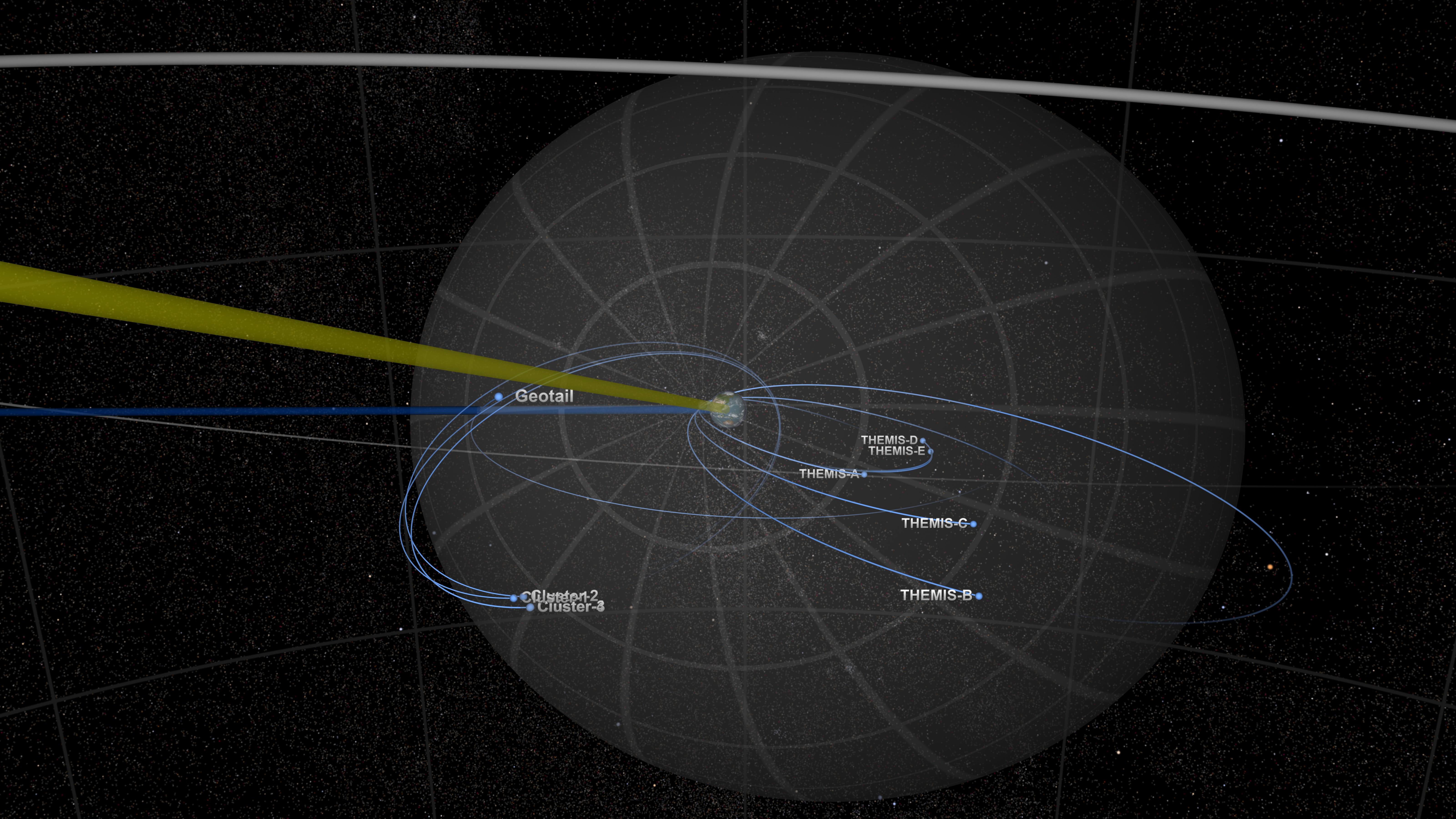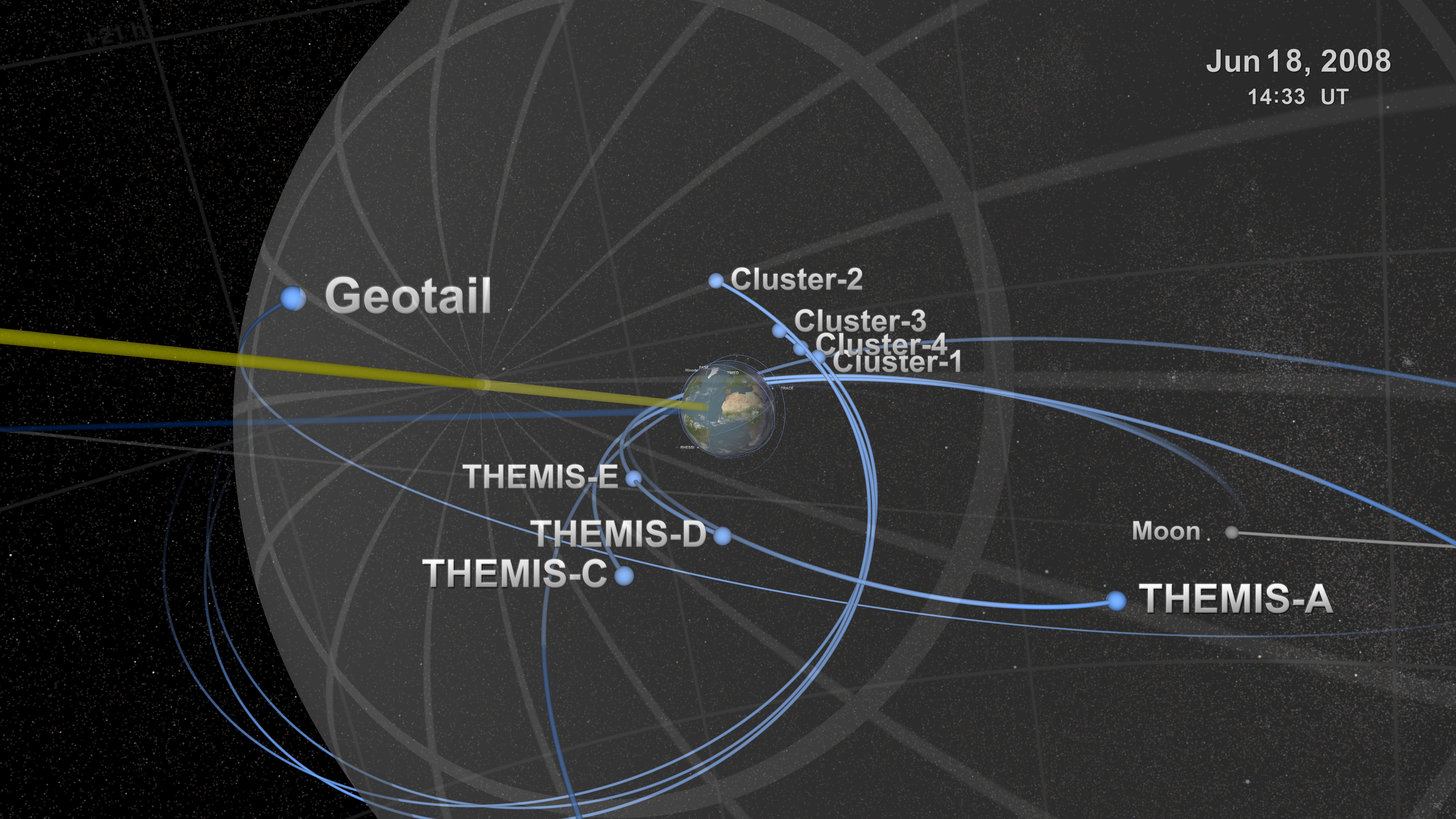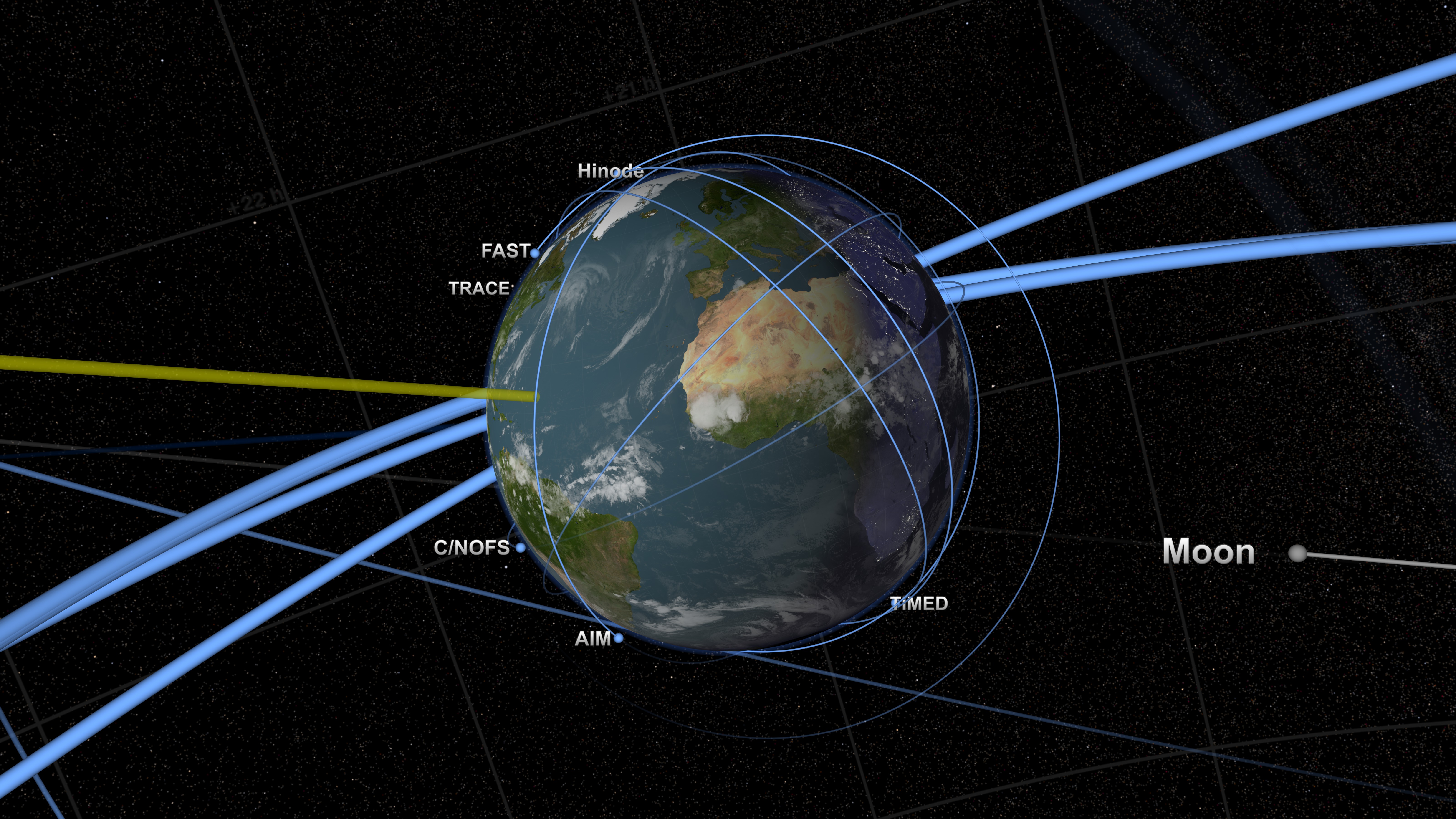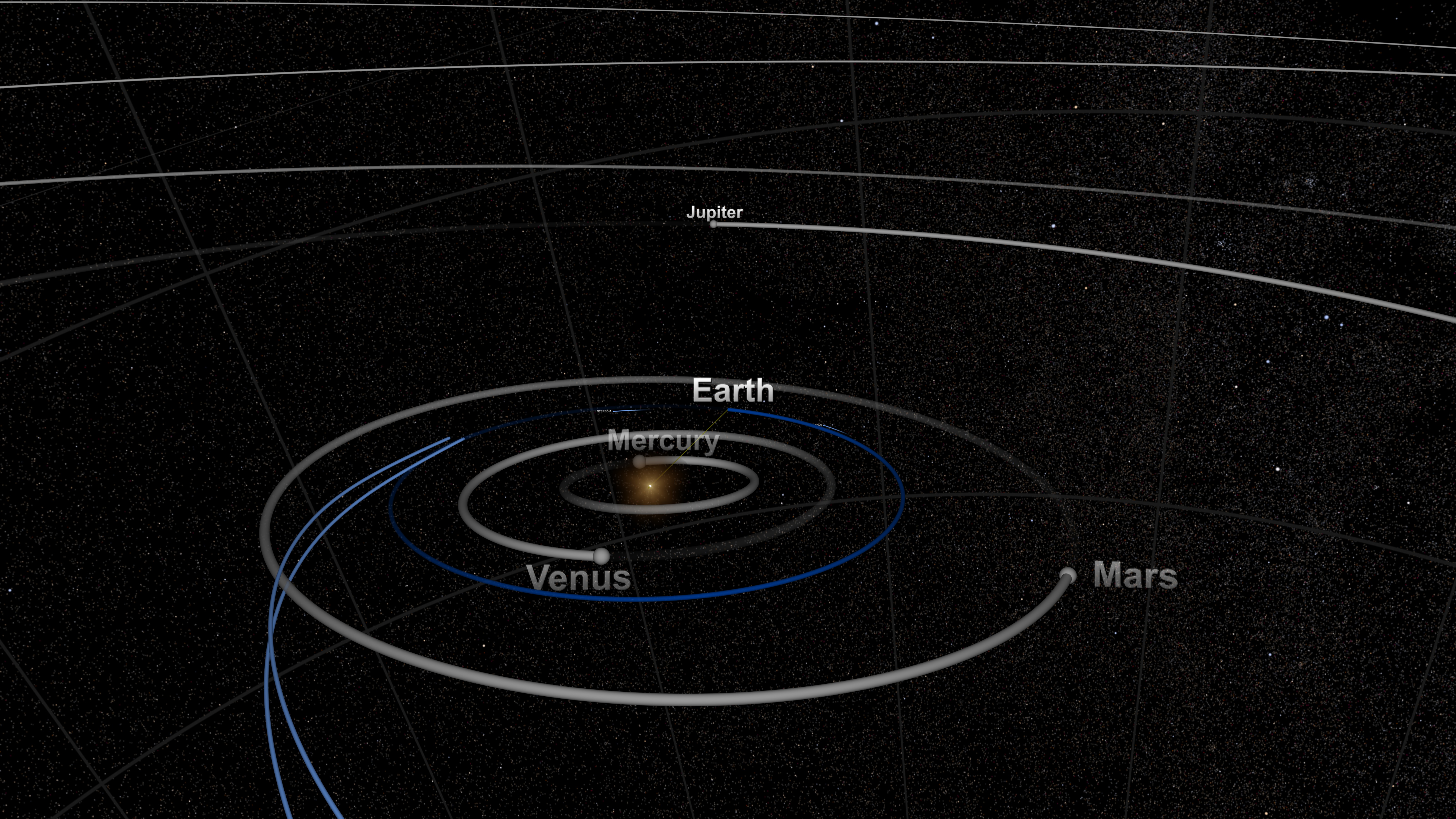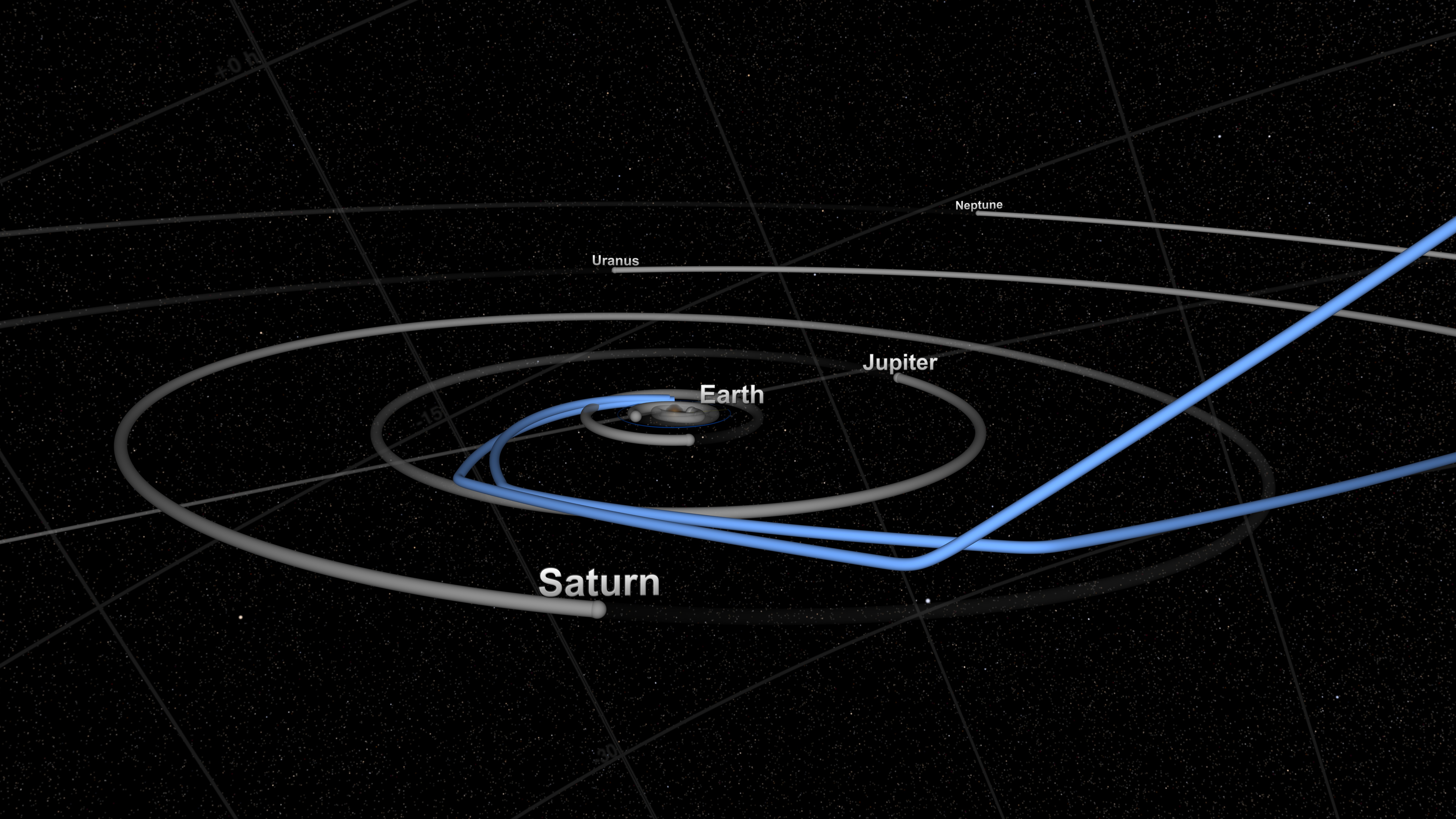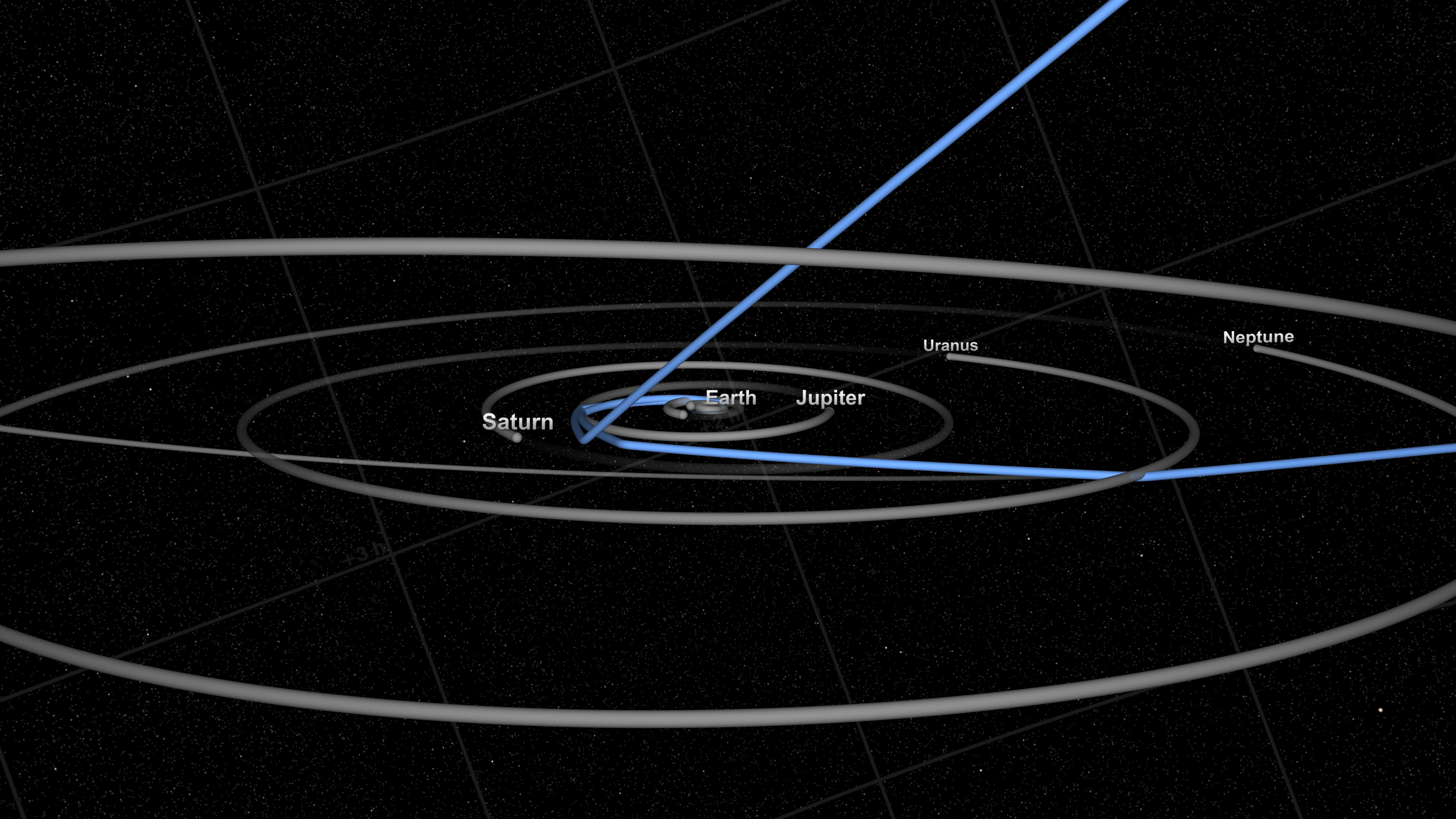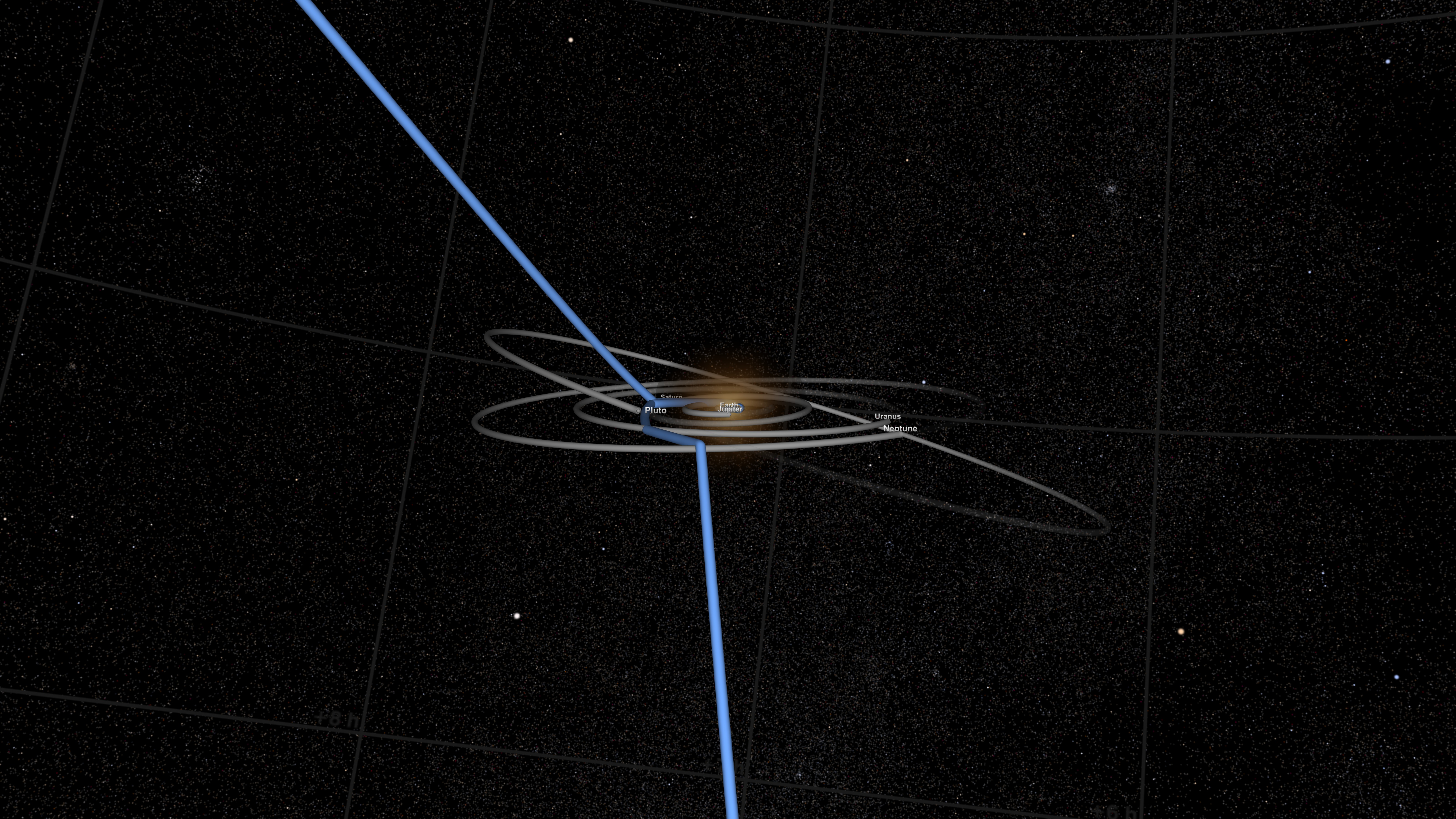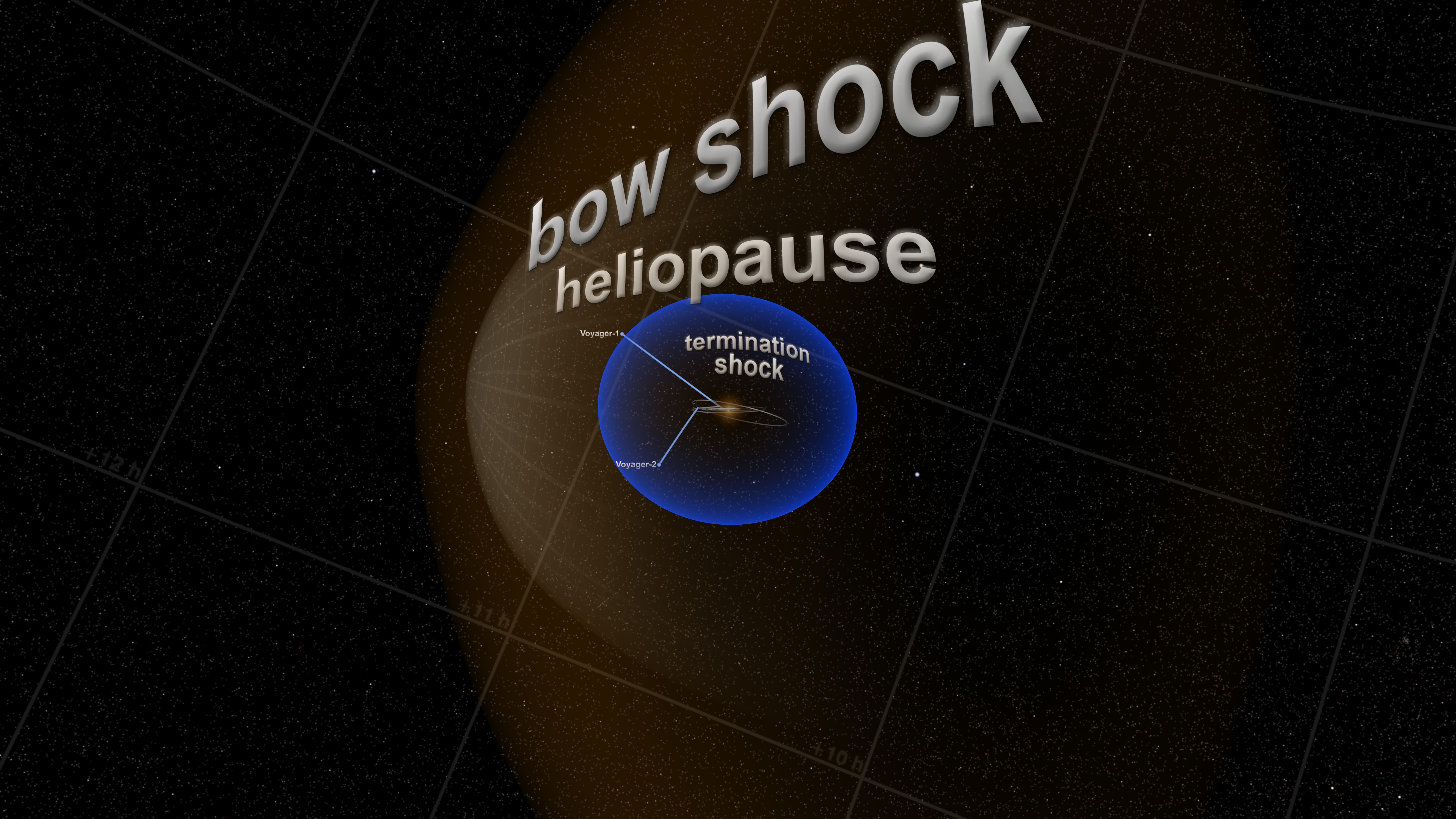 ---
Related
---
Visualization Credits
Please give credit for this item to:
NASA/Goddard Space Flight Center Scientific Visualization Studio
Short URL to share this page:
https://svs.gsfc.nasa.gov/3595
Missions:
Wind
Voyager
TRACE
TIMED
THEMIS
STEREO
SOHO
RHESSI
Mercury
Hinode (Solar-b)
CINDI
AIM
ACE
Data Used:
Note: While we identify the data sets used in these visualizations, we do not store any further details nor the data sets themselves on our site.
This item is part of these series:
Heliophysics Fleet
Astrophysics Stills
Goddard Shorts
Goddard Best of 2009 Film Festival
Narrated Movies
Keywords:
GCMD >> Earth Science >> Sun-earth Interactions >> Solar Activity >> Coronal Mass Ejections
GCMD >> Earth Science >> Sun-earth Interactions >> Ionosphere/Magnetosphere Dynamics >> Aurorae
NASA Science >> Planets and Moons
NASA Science >> Sun
NASA Science >> Earth
SVS >> Geospace
SVS >> Atmosphere >> Winds >> Circulation
SVS >> For Educators
SVS >> STEREO
SVS >> Hinode
SVS >> Voice Over Talent
DLESE >> Narrated
SVS >> Copenhagen
SVS >> TRACE
SVS >> Heliophysics
SVS >> Auroral Substorm
SVS >> RHESSI
SVS >> Electromagnetic Spectrum
SVS >> Edited Feature
SVS >> Noctilucent Clouds
SVS >> iPod
SVS >> Heliopause
SVS >> Solar System
SVS >> AIM
SVS >> THEMIS
SVS >> Hyperwall
SVS >> Space Weather
SVS >> Orbit
SVS >> Venus
SVS >> Spacecraft
SVS >> Solar Wind
SVS >> Satellite dynamics
SVS >> Satellite
SVS >> SOHO
SVS >> Moon
SVS >> Mercury
SVS >> Mars
SVS >> Magnetosphere
SVS >> Heliosphere
SVS >> HDTV
SVS >> Geomagnetic Field
SVS >> Energetic Particles
GCMD keywords can be found on the Internet with the following citation:
Olsen, L.M., G. Major, K. Shein, J. Scialdone, S. Ritz, T. Stevens, M. Morahan, A. Aleman, R. Vogel, S. Leicester, H. Weir, M. Meaux, S. Grebas, C.Solomon, M. Holland, T. Northcutt, R. A. Restrepo, R. Bilodeau, 2013. NASA/Global Change Master Directory (GCMD) Earth Science Keywords. Version 8.0.0.0.0