Earth
ID: 858
Minneapolis Flyby
These scenes show Minneapolis and St. Paul as seen by the Landsat Thematic Mapper (TM) instrument. The shortwave infrared (TM band 5), infrared (TM band 4), and visible green (TM band 2) channels are displayed in the images as red, green, and blue respectively. In this combination, barren and/or recently cultivated land appears red to pink, vegetation appears green, water is dark blue, and artificial structures of concrete and asphalt appear dark gray or black. In the first scene showing Minneapolis and St. Paul, Downtown Minneapolis straddles the Mississippi River in the center of the image, with the Minnesota River coming in through the south of town. The Minneapolis airport is located near the junction of the Minnesota and Mississippi Rivers. St. Paul is to the east (right) of Minneapolis, downstream of the river junction. To the far right and upper corner, the St. Croix River defines the border between Minnesota and Wisconsin. The town on the Minnesota side of the St. Croix River is Stillwater. The South Minnesota image shows the city near the Minnesota River, while the downtown image is looking westward from St. Paul towards Minneapolis.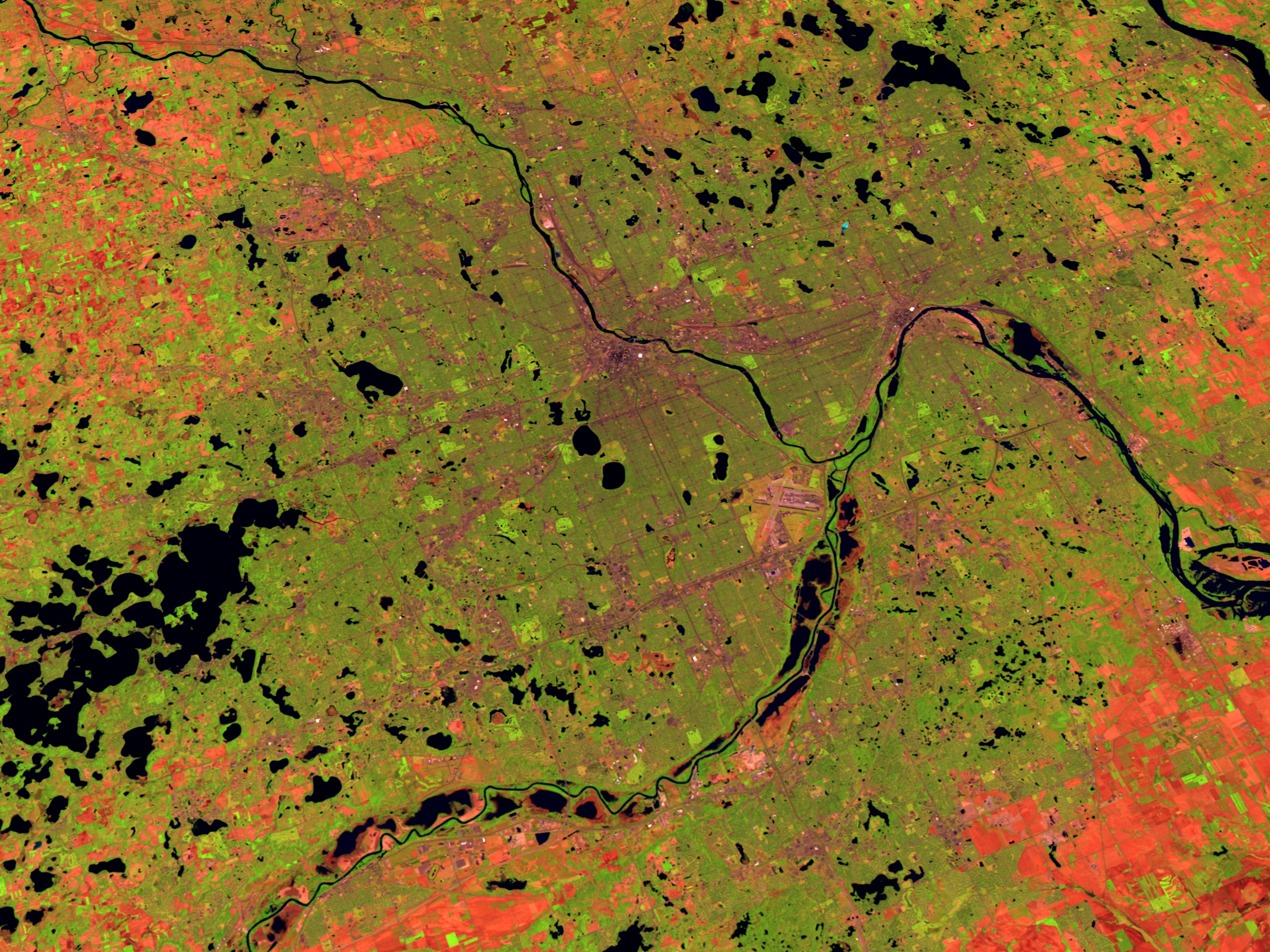 ---
For More Information
---
Visualization Credits
Please give credit for this item to:
NASA/Goddard Space Flight Center Scientific Visualization Studio
Short URL to share this page:
http://svs.gsfc.nasa.gov/858
Mission:
Landsat
Data Used:
Landsat-5/TM
1996/05/31
Note: While we identify the data sets used in these visualizations, we do not store any further details nor the data sets themselves on our site.
This item is part of this series:
USCities
Goddard TV Tape:
G1999-021
Keywords:
DLESE >>
Human geography
DLESE >>
Physical geography
SVS >>
St. Paul
NASA Science >>
Earth