Earth
ID: 5051
Drought conditions set the stage for an intense fire season in California in 2021
The 2021 wildfire season in California started amid an ongoing drought and historically low rainfall and reservoir levels. By August, seasonal deficits of rainfall result in anomalously dry soils in large parts of the Western US. Eventually, the vegetation dries out as the roots can't provide moisture to meet atmospheric demand. This vegetation stress is captured by thermal imaging satellites and by the model as reduced plant growth.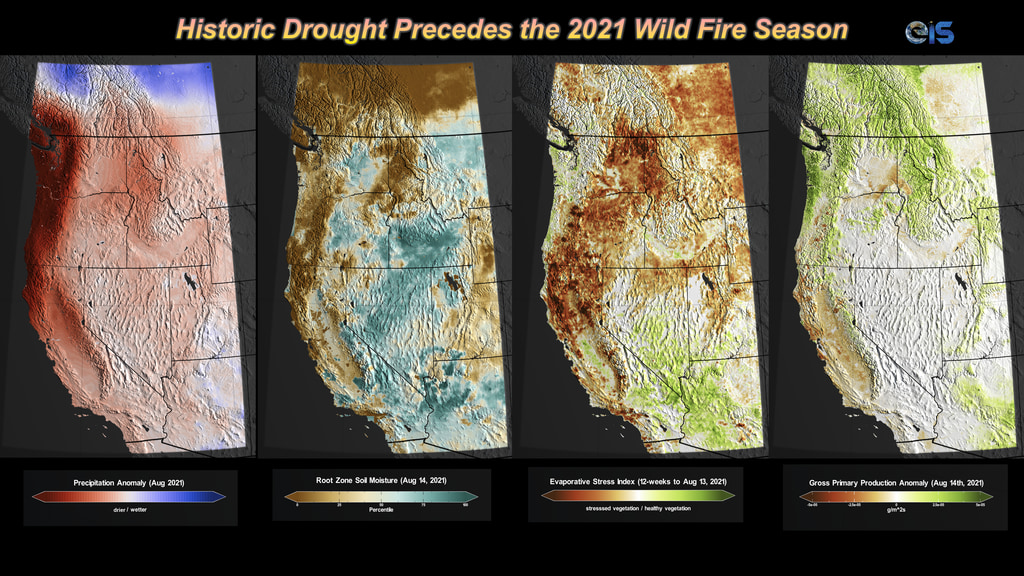 ---
Visualization Credits
Please give credit for this item to:
NASA's Scientific Visualization Studio
Short URL to share this page:
https://svs.gsfc.nasa.gov/5051
Data Used:
Note: While we identify the data sets used in these visualizations, we do not store any further details nor the data sets themselves on our site.
Keywords:
DLESE >> Atmospheric science
SVS >> Drought
SVS >> Fire Management
GCMD >> Earth Science >> Climate Indicators >> Drought Indices
GCMD >> Earth Science >> Atmosphere >> Precipitation >> Precipitation Anomalies
GCMD >> Earth Science >> Biosphere >> Ecological Dynamics >> Fire Characteristics
SVS >> Hyperwall
SVS >> Firefly
NASA Science >> Earth
GCMD >> Earth Science >> Climate Indicators >> Land Surface/agriculture Indicators >> Fire Weather Index
GCMD keywords can be found on the Internet with the following citation:
Olsen, L.M., G. Major, K. Shein, J. Scialdone, S. Ritz, T. Stevens, M. Morahan, A. Aleman, R. Vogel, S. Leicester, H. Weir, M. Meaux, S. Grebas, C.Solomon, M. Holland, T. Northcutt, R. A. Restrepo, R. Bilodeau, 2013. NASA/Global Change Master Directory (GCMD) Earth Science Keywords. Version 8.0.0.0.0