Earth
ID: 4445
El Niño - Atmospheric River in January 2016
Atmospheric river is one of good indicators of El Niño. This animation shows the activities of atmospheric river in January 2016, mainly through three datasets - precipitation, water vapor, and cloud. Precipitation is showed in green-to-red for liquid precipitation and blue-to-purple for frozen precipitation (please see the color bars below), which is from IMERG. Water vapor (from MERRA 2) is illustrated in light blue color. Cloud (from GOES 15) is pictured in white.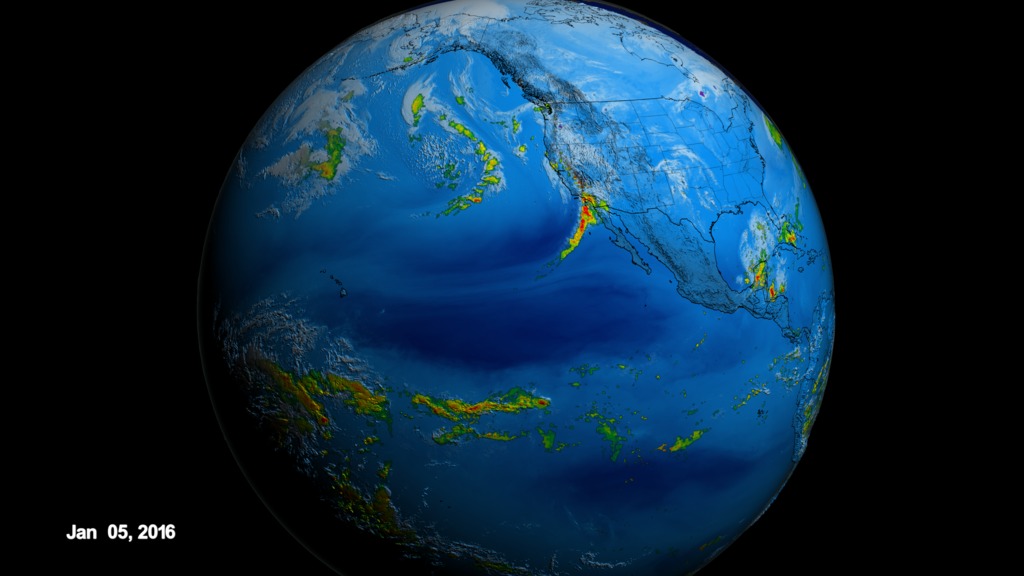 ---
Visualization Credits
Please give credit for this item to:
NASA's Scientific Visualization Studio
Short URL to share this page:
https://svs.gsfc.nasa.gov/4445
Data Used:
also referred to as: IMERG
Data Compilation - NASA/GSFC
GOES-15/P/Imager also referred to as: GOES-West
Note: While we identify the data sets used in these visualizations, we do not store any further details nor the data sets themselves on our site.
Keywords:
NASA Science >> Earth
SVS >> Hyperwall