Earth
ID: 4215
North Polar Sea Ice Minimum, 2014
Sea ice acts as an air conditioner for the planet, reflecting energy from the Sun. On September 17, the Arctic Sea ice reached its minimum extent for 2014 — at 1.94 million square miles (5.02 million square kilometers), it's the sixth lowest extent of the satellite record. With warmer temperatures and thinner, less resilient ice, the Arctic sea ice is on a downward trend. The red line in the still image indicates the average ice extent over the 30 year period between 1981 and 2011.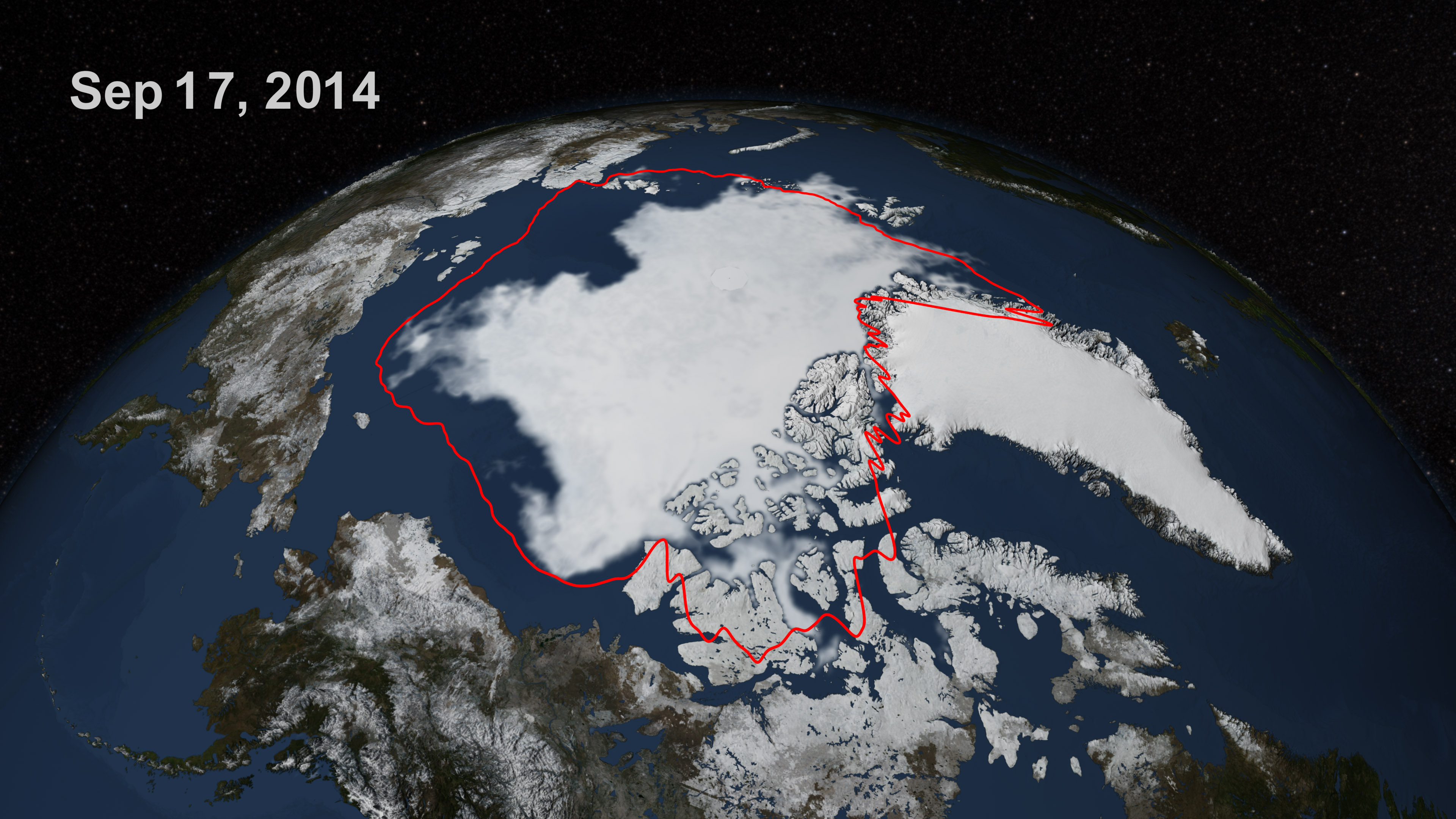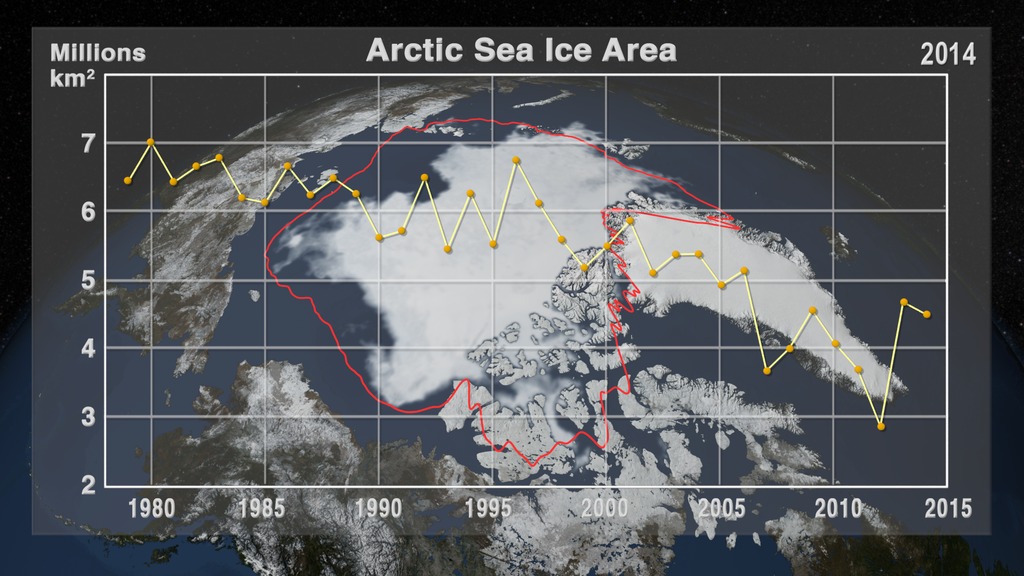 ---
Newer Versions
---
Related
---
Visualization Credits
Please give credit for this item to:
NASA's Scientific Visualization Studio

AMSR2 data courtesy of the Japan Aerospace Exploration Agency (JAXA).

The Blue Marble data is courtesy of Reto Stockli (NASA/GSFC).
Short URL to share this page:
https://svs.gsfc.nasa.gov/4215
Mission:
Terra
Data Used:
SHIZUKU (GCOM-W1)/AMSR2/10 km Daily Sea Ice Concentration
Terra and Aqua/MODIS/Blue Marble: Next Generation
SHIZUKU (GCOM-W1)/AMSR2/10 km Daily 89 GHz Brightness Temperature
Note: While we identify the data sets used in these visualizations, we do not store any further details nor the data sets themselves on our site.
Keywords:
DLESE >> Cryology
SVS >> Ice
GCMD >> Earth Science >> Cryosphere >> Sea Ice >> Ice Edges
GCMD >> Earth Science >> Cryosphere >> Snow/Ice >> Ice Extent
GCMD >> Earth Science >> Cryosphere >> Snow/Ice >> Ice Growth/Melt
SVS >> Ice Caps
NASA Science >> Earth
GCMD >> Earth Science >> Climate Indicators >> Cryospheric Indicators >> Ice Growth/melt
GCMD keywords can be found on the Internet with the following citation:
Olsen, L.M., G. Major, K. Shein, J. Scialdone, S. Ritz, T. Stevens, M. Morahan, A. Aleman, R. Vogel, S. Leicester, H. Weir, M. Meaux, S. Grebas, C.Solomon, M. Holland, T. Northcutt, R. A. Restrepo, R. Bilodeau, 2013. NASA/Global Change Master Directory (GCMD) Earth Science Keywords. Version 8.0.0.0.0