Earth
ID: 3571
AMSR-E Arctic Sea Ice: 2005 to 2008
Sea ice is frozen seawater floating on the surface of the ocean. Some sea ice is semi-permanent, persisting from year to year, and some is seasonal, melting and refreezing from season to season. The sea ice cover reaches its minimum extent at the end of each summer and the remaining ice is called the perennial ice cover.

In this animation, the globe slowly rotates one full rotation while the Arctic sea ice and seasonal land cover change throughout the years. The animation begins on September 21, 2005 when sea ice in the Arctic was at its minimum extent, and continues through September 20, 2008. This time period repeats twice during the animation, playing at a rate of one frame per day. Over the terrain, monthly data from the seasonal Blue Marble Next Generation fades slowly from month to month. Over the water, Arctic sea ice changes from day to day. This is a modification of animation ID #3404 : Global Rotation showing Seasonal Landcover and Arctic Sea Ice, which only covered a one-year time period.

For a 3D stereo version of this visualization, please visit animation entry: #3578: AMSR-E Arctic Sea Ice: 2005 to 2008 - Stereoscopic Version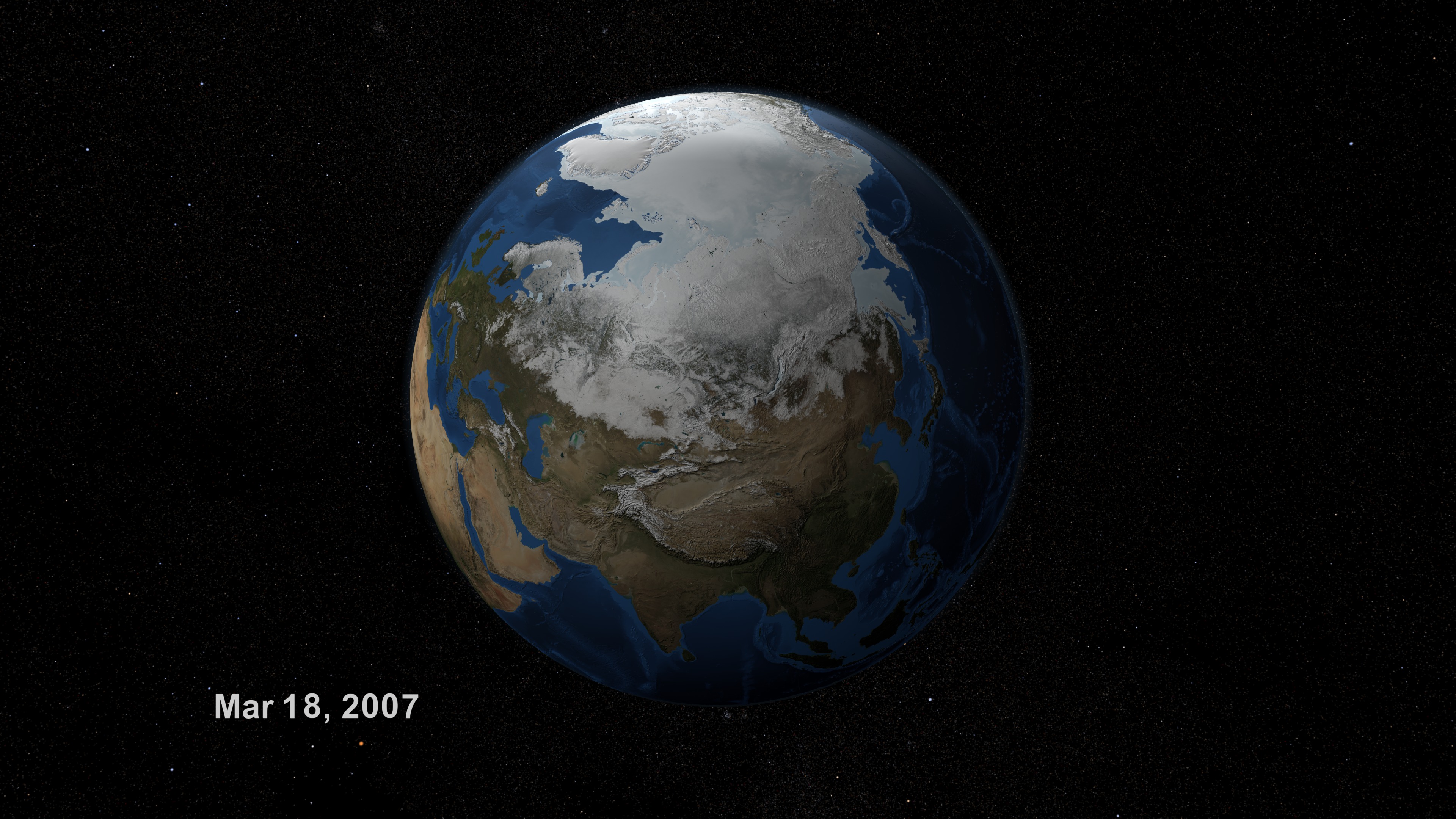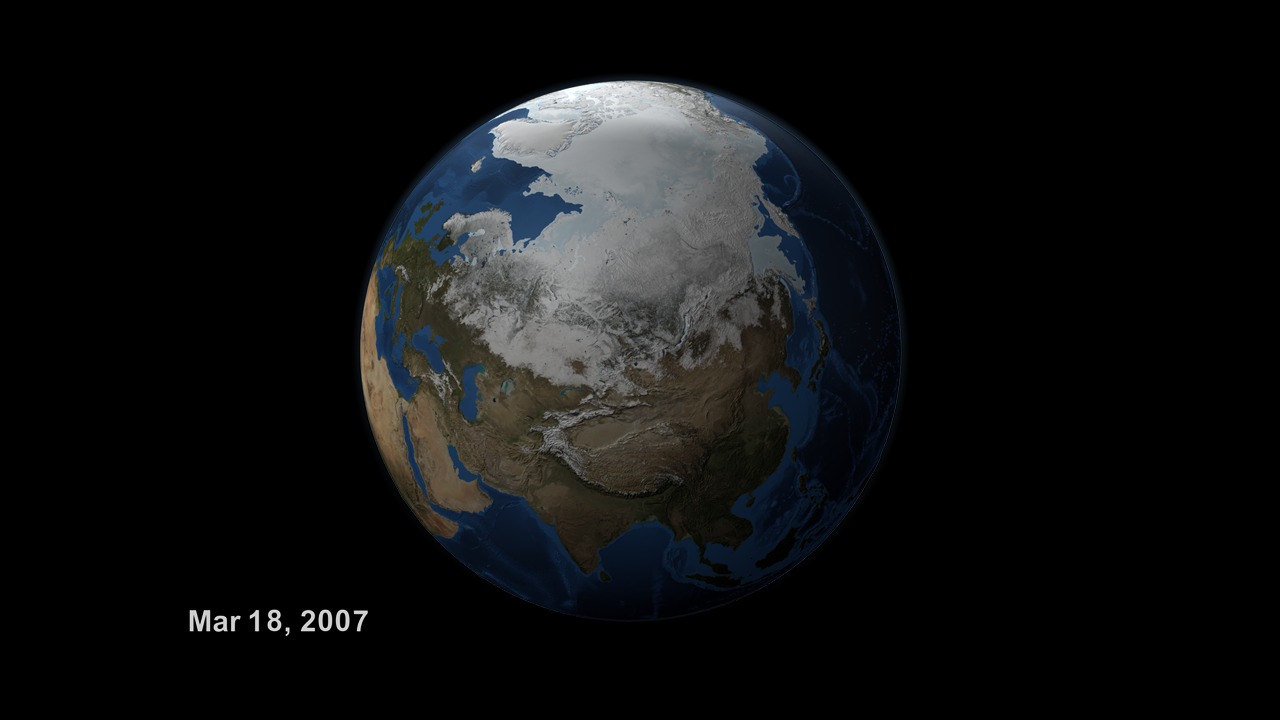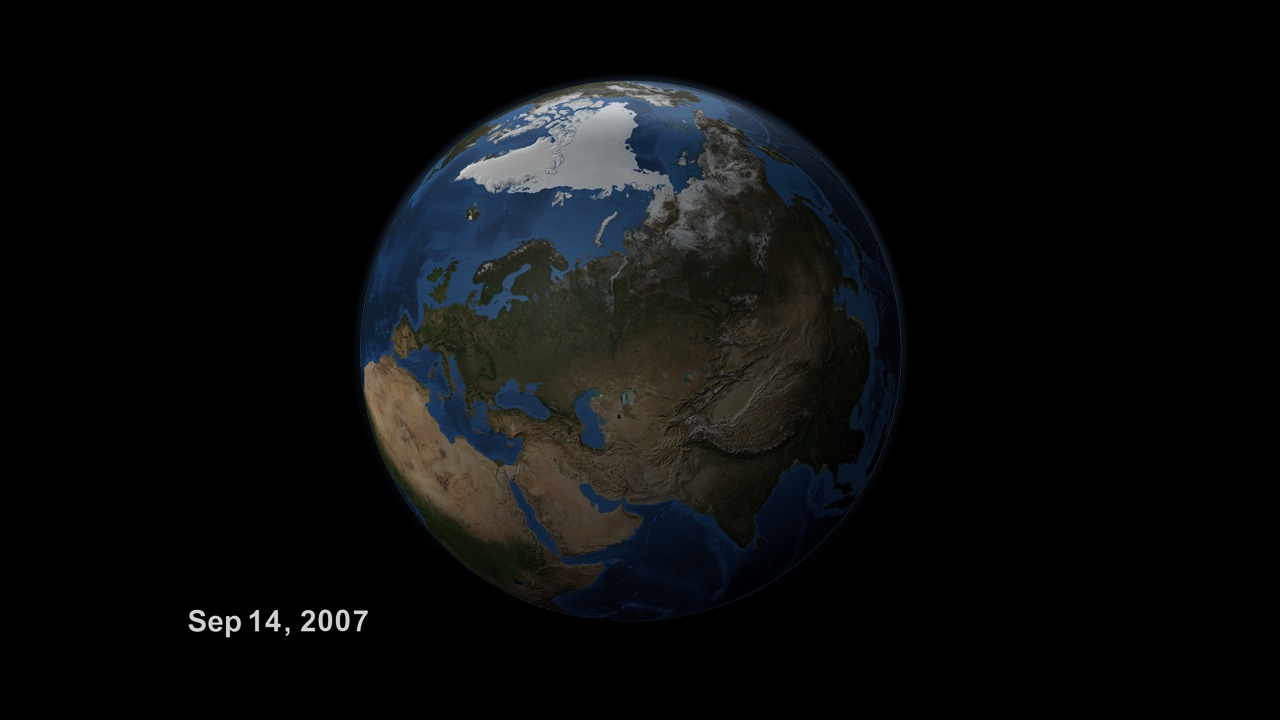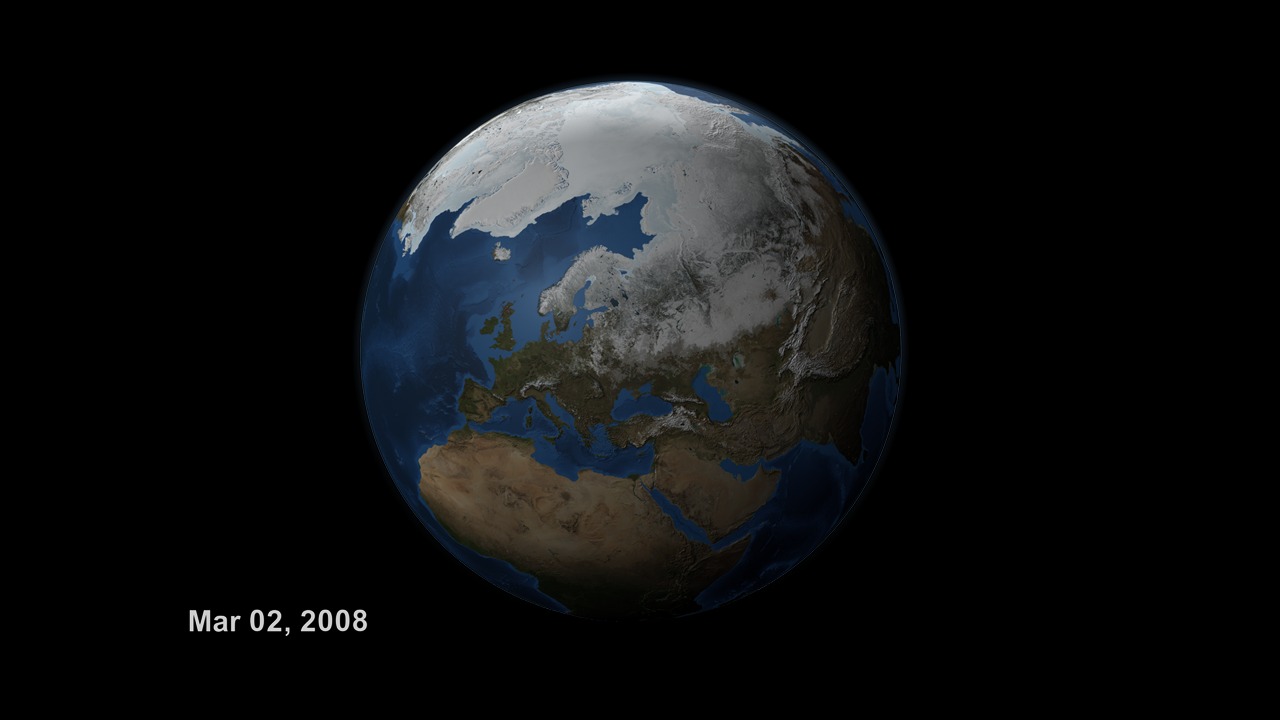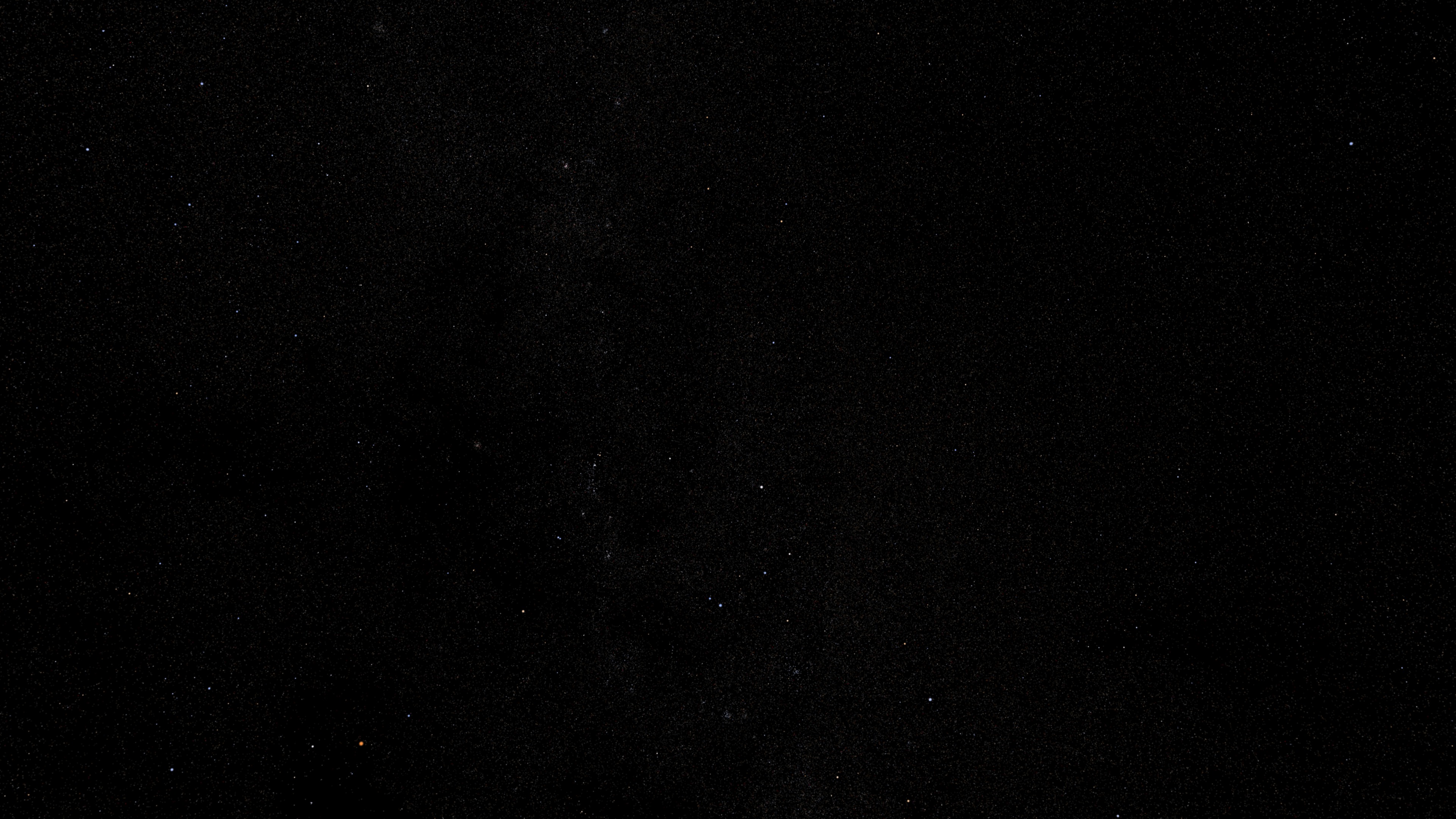 ---
Visualization Credits
Please give credit for this item to:
NASA/Goddard Space Flight Center Scientific Visualization Studio. The Blue Marble data is courtesy of Reto Stockli (NASA/GSFC).
Short URL to share this page:
https://svs.gsfc.nasa.gov/3571
Missions:
Terra
Tropical Rainfall Measuring Mission - TRMM
Data Used:
TRMM/PR and TMI/Monthly Average Precipitation
Aqua/AMSR-E/Daily L3 12.5km Tb, Sea Ice Concentration, and Snow Depth
2005-09-21 to 2008-09-20
Terra and Aqua/MODIS/Blue Marble Land Cover
2004-01 to 2004-12
Aqua/AMSR-E/Daily L3 6.25 km 89 GHz Brightness Temperature (Tb)
Note: While we identify the data sets used in these visualizations, we do not store any further details nor the data sets themselves on our site.
Keywords:
DLESE >>
Cryology
SVS >>
HDTV
SVS >>
Land Ice
DLESE >>
Physical oceanography
GCMD >>
Earth Science
>>
Cryosphere
GCMD >>
Earth Science
>>
Cryosphere
>>
Sea Ice
GCMD >>
Earth Science
>>
Cryosphere
>>
Snow/Ice
GCMD >>
Earth Science
>>
Hydrosphere
>>
Snow/Ice
GCMD >>
Earth Science
>>
Oceans
>>
Sea Ice
GCMD >>
Earth Science
>>
Cryosphere
>>
Sea Ice
>>
Ice Extent
GCMD >>
Earth Science
>>
Cryosphere
>>
Sea Ice
>>
Ice Floes
GCMD >>
Earth Science
>>
Cryosphere
>>
Sea Ice
>>
Ice Growth/Melt
GCMD >>
Earth Science
>>
Cryosphere
>>
Sea Ice
>>
Ice Types
GCMD >>
Earth Science
>>
Cryosphere
>>
Sea Ice
>>
Pack Ice
GCMD >>
Earth Science
>>
Cryosphere
>>
Sea Ice
>>
Sea Ice Concentration
GCMD >>
Earth Science
>>
Cryosphere
>>
Sea Ice
>>
Sea Ice Motion
GCMD >>
Earth Science
>>
Cryosphere
>>
Snow/Ice
>>
Freeze/Thaw
GCMD >>
Earth Science
>>
Cryosphere
>>
Snow/Ice
>>
Ice Extent
GCMD >>
Earth Science
>>
Cryosphere
>>
Snow/Ice
>>
Ice Growth/Melt
GCMD >>
Earth Science
>>
Cryosphere
>>
Snow/Ice
>>
Ice Motion
GCMD >>
Earth Science
>>
Cryosphere
>>
Snow/Ice
>>
Lake Ice
GCMD >>
Earth Science
>>
Hydrosphere
>>
Snow/Ice
>>
Ice Extent
GCMD >>
Earth Science
>>
Hydrosphere
>>
Snow/Ice
>>
Ice Motion
GCMD >>
Earth Science
>>
Hydrosphere
>>
Snow/Ice
>>
Lake Ice
GCMD >>
Earth Science
>>
Oceans
>>
Sea Ice
>>
Ice Extent
GCMD >>
Earth Science
>>
Oceans
>>
Sea Ice
>>
Ice Growth/Melt
GCMD >>
Earth Science
>>
Oceans
>>
Sea Ice
>>
Pack Ice
SVS >>
For Educators
SVS >>
Ice Melt
>>
Climage Change
SVS >>
Ice Melt
>>
Seasons
SVS >>
Perennial Ice Cover
NASA Science >>
Earth
GCMD keywords can be found on the Internet with the following citation:
Olsen, L.M., G. Major, K. Shein, J. Scialdone, S. Ritz, T. Stevens, M. Morahan, A. Aleman, R. Vogel, S. Leicester, H. Weir, M. Meaux, S. Grebas, C.Solomon, M. Holland, T. Northcutt, R. A. Restrepo, R. Bilodeau, 2013. NASA/Global Change Master Directory (GCMD) Earth Science Keywords. Version 8.0.0.0.0