Earth
ID: 3429
Ayles Ice Shelf Breakup Viewed from Overhead
On August 13, 2005, almost the entire Ayles Ice Shelf calved from the northern edge of Ellesmere Island. This continues the trend of dramatic loss of these ice shelves over the past century, reducing the remaining ice shelves there from six to five. Since 1900, approximately 90% of the Ellesmere Island ice shelves have calved and floated away. There is insufficient new ice formation to replace the ice that has been lost. The Ayles calving event was the largest in at least the last 25 years; a total of 87.1 sq km (33.6 sq miles) of ice was lost in this event, of which the largest piece was 66.4 sq km (25.6 sq. miles) in area. This piece is equivalent in size to approximately 11,000 football fields or a little larger than the island of Manhattan.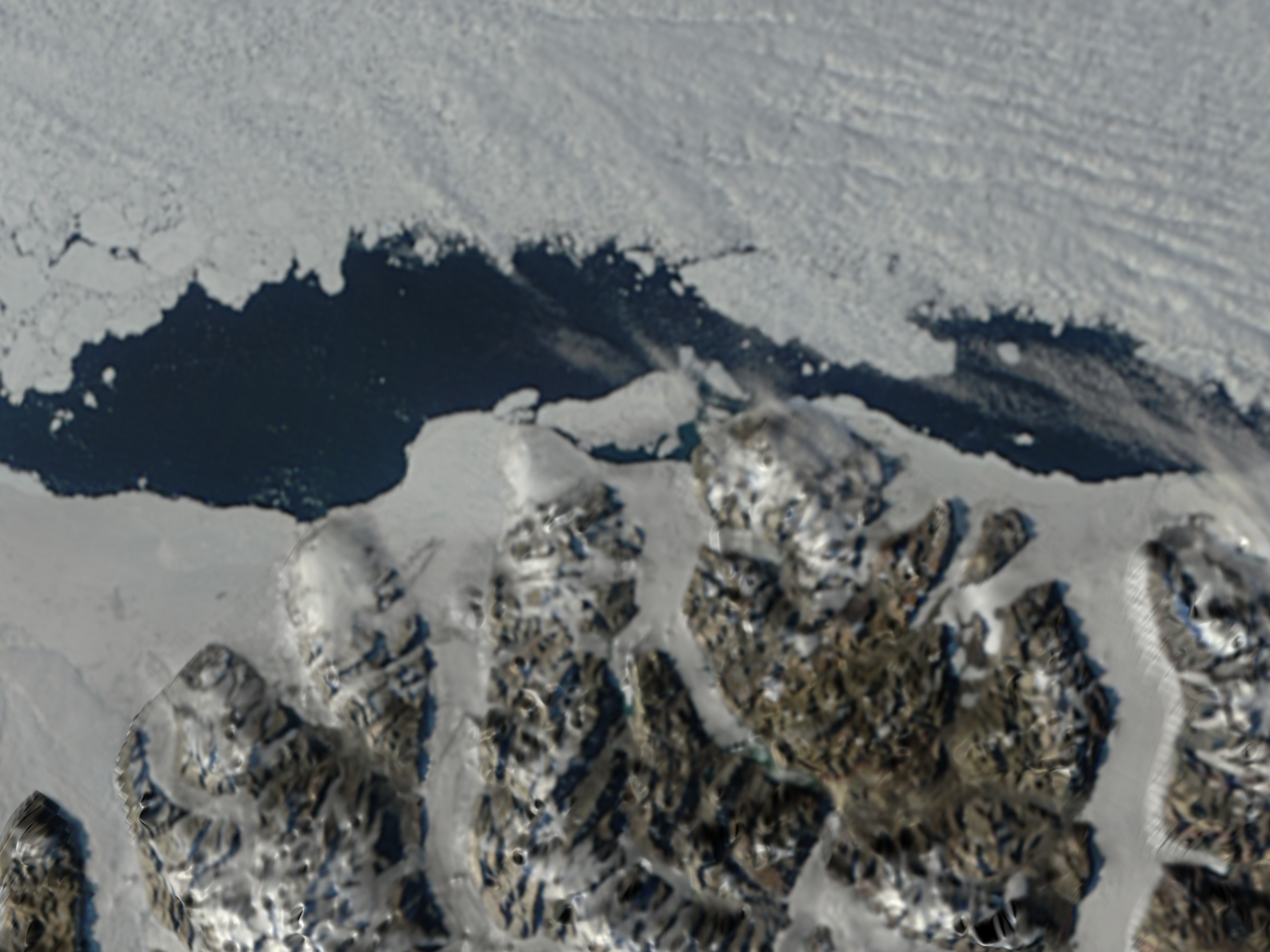 ---
Visualization Credits
Please give credit for this item to:
NASA/Goddard Space Flight Center Scientific Visualization Studio The Blue Marble Next Generation data is courtesy of Reto Stockli (NASA/GSFC).
Short URL to share this page:
https://svs.gsfc.nasa.gov/3429
Mission:
Terra
Data Used:
Note: While we identify the data sets used in these visualizations, we do not store any further details nor the data sets themselves on our site.
Keywords:
DLESE >> Cryology
SVS >> HDTV
SVS >> Ice Shelf
GCMD >> Earth Science >> Cryosphere
GCMD >> Earth Science >> Cryosphere >> Sea Ice
GCMD >> Earth Science >> Oceans >> Sea Ice
GCMD >> Earth Science >> Cryosphere >> Sea Ice >> Sea Ice Concentration
GCMD >> Earth Science >> Cryosphere >> Sea Ice >> Sea Ice Motion
GCMD >> Earth Science >> Cryosphere >> Snow/Ice >> Ice Motion
NASA Science >> Earth
GCMD keywords can be found on the Internet with the following citation:
Olsen, L.M., G. Major, K. Shein, J. Scialdone, S. Ritz, T. Stevens, M. Morahan, A. Aleman, R. Vogel, S. Leicester, H. Weir, M. Meaux, S. Grebas, C.Solomon, M. Holland, T. Northcutt, R. A. Restrepo, R. Bilodeau, 2013. NASA/Global Change Master Directory (GCMD) Earth Science Keywords. Version 8.0.0.0.0