Earth
ID: 30890
Landsat 'Sees in the Dark' the Evolution of Antarctica's Delaware-Sized Iceberg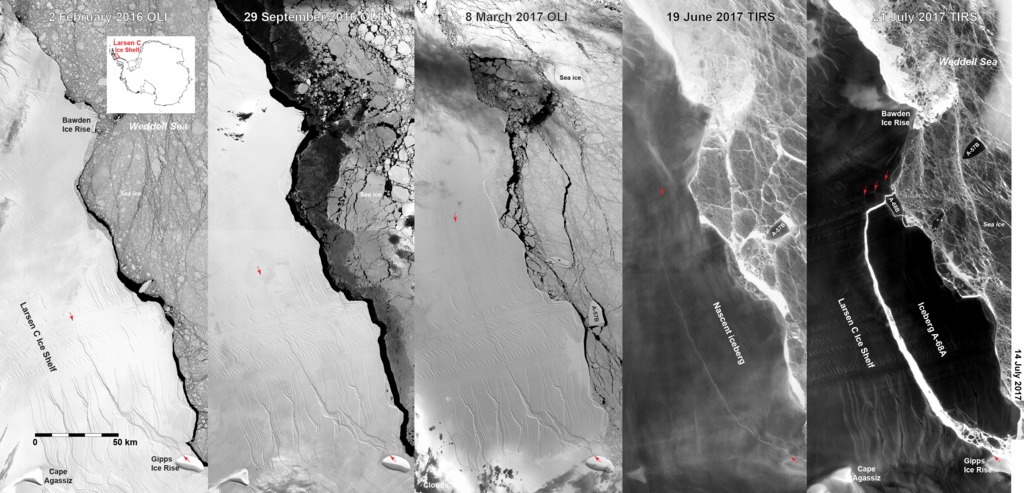 While Antarctica was shrouded in darkness during the Southern Hemisphere winter, the Thermal Infrared Sensor (TIRS) on Landsat 8 captured a new snap of the 2,240-square-mile iceberg that calved from the Antarctic Peninsula's Larsen C ice shelf on July 10-12, 2017. The fifth panel of satellite imagery is a composite of Landsat 8 as it passed on July 14 and July 21 and shows that the main berg, A-68A, has already lost several smaller pieces. The thick glacial ice from the A-68 iceberg will be carried by currents northward out of its embayment on the Larsen C ice shelf in much the same way that the smaller, shield-shaped A-57B iceberg can be seen moving in panels 3-5. The latest imagery also details a group of three small, not yet released icebergs at the north end of the embayment.

Scientists will have to wait until late August—the end of polar night in this part of the Antarctic Peninsula—to get their first natural-color images since the ~110-mile-long Larsen C rift became a complete break and released an iceberg about the size of Delaware or Prince Edward Island.

Imagery processed and annotated by Christopher A. Shuman, UMBC JCET at NASA Goddard.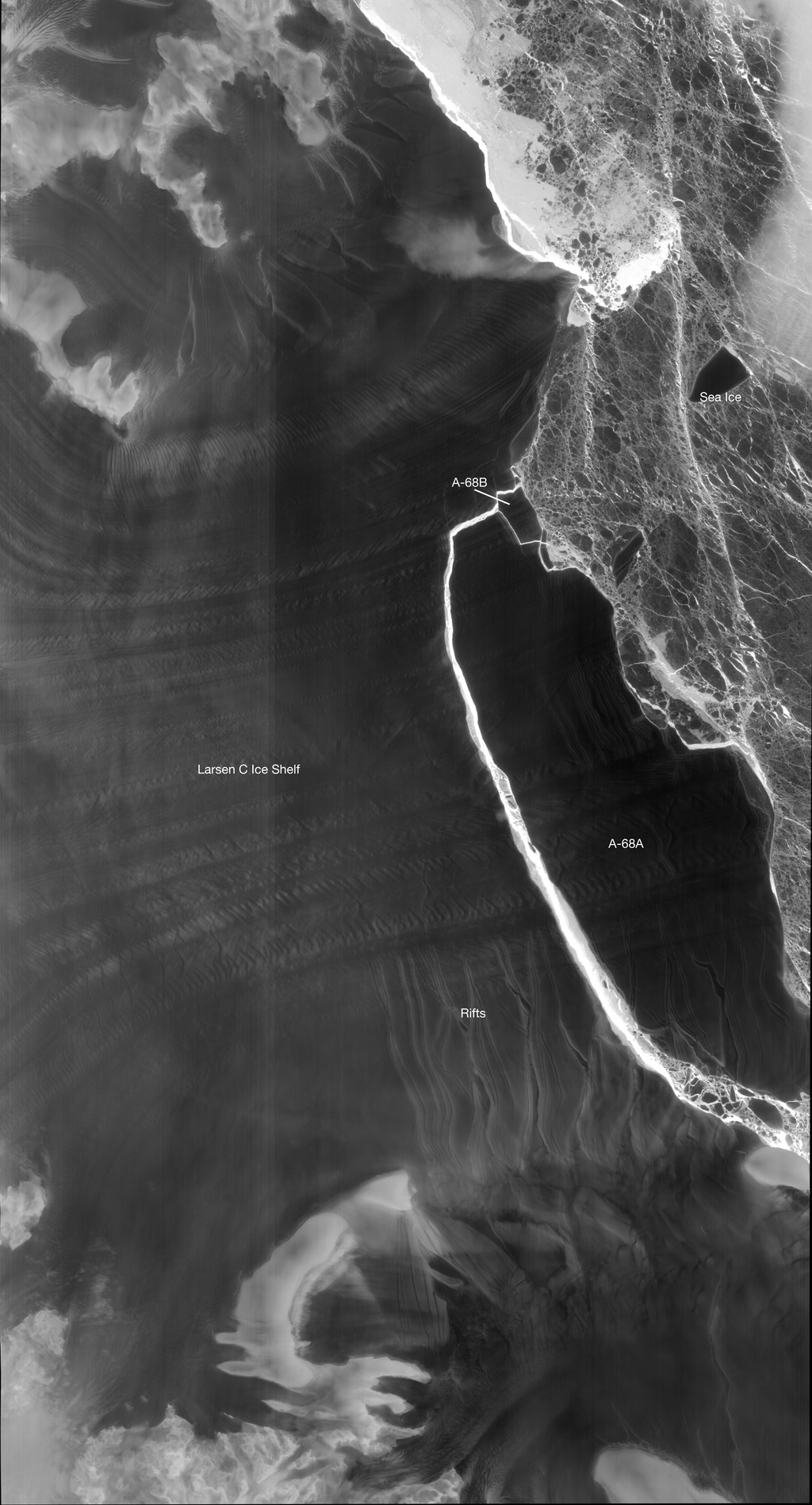 ---
Related
---
For More Information
---
Credits
Please give credit for this item to:
NASA's Goddard Space Flight Center
Short URL to share this page:
https://svs.gsfc.nasa.gov/30890
Mission:
Landsat
Keywords:
SVS >> Antarctic
SVS >> Antarctic Ice
SVS >> Ice Shelf
SVS >> Iceberg
GCMD >> Earth Science >> Cryosphere >> Glaciers/Ice Sheets >> Icebergs
GCMD >> Earth Science >> Cryosphere >> Sea Ice >> Icebergs
SVS >> Hyperwall
NASA Science >> Earth
GCMD keywords can be found on the Internet with the following citation:
Olsen, L.M., G. Major, K. Shein, J. Scialdone, S. Ritz, T. Stevens, M. Morahan, A. Aleman, R. Vogel, S. Leicester, H. Weir, M. Meaux, S. Grebas, C.Solomon, M. Holland, T. Northcutt, R. A. Restrepo, R. Bilodeau, 2013. NASA/Global Change Master Directory (GCMD) Earth Science Keywords. Version 8.0.0.0.0