Sun
ID: 3969
The 2012 Earth-Orbiting Heliophysics Fleet
Since Sentinels of the Heliosphere in 2008, there have been a few new missions, and a few missions have been shut down. As of Fall of 2012, here's a tour of the NASA Near-Earth Heliophysics fleet, covering the space from near-Earth orbit out to the orbit of the Moon.
Revision (November 9, 2012): The RBSP mission has been renamed the Van Allen Probes. NASA Press Release.

The satellite orbits are color coded for their observing program:
Magenta: TIM (Thermosphere, Ionosphere, Mesosphere) observations
Yellow: solar observations and imagery
Cyan: Geospace and magnetosphere
Violet: Heliospheric observations
Near-Earth Fleet:
Geosynchronous Fleet:
Geospace Fleet:
Lunar Orbiting Fleet
Note:
A number of near-Earth missions had their orbits generated from Two-Line orbital elements valid in July 2012. Orbit perturbations since then may result in significant deviation from the actual satellite position for the time frame of this visualization.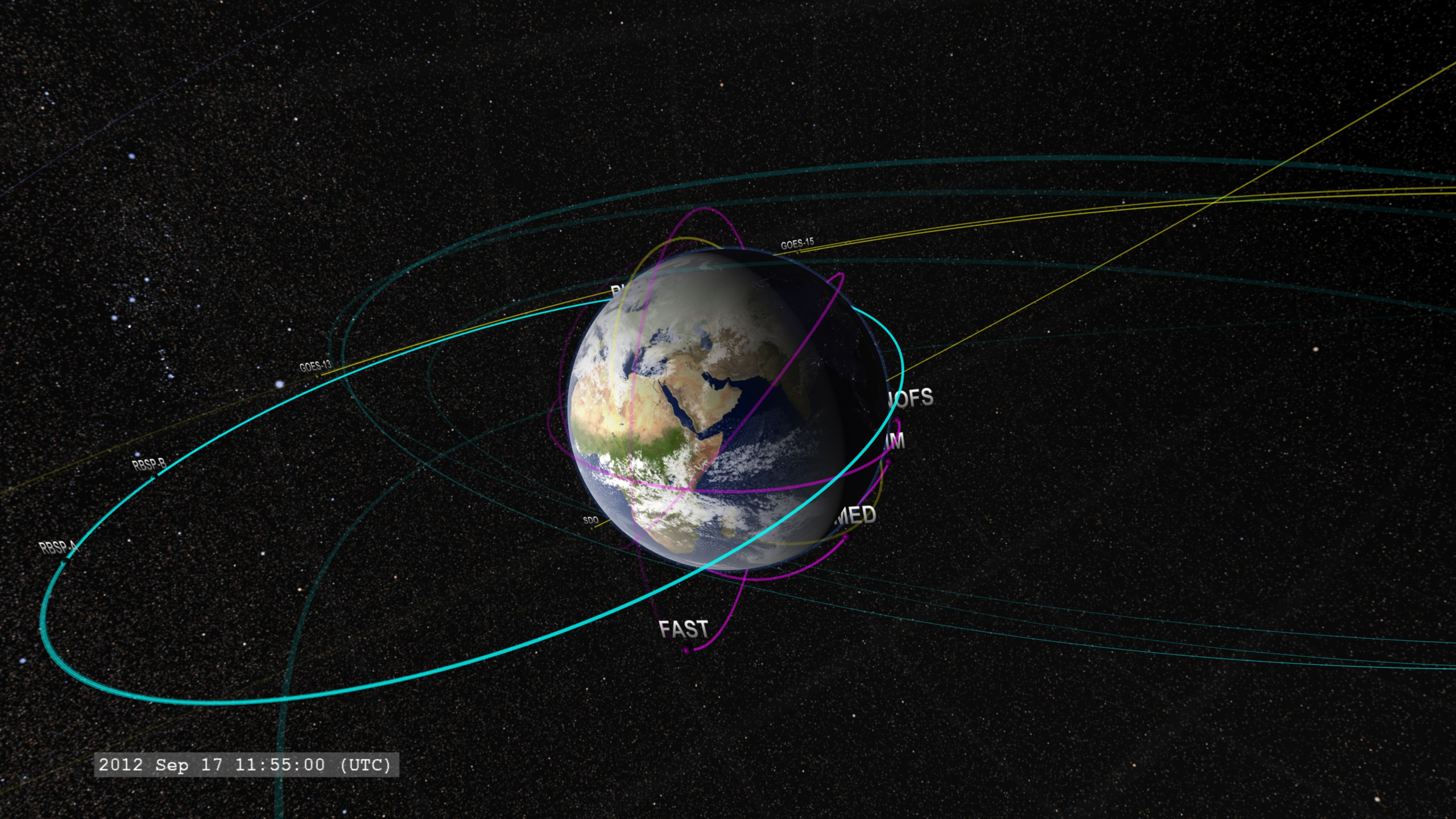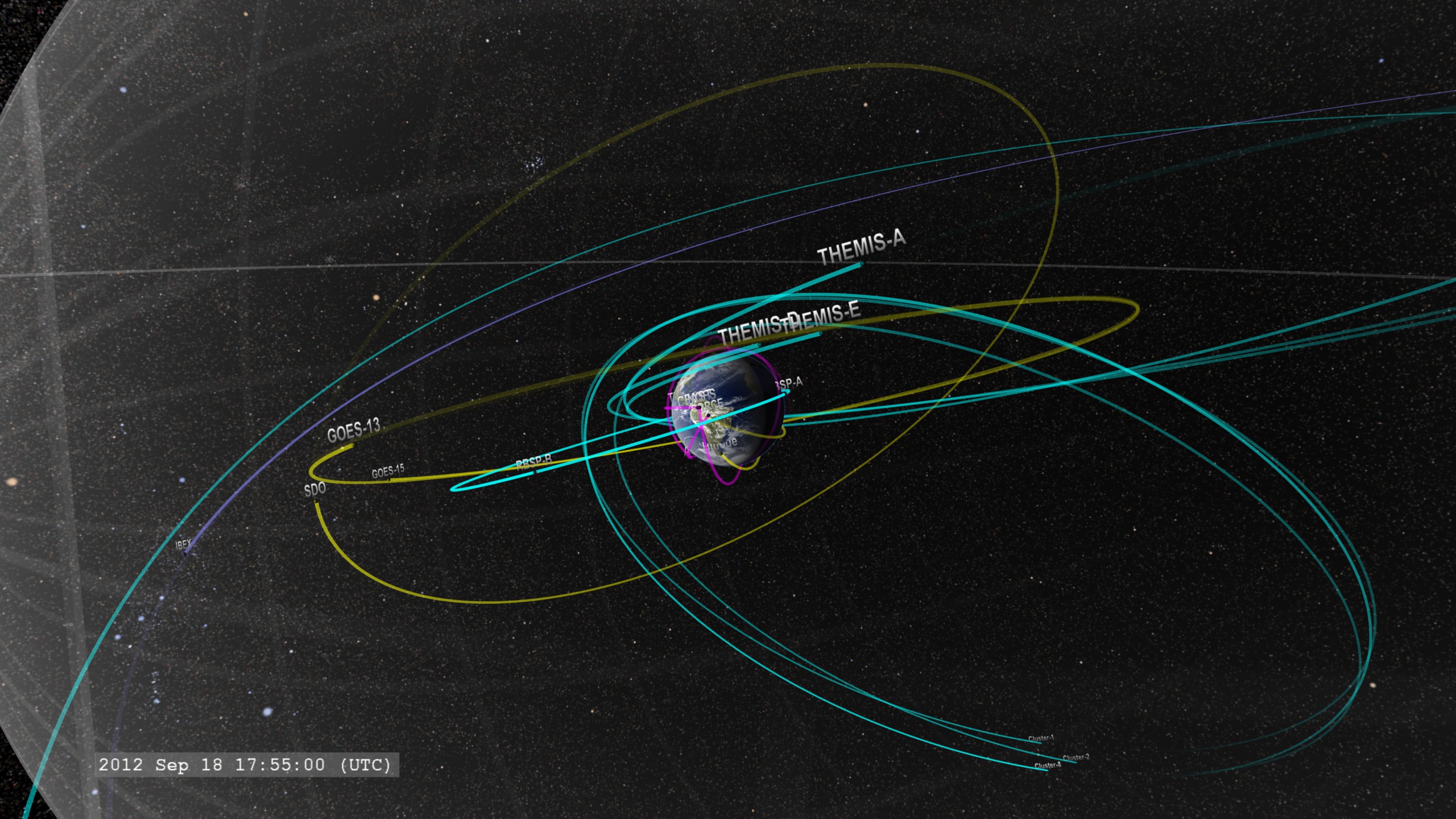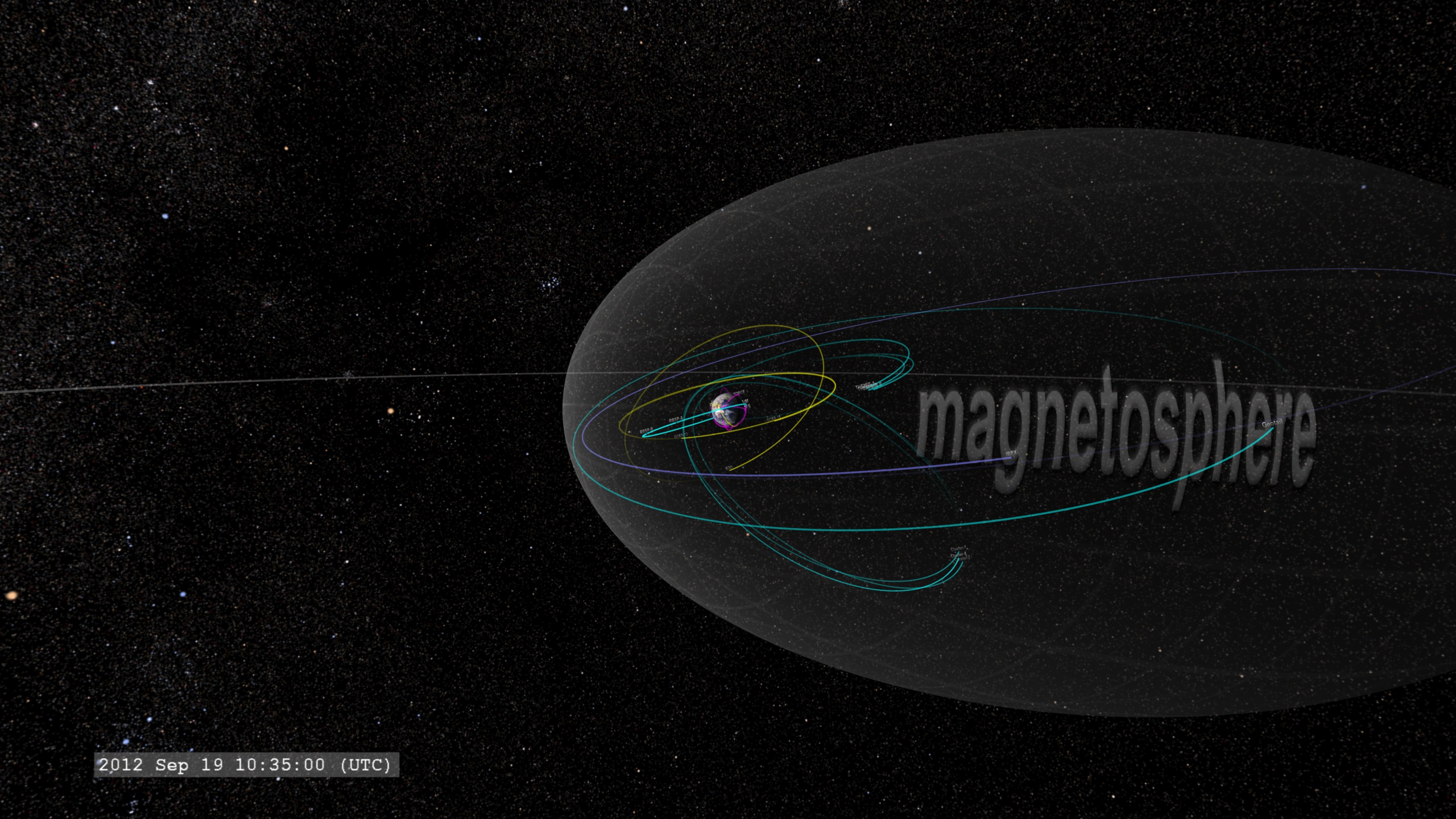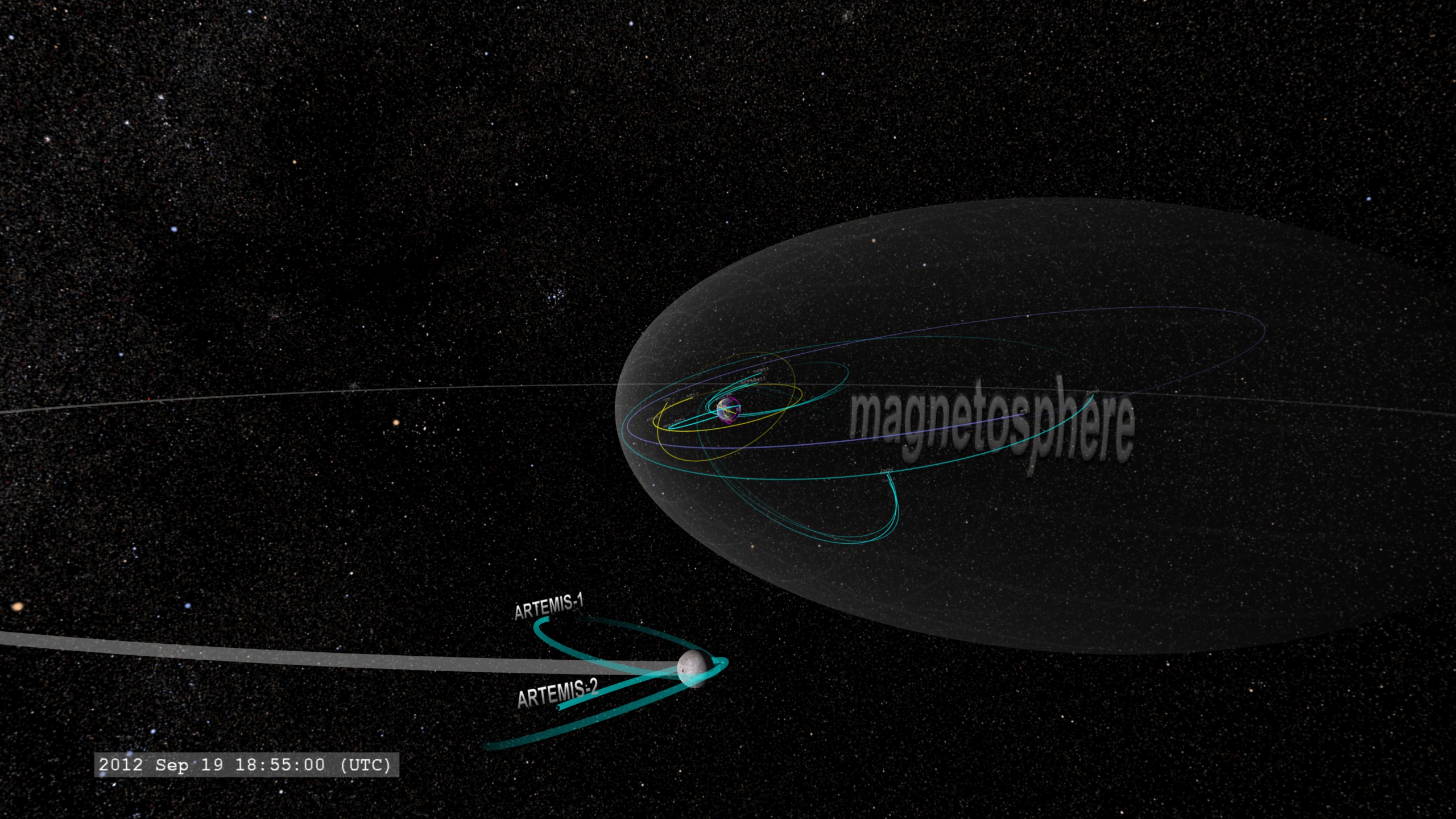 ---
Related
---
Visualization Credits
Please give credit for this item to:
NASA/Goddard Space Flight Center Scientific Visualization Studio
Short URL to share this page:
http://svs.gsfc.nasa.gov/3969
Missions:
AIM
ARTEMIS
IBEX
Radiation Belt Storm Probes/Van Allen Probes - RBSP
SDO
THEMIS
Van Allen Probes
Data Used:
SSCweb
Geotail, Cluster, THEMIS, ARTEMIS, RBSP: 2012-07-31 to 2012-12-31
Satellite ToolKit Ephemeris
SDO: 2012-07-31 to 2013-02-28
JPL DE421
2012-08-01 to 2012-12-31
Space-Track Two-Line Elements
AIM, C/NOFS, FAST, TIMED, GOES, Hinode, RHESSI, SORCE: 2012-07-18
SPICE Ephemerides
IBEX: 2012-07-31 to 2012-12-31
This item is part of this series:
NASM2012
Keywords:
SVS >>
Earth
SVS >>
HDTV
SVS >>
Moon
SVS >>
Sun
GCMD >>
Earth Science
>>
Sun-earth Interactions
GCMD >>
Location
>>
Magnetopause
SVS >>
Space Weather
SVS >>
Hyperwall
SVS >>
THEMIS
SVS >>
AIM
SVS >>
SDO
SVS >>
IBEX
SVS >>
Solar Dynamics Observatory
SVS >>
GOES
SVS >>
Heliophysics
SVS >>
ARTEMIS
SVS >>
Satellite Orbit
NASA Science >>
Sun
SVS >>
RBSP
SVS >>
Van Allen Probes
SVS >>
Presentation
GCMD keywords can be found on the Internet with the following citation:
Olsen, L.M., G. Major, K. Shein, J. Scialdone, S. Ritz, T. Stevens, M. Morahan, A. Aleman, R. Vogel, S. Leicester, H. Weir, M. Meaux, S. Grebas, C.Solomon, M. Holland, T. Northcutt, R. A. Restrepo, R. Bilodeau, 2013. NASA/Global Change Master Directory (GCMD) Earth Science Keywords. Version 8.0.0.0.0