Lunar Reconnaissance Orbiter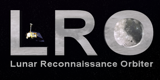 The United States and partners have begun a program to extend human presence in the solar system, beginning with a return to the Moon. The first step in this endeavor is the Lunar Reconnaissance Orbiter (LRO), an unmanned mission to create a comprehensive atlas of the Moon's features and resources. To ultimately aid in the design of a lunar outpost, LRO's objectives focus on the selection of safe landing sites, identification of lunar resources, and studies of how the lunar radiation environment will affect humans.
For questions regarding LRO multimedia, please contact: Daniel.P.Gallagher@nasa.gov.