Cryosphere Video Files
This page contains resource reels or Video Files about arctic sea ice, land ice and glaciers. Related missions include ICESat, ICESat-II, Operation IceBridge, among others. The Video Files are listed with the most current at the top of the page.


Operation IceBridge Fall 2010: Antarctic
Video File
Petermann Glacier Video File
On August 5, 2010, an enormous chunk of ice, roughly 97 square miles in size, broke off the Petermann Glacier, along the northwestern coast of Greenland. The glacier lost about one-quarter of its 40-mile long floating ice shelf, the Northern Hemisphere's largest. It's not unusual for large icebergs to calve off the Petermann Glacier, but this new one is the largest to form in the Arctic since 1962.
Video File: Large Slab of Greenland's Petermann Glacier Breaks Off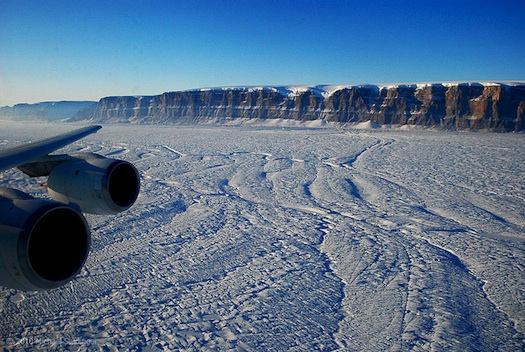 Photo Credit: Michael Studinger (NASA/GSFC)
Supporting Content

Supporting content relevant to the Petermann Glacier video file.




MODIS Imagery Provides a Before and After View of Petermann




The Earth Observatory published high resolution images of Petermann Glacier before and after it lost roughly 97 square miles of area on August 5, 2010.






ICESat Spacecraft




Animations of the ICESat spacecraft in orbit.




Jakobshavn Glacier Calving Front




Jakobshavn Isbrae is Greenland's largest outlet glacier, draining 6.5 percent of Greenland's ice sheet area. This animation shows the glacier's flow in 2000, along with changes in the glacier's calving front between 2001 and 2006.






Annual Accumulated Melt over Greenland 1979 through 2009




This animation shows the regions of the Greenland ice sheet over which melt occurred more than three days between May 1st and September 30th for each year.




Arctic Sea Ice: September 2009 to March 2010




In this animation, the Arctic sea ice and seasonal land cover change progress through time, from September 1, 2009 when sea ice in the Arctic was near its minimum extent, through March 30, 2010. The animation plays at a rate of six frames per day or ten days per second.
NASA's Arctic Voyage Video File
The ICESCAPE mission, which stands for "Impacts of Climate on Ecosystems and Chemistry of the Arctic Pacific Environment," is NASA's first dedicated oceanographic field campaign. During the summer of 2009, scientists investigated the impacts of climate change on the ecology and biogeochemistry of the Chukchi and Beaufort seas along Alaska's northern coast. ICESCAPE took to sea onboard the U.S. Coast Guard Cutter Healy, the United States' newest and most technologically advanced polar icebreaker. The Healy conducts a wide range of research activities and is designed to break four-and-a-half feet of ice continuously at three knots.
No Item Name