From the Cockpit:
The Best of IceBridge Arctic 2013
View from the cockpit of NASA's P-3B aircraft during the Operation IceBridge Arctic 2013 airborne science campaign.
Arctic Sea Ice 101
A fast-paced interview with NASA climate scientist Tom Wagner, where he provides a look at the state of Arctic sea ice in 2009 and discusses NASA's role in monitoring the cryosphere.
NASA Discovers Massive Phytoplankton Bloom Under Arctic Sea Ice
A NASA-sponsored expedition punched through three-foot thick sea ice to find waters richer in microscopic marine plants, essential to all sea life, than any other ocean region on Earth
OIB: NASA and ESA in an Arctic Alliance
For the second straight year, NASA's Operation IceBridge is collaborating with the European Space Agency's CryoVEx program, flying aircraft low over Arctic sea ice while ESA's CryoSat satellite orbits above.
The Long Thaw
This video details the three-decade decline of the Arctic's thick, older sea ice, with seasonal ice not shown and gray circles marking data gaps.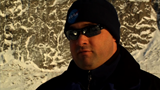 Eight Down, One to Go
Michael Studinger, Project Scientist for Operation IceBridge, talks about the successes and challenges of logging 30,000 kilometers in an Arctic environment as they study the Arctic sea ice